This Shoe Will Make You Consider Colorful Sneakers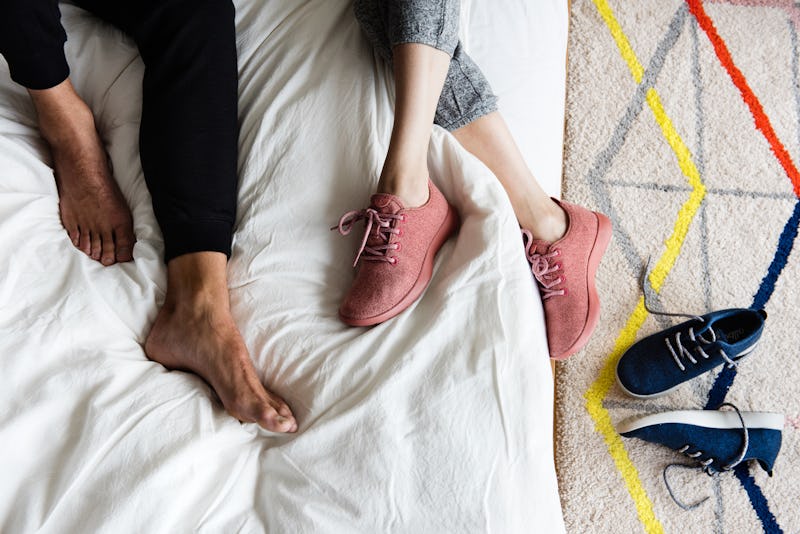 Stop what you're doing. Put down your fair trade coffee. Allbirds, the most comfortable, eco-friendly shoe since the invention of feet, now comes pink. Well, OK, technically it's called red — but they look pretty millennial pink to me, and I love it. And either way, they're gorgeous. It's not a moment too soon, either, because pink is pretty much everything to this glitter-obsessed feminist. There was a time in the not-so-distant past when humanity made the ridiculous decision to reject all things pink. I don't know what we were thinking. Maybe it was because women were breaking free of traditional feminine stereotypes, or maybe it was because markers led us to the other parts of the rainbow.
Who knows? All I know is that pink is back. Companies like Glossier, Thinx, Everlane, and even Gucci have embraced pink with open, fierce arms, as highlighted in an article by New York Magazine's The Cut. And not just your everyday bubblegum, Barbie pink. Millennials are redefining their pink (as we do all things we love) into something that's part new and fresh, part vintage and all unique. It's kind of like a muted grandma pink with an dusky Instagram filter aesthetic. And because Allbirds is as on-trend as it is socially responsible, the world's greatest sneakers now come in this signature millennial pink or, light red, as its official color name is "Tui Light Red." It is, in fact, everything you need in a pink sneaker.
It's that kind of dusty rose that you need in the perfect matte liquid lipstick. But here's the thing — and I'm not just saying this to say it, these shows are as comfortable to wear as they are easy to look at. If you've never heard of Allbirds, they're made from all natural materials, like durable, superfine merino wool from New Zealand. Hikers have known for a long time that wool is the way to go when it comes to footwear, because it naturally wicks away moisture, prevents odor, and keeps your feet at the perfect temperature. The rest of the world is catching on to how perfect this material is for feet. Allbirds have made a wool shoe that meets those foot-pampering criteria, but is also machine washable, and so lightweight and flexible that you'd think they weren't as durable as they are. You'd be wrong.
Plus, I mean, they look rad, am I right? I'm all sparkles and rhine stones, but I would actually not change a thing about these. They're not lacking in anything. 'Their simplicity is what makes them so beautiful.
You can pick them up through the Allbirds website for around $95, but don't doddle, because this color is limited edition.