'Younger' Season 3 Spoilers From The Cast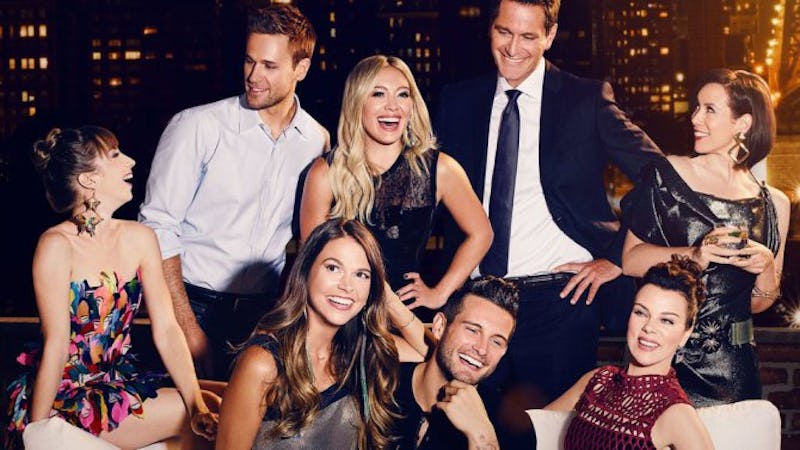 It's been months since we saw Thad get hit by a fallen construction beam (aka every New Yorker's worst nightmare) in the Younger Season 2 finale, and yet the shock of it all feels just as profound as ever. I mean, that's not exactly something you would expect from a half-hour comedy. But that's what makes this series so unique — it's ability to shock us on so many different levels. So as the premiere of Younger Season 3 approaches, many may find themselves wondering what other surprises the show may have in store. And thanks to a few Younger Season 3 spoilers, which Bustle was able to obtain from the cast at a recent press event, it looks like it's going to be a very emotional year... and not necessarily just for Liza.
"There's a real deepening of character development this year," Molly Bernard (who plays Lauren) shares with Bustle about the third season. Part of that will entail getting a closer look into each character's life, including Diana who is usually so closed off about her personal affairs, but will soon decide to let loose in unexpected ways. "We get to see her closet, which everyone's been dying to see," reveals Miriam Shor about her character, Diana. I won't give too much away regarding how that epic moment comes about, but I can sure that it's hilarious and will make you love this character even more.
In regards to Liza and Charles' recent kiss, Shor is keeping mum about whether or not Diana will ever find out about it. But given her on-going feelings for Charles, if she were to find out, I doubt she'd be very happy about it. "That's always there too, just bubbling below the surface for her," Shor states of Diana's crush on her boss. "Like any true office crush where you're like, 'it's not really going away, is it?'" Perhaps this could be just the thing to put Diana and Liza at odds with each other if her feelings for him are still that strong.
Speaking of feelings, Bernard promises that "there's some unexpected stuff that happens" between Maggie and Lauren, who have had a pretty casual relationship together up until now. Could this mean that things may eventually grow to be more serious between the two of them? Bernard teases, "we shall see."
And while neither Shor nor Bernard would divulge whether or not their characters will ever find out about Liza's big secret regarding her age, they do have some insight into how each of them would react. "I actually think Lauren would be like, 'Oh my god, she's been lying, this woman is amazing,'" Bernard states. "I think she'd be pumped." Meanwhile, Shor took a completely different approach and suggests that she hopes her character has known about it all along. "I have a fantasy that Liza tells Diana and Diana's like, 'Oh, I know... whatever you've got to do to get ahead, I respect. Now shut up and get me coffee.'" So clearly, this needs to happen now.
But above all else, Season 3 will definitely be delivering some jaw-dropping moments, but on a more emotional level than what happened with Thad. "Nobody dies, physically," Nico Tortorella (who plays Josh) reveals, while Peter Hermann (who plays Charles) equally assures fans that "there are no beams that drop from the sky." Just emotional beams, if you will. "Yeah, lots of emotional beams," Hermann adds. "Lots of emotional construction going on in the cities of our souls." In other words, get ready for more heartache.
Younger Season 3 premieres on Wednesday, Sept. 28, at 10 p.m. ET.
Images: TVLand; Giphy (2)