Team Charles May Sway 'Younger' Fans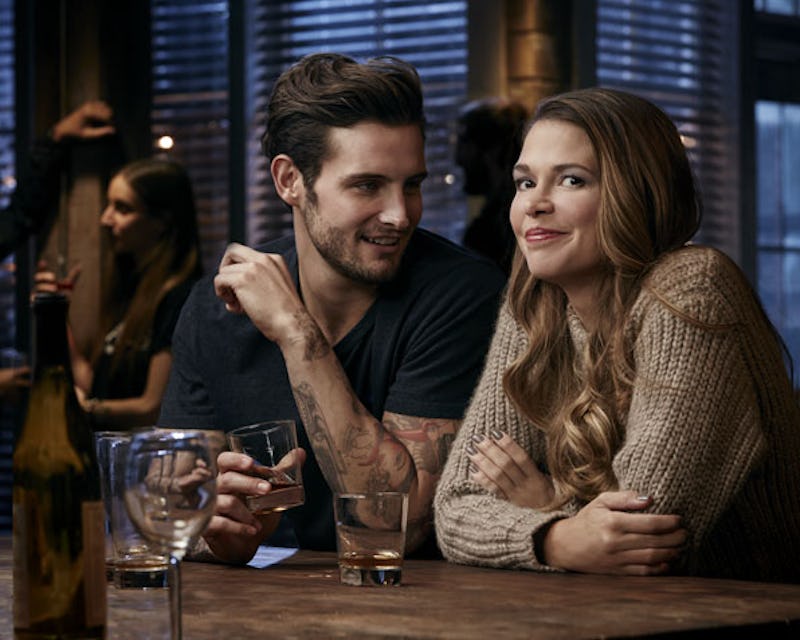 It's hard to resist the allure of a good love triangle and from the looks of things, Younger Season 2 is going to finally bring Liza's two biggest romantic entanglements to the forefront. Though the show's main love interest has centered around Liza and her tattoo-clad boyfriend, Josh, there's no denying that a spark definitely exists between Liza and her boss Charles. We saw it multiple times throughout Season 1 and according to a recent interview Entertainment Weekly had with series creator Darren Star, I'd say those feeling may become a much more prominent fixture in the Season 2 storyline.
"He's in the picture, absolutely," Star assured fans about Charles, played by Peter Hermann. "He's connecting to the 40-year-old woman, who he assumes is 26, and Sutton and Peter play that so well. They just have this wonderful unique chemistry, so he's definitely in the show a lot, I'd say much more this season than last season." Granted, that doesn't mean Liza and Charles will become an item anytime soon — nor would I necessarily want them to, considering how much I love her relationship with the oh-so dreamy Josh. However, that doesn't mean there haven't been times throughout the series where I've found myself inadvertently rooting for Team Charles from time to time. And I know I'm not the only one.
Because while it's true that Liza and Josh definitely share something special together, it's hard to completely ignore those occasional moments when Charles surprising stole the spotlight from Josh, and with it, our hearts. For example...
1. When He Was Adorably Awkward At A Social Event
In an attempt to make some quick cash to pay for her daughter's tuition, Liza agreed to waitress a singles event and ended up running into Charles, who looked all sorts of uncomfortable to be there. Why? Because he's not just some creeper looking for a one-night stand. He was nervous to be back on the dating scene again and Liza (much like the rest of us) couldn't help but find his awkwardness adorable.
2. When He Rocked A Tux Like No Other
Seriously, it should be illegal to look that handsome.
3. When He Didn't Want Liza To Leave
After she was done babysitting his kids, it was clear that Charles didn't want to say goodbye just yet. But given how young he thinks she is, he doesn't think it's appropriate, so he holds back. But you can just sense in their body language that there's an unspoken connection between them, though neither may be willing to admit it just yet.
4. When He Got Passionate About French Toast
Shortly after spotting Liza at his favorite breakfast spot, he jokingly told her: "If you tell anyone about the french toast here, I'm gonna have to kill you." You gotta appreciate a man who has his food priorities in order.
5. When He Believed In Liza's Capabilities
He may be under the impression that she's just 26 years old, but that's never stopped him from treating her like an equal. He can see that she has talent and respects her for it. If that isn't enough to make a girl swoon then I don't know what is.
6. When He Only Had Eyes For Her
And not just because she's an attractive woman, but rather because he saw and appreciated her beauty, both inside and out.
Like I said before, Josh is great. Just don't be too surprised if sometime down the line, Charles proves to be an even better fit.
Images: TV Land; supagirl/Tumblr (6)