Cop ColourPop's Foursomes For A Discount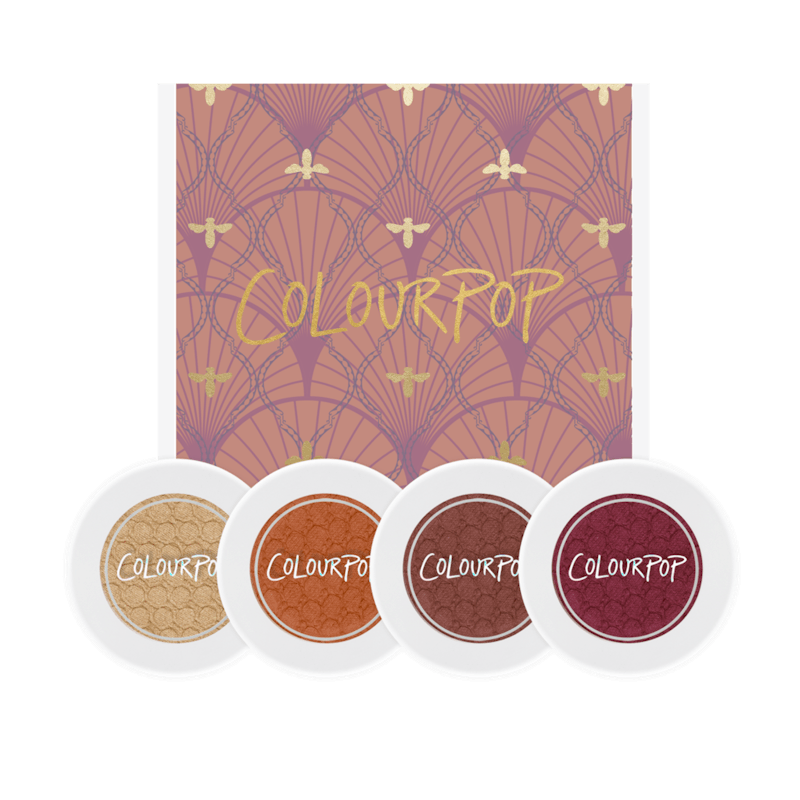 ColourPop always seems to have something new and exciting going on, and my wallet can hardly keep up. But, thankfully, you get a lot of bang for your buck with this brand, because they're all about high quality and affordability. How much are ColourPop's Foursome Eyeshasows? Well, folks, you'll be thrilled to know that they recently lowered the price.
Shopping in bulk (especially for beauty supplies) is always preferred, IMO, and this company's made it easy to shop multiple shades at once by bundling them together. Previously, you could purchase their eyeshadows for $5 each or buy a four pack for $20. But, they recently lowered the price to $18. Now, when you buy multiples, you actually wind up saving a little bit of money. And of course, more money means you'll be able to purchase even more makeup from the brand, so this really is excellent news!
There are currently four sets of Foursome Eyshadows available for purchase on the ColourPop website, so feel free to shop as many of these sets as you'd like. Why grab just one shade at a time when you easily could have four, you know? Besides, you could never have too many of these shadows in your life.
Only 18 bucks for four gorgeous eye colors? Sign me up.
You can find the latest set from the Terracotta Fall Edit, as well as items from the KathleenLights X ColourPop collection and the KaePop collab at the newly adjusted $18 price point.
So what are you waiting for? Get to shopping, already!
1. Zingara
Zingara Foursome, $18, ColourPop Cosmetics
I mean, how could you pass up getting these fall-ready shades for less than $20? There's just no way!
2. KaePop
KaePop Foursome, $18, ColourPop Cosmetics
Come to think of it, these shades will amp up your fall beauty game, too. So, go on and add those to your cart.
3. Where The Light Is
KathleenLights X ColourPop Where The Light Is Foursome, $18, ColourPop Cosmetics
Adding these must-have neutrals to your beauty routine really is a no brainer. Not only are they ultra wearable, they're also mega affordable.
4. Where The Night Is
KathleenLights X ColourPop Where The Night Is Foursome, $18, ColourPop Cosmetics
If you're looking for bold eyeshadows that'll amp up your nightlife, welp, these are the shades for you!
Images: Courtesy ColourPop Cosmetics (4)