Luke & Lorelai Will See "Fireworks" On 'GG'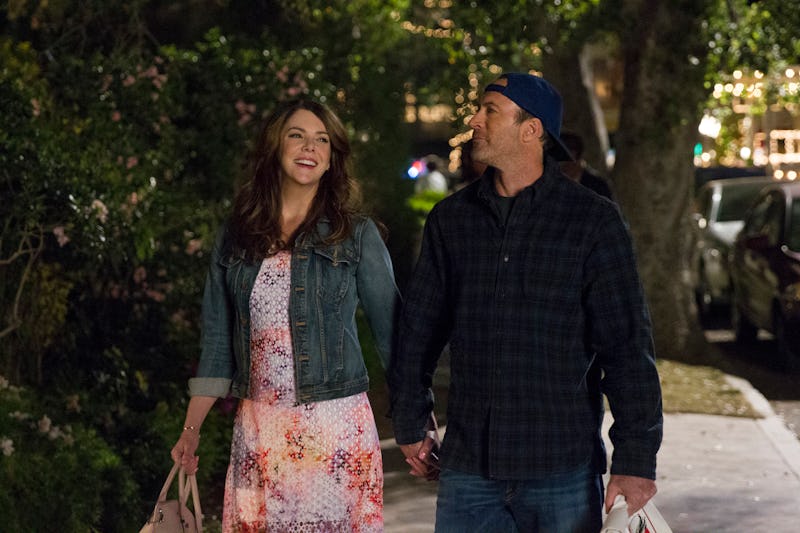 Over a decade since Gilmore Girls ended, loyal fans are still constantly re-watching episodes, using iconic Gilmore wit in everyday life, channeling Rory's kickass drive, and of course, shipping Luke and Lorelai after their epic last kiss. Luckily, they don't have to wait much longer to see how these beloved characters' stories played out, with the four-part revival Gilmore Girls: A Year in the Life headed to Netflix on November 25. Still, ain't nobody got time to wait, which is why I found it necessary to interrogate Scott Patterson (Luke) on what's to come when I caught him at Entertainment Weekly's pre-Emmy party in Los Angeles over the weekend. The 58-year-old actor spilled (some) beans on the revival's "dark" themes, on-set reunion vibes, and of course, what will surface from Luke and Lorelai's ongoing sexual tension. (Plus, their past sex. Lots and lots of it.)
"We're together and we're figuring out our next [steps]," Patterson explains. "There's definitely some fireworks there. There's stuff going on, let me tell you." And now that fans are all grown up, guess it's time to properly address Luke and Lorelai's healthy sex life despite their on-and-off relationship. "Well there has been [sex] for a long time. We're together," says the actor. "I mean, we don't arm wrestle at night, you know? We don't play tiddlywinks."
So fear not, grown and mature GG fans, their sexual tension will be addressed. "Oh sure. I think so," says Patterson. "Addressed again and again and again. And then we drink coffee." Isn't that how it always goes?
Beyond the sexual tension that will induce fan giddiness like no other, the actor says the long-form nature of the revival actually lends itself to some more intense themes than those in the show. "We did some really penultimate scenes. Really. 'Cause it's an hour-and-a-half, they're movies, they approach them differently," he explains. "The writing still has that pace and the humor, the quirkiness, there might be even more of that. Tonally, it does tend to go into some darker places, which has never been explored before, which I found really interesting."
While fans may not be totally shocked by whatever happens between Luke and Lorelai, they may be thrown by the intensified nature of the show. "It's more like a film now than it is a TV show that's light and happy and bubbly. It's different," Patterson explains. "[Fans] are not going to expect that. They're gonna be really pleasantly [surprised]."
Still, one thing audiences can depend on is the familiarity of Lorelai and Rory, their humor, and infectious bond. "They look the same. I think they're vampires, they don't age, it's very strange," says the actor. "They're always kinda giggly. But that's the role, right? You gotta come at it like a child, I guess. I don't know how they do it."
Two months should be enough time to brace yourselves for this revival and its off-the-charts sexual tension. Get ready.
Images: Saeed Adyani/Netflix (2); Giphy