Ryan Serhant's Fiancée Is An Accomplished Woman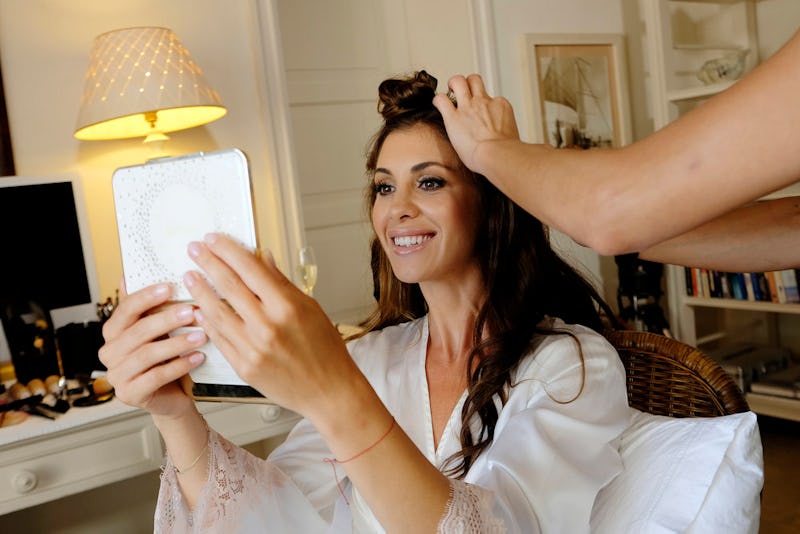 The cast of Million Dollar Listing New York generally seem so busy with their breakneck schedules buying and selling absurdly fancy and absurdly tiny apartments in the city that they struggle to have a personal life. But Ryan Serhant, the most frazzled of them all, who can be seen every season running around and trying to insert some wacky shenanigans into the largely traditional business of being an NYC broker, is actually getting his own special to commemorate that he's getting married to his longtime girlfriend (you may remember that he agonized over proposing to her a few seasons ago). But who is Ryan's fiancée Emilia Bechrakis? She's appeared on MDL NY a few times over the years, and she's always been encouraging her boyfriend, now husband, to ease up on his aggressive workaholic schedule and spend more time working on his relationship with her.
But, since the two are now married and are getting their very own Bravo special, it's worth learning more about Emilia than just what's obvious from seeing her on TV before (which is limited to: She's pretty, she made Ryan learn how to dance, and she lives in NYC). Now, it's time for people to realize that both members of this couple are actually worthy of their own spotlight.
She Didn't Want To Get Married On TV
While Emilia has been willing to show snippets of her day to day life on Million Dollar Listing, when it came to one of the most special days of her life, both she and Ryan didn't want to put their wedding on TV, the couple told People. "I think I was concerned about the over-exposure, and I'm not really that good with cameras," Emilia explained. "But in retrospect I'm really glad that we have this little piece of history."
She's Also Accomplished In Her Work Life
If you've watched MDL NY at all, you'll know that Ryan can work himself into a near frenzy over the possibility of losing out on a single deal. Anyone who spends all dat and night living, breathing, sleeping, and eating the business of real estate will be looking for someone who's equally driven in a partner. According to Emilia's LinkedIn, she currently works as a Sales Rep for the Commonwealth Land Title Insurance Company, and she's also experienced in the legal side of the real estate business.
She's Responsible For Their Greek Nuptials
You might be able to guess based on her last name, but Emilia is the Greek half of the couple. According to People, Emilia's extended family is from Greece and named getting married in a Greek Orthodox church as her number one desire for the wedding ceremony. Emilia even explained the traditions behind her wedding ceremony in a particularly insightful Instagram post that points out how in a Greek wedding, the couple is literally tied together in order to represent how they'll spend the rest of their life together.
She's Secretly A Country Girl
Even though Ryan and Emilia live in New York City, Emilia actually has a surprising background — according to this picture, she actually spent some of her childhood growing up in Pennsylvania. It makes sense — she's always willing to push Ryan outside of his comfort zone, and that usually starts by disrupting even one small thing about his city-dwelling routine, whether it's asking him to propose or just asking him to wear something other than a suit.
She Gave Ryan Some Crucial Career Advice
Ryan just opened a new real estate office in Bed-Stuy, Brooklyn. Even though he's always shown a pro-Manhattan bias on the show, it seems that it's finally time for Ryan to embrace the outer boroughs, and he has Emilia to thank for the opportunity. According to this post she made congratulating her new husband on his new business, she managed to slip in that she's thought he should expand Brooklyn-wide since they first met.
She's Now Seriously Married, And Still Loves Her Husband
I have to admit — years of watching reality TV has made me a little cynical. Knowing the Million Dollar Listing New York couple were going abroad for their wedding made me think that they'd never wind up tying the knot here. But the couple are now married, both at home and wherever they travel, and they still sound like they're perfectly in love.
Image: Dimitrios Kambouris/NBC (2)