15 Stylish Vegan Leather Jackets You Can Afford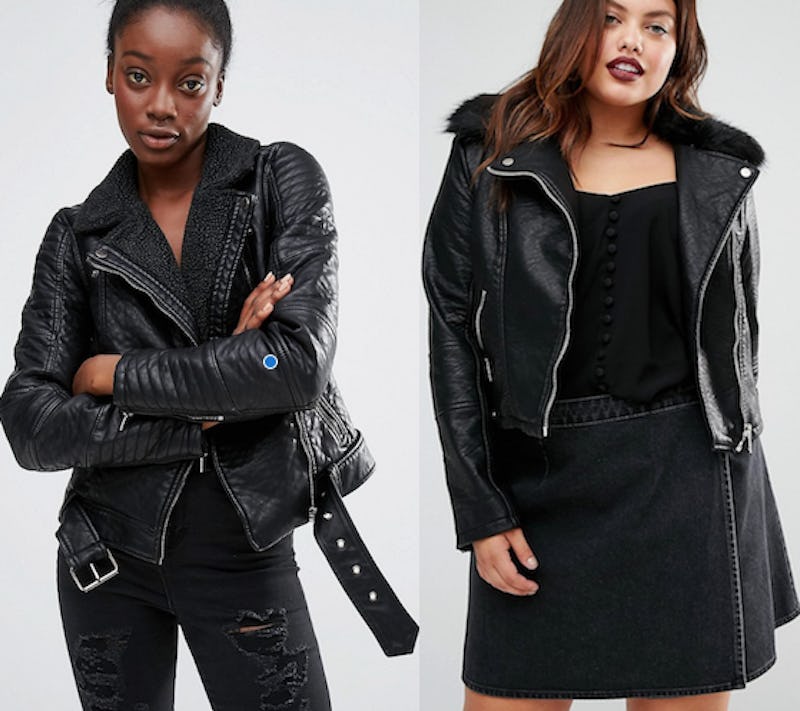 I have one faux leather moto jacket that has been with me for over three years — a vegan leather jacket that looks cooler than the real thing — and was actually affordable, at that. I remember buying it like it was yesterday. I combed through the racks looking for an iconic moto jacket that could transform me from sweet Sandra Dee to tough Sandra Dee at the end of Grease (tell me about, stud). And then, when I found that stylish faux leather jacket for under $100, my heart rejoiced. I finally had the unofficial uniform of cool girls everywhere. Because isn't that the point of a good vegan leather jacket? To make you feel instantly cooler than you already are?
Just imagine throwing on an amazing vegan leather moto jacket for under $100 over a loose vintage band tee and some distressed jeans — perfect cool girl outfit, right? Just be sure not to limit what a good vegan leather biker jacket can do, too. If you throw one on over your favorite dress, you've instantly turned your outfit from cute and simple to freakin' amazing. If you haven't experienced the transformative power of a vegan leather jacket just yet, wait no longer. Just scroll down to see some of the best vegan leather jackets (that are super affordable, too)!
1. A Classic Moto Jacket For Every Outfit
J.D.Y Faux Leather Biker Jacket (EU 34- EU42), $57, ASOS
Nothing toughens up an outfit like a classic moto jacket — this one is a must-have for under $60.
2. This Biker Jacket Is The Coolest Over A Tee And Jeans
Faux Leather Biker Jacket (2-12), $60, Nordstrom
Even if you're running out of the house in the simplest outfit, adding a biker jacket like this will make you look more put together without being too polished.
3. Get Fancy With A Faux Fur Trimmed Biker Jacket
Boohoo Plus Leather Look Biker With Faux Fur Collar (UK 16-UK 24), $73, ASOS
What's better than a vegan leather jacket? A vegan leather jacket with faux fur trim.
4. The Edgiest Leopard Trim Vegan Leather Jacket
Faux Leather Jacket with Faux Leopard Fur Collar (2-6), $100, Nordstrom
And speaking of faux fur trim, just look at this leopard print trim! I have to have it.
5. Feel Like A Total Badass With This Moto Jacket
Nasty Gal Atomic Vegan Leather Jacket (XS-L), $118, NastyGal
If you've got a collection of vintage rocker tees, throw this jacket into the mix for an outfit that says you're basically the coolest girl ever.
6. Play With Texture For A Rugged Look
ASOS Faux Leather Biker Jacket with Textured Panels (4-18), $97, ASOS
Bikers are known for being a little rough around the edges, so a biker jacket with texture like this one is automatically toughens up any outfit.
7. Go For A Cropped Moto Jacket
Nasty Gal Moto Zip Crop Jacket (XS-L), $88, Nasty Gal
Cropped moto jackets make the best outfit toppers. Just throw it on, and head out the door.
8. Stay Extra-Warm With This Lined Biker Jacket
Only Bonded Faux Leather Biker Jacket with Lining (6-16), $105, ASOS
The extra lining on this jacket makes it a go-to for when the weather gets chilly — while still looking much cooler than a heavy coat.
9. A Sleek Biker Jacket For Dressier Outfits
Tanming Women's Faux Leather Moto Biker Short Coat Jacket (XS-XXL), $39-$154, Amazon
Even though I love the tough look of biker jackets, a sleek one like this adds a little bit of edge to a pretty dress when you feel like switching up your style.
10. Go Casual With A Brown Vegan Leather Jacket
Jessica Simpson Quilted Faux Leather Jacket (XS-XL), $100, Nordstrom
While a black biker jacket is super edgy, a brown one is a little more casual. Wear this one when you're keeping your outfit simple.
11. Make The Simplest Outfits Edgy With This Biker Jacket
BLANKNYC 'Easy Rider' Faux Leather Moto Jacket (XS-XL), $98, Nordstrom
Just imagine how effortlessly elegant a simple jeans and tee outfit would look with this jacket.
12. Do A Colored Moto Jacket For An Unexpected Outfit
BLANKNYC Faux Leather Moto Jacket (XS-XL), $98, Nordstrom
I love classic black moto jackets, but this gray one offers an unexpected pop of cool.
13. Rock An All-Black-Everything Outfit With This Biker Jacket
ASOS CURVE Ultimate Faux Leather Biker Jacket with Piped Detail (18-28), $78, ASOS
This faux leather piece has cool moto inspired piping on the shoulders, sure to edge up any outfit.
14. Layer This Quilted Biker Jacket Over Your Favorite Dress
Awesome21 Zipper Motorcycle Biker Faux Leather Jackets (S-3XL), $30-$56, Amazon
This zippered moto jacket is the perfect piece to throw on over a dress for a night out — instantly chic.
15. A Soft, Taupe Moto Jacket For Laidback Outfits
BLANKNYC Vegan Leather Moto Crop Jacket (XS-M), $58-$78, Amazon
If you already have a go-to black moto jacket, consider scooping up a lighter colored one. This taupe style is versatile enough to go with everything in your closet, and the double zippered detailing in front adds a thoughtful touch.
Images: Amazon (3); ASOS (5); NastyGal (2); Nordstrom (5)
Bustle may receive a portion of sales from products purchased from this article, which was created independently from Bustle's editorial and sales departments.