Alisan Porter Has Been Doing A Lot Since 'Voice'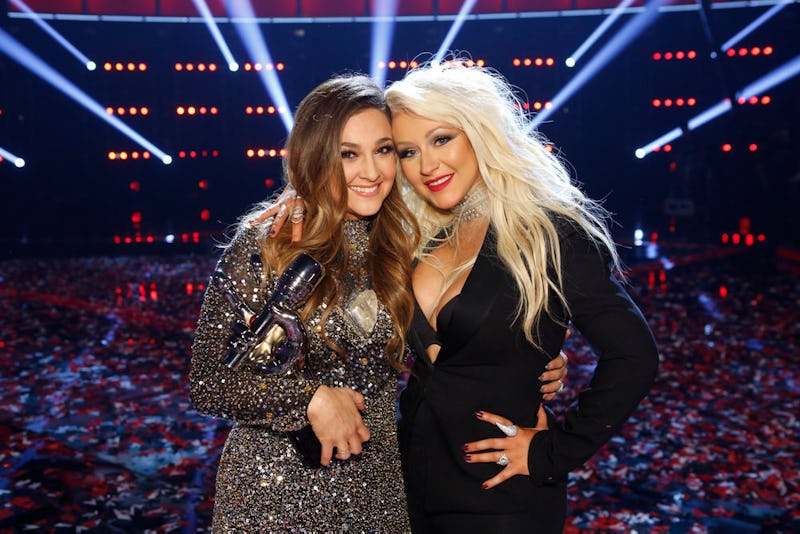 Alisan Porter had a pitch perfect season on The Voice. She won Season 10 after many strong vocal performances that even included an original song. Porter became the first winner for coach Christina Aguilera and was a powerhouse throughout the season. Now, the former child star-turned-singer is busy as ever. So what has Alisan Porter been up to since winning The Voice? Porter has been writing, performing, creating new music, embarking on new adventures, and spending time with her adorable kids. The mom of two and budding pop singer has barely had a moment to breathe since her big win.
Porter wants her win on The Voice to be just the beginning for her, according to an interview she did with People. "I had such an amazing introduction into the public, and I don't want to take my foot off the gas, so let's go," she told the outlet. This is the attitude a Voice contestant or winner needs to make it in the industry outside the show. Many reality singing show contestants go on to great success, others fade away after their time on TV. Porter seems to understand that while her win is exciting, the real work has just begun.
Here are some things The Voice winner has been up to since her time belting out tunes on TV.
Preparing Her Album
First and foremost, this Voice singer is preparing to release an album. While there isn't a date set yet for the release, she has made it clear music is coming. She's got a recording contract from her Voice win, the work ethic to succeed, and a story to tell through music. Porter is so close to her album debut that she even revealed on Twitter she is picking a single from her album to release.
Performing At Smaller Venues
As she prepares for her album release, Porter has been preforming at small venues around town. While the stages may not be as big as the one she had on The Voice, Porter is happy to keep preforming as she creates new music.
Spending Time With Her Very Cute Kids
Porter is a busy working mom of two. Her kids are are oh-so-cute, and I'm sure they're proud of their momma. Or they will be when they're old enough to understand everything she's accomplished.
4. Showing Love To The Voice
Whether congratulating the show on an Emmy win or reflecting on her own time, Porter makes sure to thank the show that put her on a national stage. She also seems excited to watch the new contestants compete for her title.
5. Cashing In On Her Renewed Spotlight
Porter is a former child star, she played Curly Sue opposite Jim Belushi in 1991. Back then, social media wasn't even a thing. Now, being in the spotlight means being able to get free stuff if you have a strong social media following. Like gum!
6. Sharing Her Story
Porter has struggled with addiction and is ready to share her story. She's a role model to young women everywhere, and it's a responsibility she takes seriously. While she already began opening up about her struggles, her new platform allows her to reach a broader audience.
With all the moving pieces in her life, Porter is a very busy Voice winner. I look forward to seeing, or, rather, hearing her next steps.
Images: Trae Patton/NBC