'Voice' Winner Alisan Porter Will Make More Music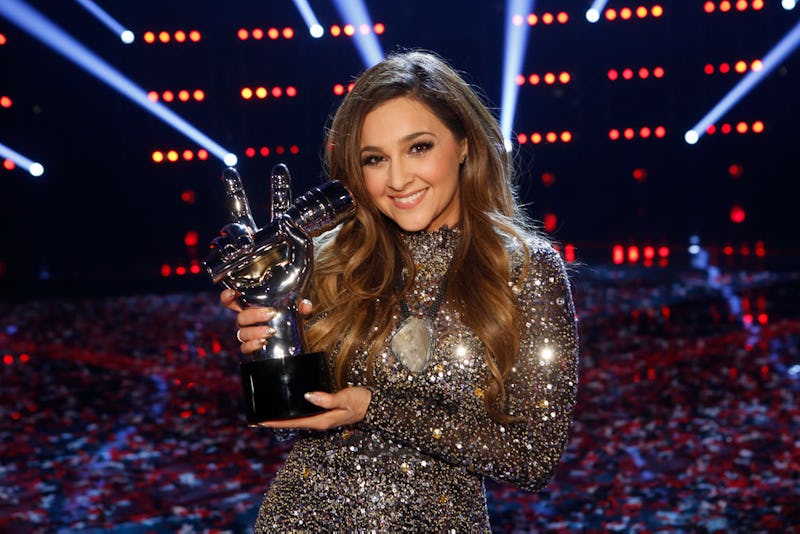 In the final moments of The Voice Season 10, winner Alisan Porter didn't think she was going to be victorious. "Honestly, I was preparing myself to walk off stage," she tells Bustle in an interview. Now that she's been crowned as champion, fans are wondering when will Alisan Porter release an album? Porter says that she will be producing new music soon, which works out since the winner of The Voice receives a record deal with the Universal Music Group. "First thing on the agenda is a record," she says. "We're already talking about writing and writers, producers and hoping to get the ball rolling."
Porter became the fourth female singer to take home the trophy, but she also represented two firsts for her coach: She is the first singer who was guided by Christina Aguilera to win and Aguilera became the first female coach to win The Voice. When asked about it, Aguilera gives all the credit to Porter. "I couldn't be more proud of Alisan and all that she has accomplished to get where she is today," Aguilera said in a statement to Bustle. "Alisan is a true example of a woman who managed to follow her dreams, juggles both being a mom and also staying true to who she is and to her dreams. She is proof that there is no stopping a strong woman."
Here's what Porter has to say about journey on The Voice and her future plans.
Road To The Voice
Porter got on the TV through the encouragement of her friends. Many of them had been urging her to try out for the NBC series, but then one friend of a friend took it a step further and gave her info to a casting director. "I got a call one day, saying my friend had given my information and asking if I'd be interested in auditioning," she says. "I had sort of been thinking about it, but all of a sudden it came flying into my life."
And, she was thankful for the chance to be on The Voice stage during Season 10. "I had the time to revisit my dreams and what was deep down inside of me that I wanted to share," Porter says. "Getting the opportunity to do it on such a large scale reawakened my desire to do music and to continue this for a career."
Inspiration For Her Original Song "Down That Road"
Porter had enchanted The Voice fans throughout the season with stunning covers of songs like Demi Lovato's "Stone Cold," the Dixie Chicks' "Let Him Fly," and Barbara Streisand's "Somewhere." In the finale, she debuted her original song "Down That Road," which was written a week before her big performance. The deeply personal track drew inspiration from her past struggle with addiction and journey to sobriety, which she has written about on her blog Lil' Mamas.
"I really wanted to write something new and my friend had sent me a track," Porter tells Bustle. "I felt like my story could help one person throughout this process then it would've been worth it. I got so many e-mails, texts, and Facebook messages saying that my journey had affected them and made them want to achieve their dreams or get sober."
Working With Christina Aguilera
Porter's Blind Audition performance of Linda Ronstadt's "Blue Bayou" received a four-chair turn from The Voice coaches and the singer ultimately chose Aguilera as her coach. Getting mentored by the powerhouse singer was a bit intimidating at first, she says, but they forged a strong bond throughout the season and performing with Aguilera was one of Porter's favorite moments of the season.
"I didn't expect to form such a friendship with her," Porter says. "I grew up listening to her and I think she's such an incredible singer — one of the best of all time. I really can't wrap my head around how cool it was win together, because our journey and, for her to have a win, it's so special to me."
Porter talks about how Aguilera was a supportive coach every step of the way, but the superstar also acted as a positive role model. Both singers appeared on Star Search at a young age, were child actors (Aguilera in The Mickey Mouse Club, Porter in Curly Sue), and, now, both are moms.
"[Christina] gave me a ton of great advice vocally, professionally and personally, but more than anything, just watching her with her kids and knowing that she was doing exactly what I want to be doing — juggling motherhood, music business, and being an artist," Porter says. "Watching her do it with such grace made me really confident that it would be something I would be able to do as well."
Loving Her Job As A Mom
Before appearing on the show, Porter had been a stay-at-home mom to her two young kids, a job she says is "the most favorite thing I've ever done." So, naturally she made family a priority even when appearing on The Voice. Porter says she was able to see her kids and husband at least once a week, even with a busy Voice schedule.
"It was pretty insane, but I definitely couldn't have done it without the support of my family and my husband," Porter says. "I hadn't spend more than a night away from my kids in their whole lives ... I think that was really daunting, but we took it day by day and did a lot of Facetiming. I got to see them whenever possible."
And, Porter's kids have been her biggest fans since she was named champion of Season 10. "They're still so excited," she says. "They had such a good time being at the finale, seeing the confetti and the fireworks. They just keep talking about how 'Mommy won! Mommy won!'"
Her '90s Acting Roles
During her childhood, Porter was a notable child actress who played the title character in the movie Curly Sue and appeared in films such as Parenthood, Stella, and I Love You To Death. She has also played Miriam in the Broadway show The Ten Commandments: The Musical. While she wouldn't rule out a return to acting, Porter's current focus is on music, she says.
"Singing is my first love," she tells Bustle. "If singing isn't involved, I'm not quite as interested at this point. I can dance and I can act, but I have to sing."
Porter's many fans would agree — personally, I can't wait to see what she does next in music in her post Voice career.
Images: Trae Patton (2)/NBC