9 Pretty DIY Wreaths To Make This Fall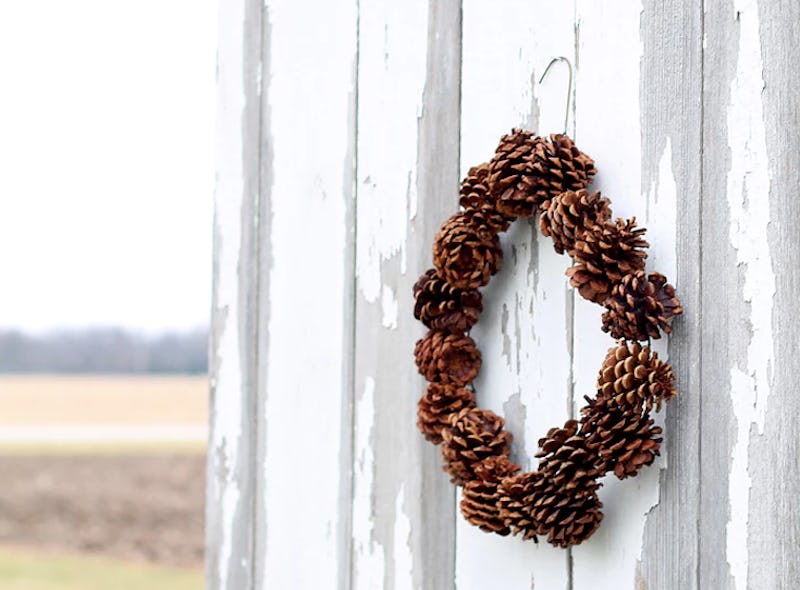 You have your pumpkins out and ready for Halloween, but it only takes one good DIY fall wreath idea to keep your front door looking festive all season long. And, as Porch.com reveals, making your own autumnal door accessory is actually pretty easy. You just need the right materials and some creativity. Here's some inspiration to get you started.
By: Maisie Leese, Contributor for Porch.com
As the sun starts to set a little earlier every evening and the weather starts to cool, it's time to bring out your cozy sweaters and put away your sun hats. Fall is upon us! What better way to welcome in the new season than to dress up your front door with the colors of autumn? These beautiful, easy to make wreaths will put you in the fall spirit, and complement the golden-red leaves as they begin to turn.
Whether you like vibrant colors and plenty of flare, or prefer muted tones and understated elegance, within this collection of fall wreaths rounded up by Porch.com, you will be sure to find something to suit you and your home. Explore the beautiful wreaths below, and get to crafting — use your wreath indoors or out, above your fireplace or on your front door, and say hello to autumn with a festive welcome wreath.
1. Rosettes And Berry Wreath
Image Credit: Crafting Mom
This bold, creative wreath adds a twist to the classic twig and berry design we've seen time and time again. For under $10, you can create your own version of this handmade wreath, and garnish your front door with some fall-inspired pizazz.
2. Cotton And Twigs Wreath
Image Credit: A Burst of Beautiful
If you prefer something a little less bold, this cotton and twig wreath is both rustic and subtle. Hang it on the front door or in your living room to add a touch of texture to your home.
3. Wood And Burlap Wreath
Image Credit: Finding Home Farms
Tiny thin pieces of wood sliced from a dried log are the main feature in this unique wreath. Topped off with ribbon, flowers, and burlap, this DIY wreath embraces the natural elements of fall.
4. Hydrangea Wreath
Image Credit: A Night Owl Blog
Bring your front porch to life with a handmade wreath that showcases the colors of fall. This DIY wreath is filled with vibrant orange and red hydrangeas, and only takes minutes to make!
5. Felt Foliage Wreath
Image Credit: Lia Griffith
Make your own fall leaves with felt and turn a simple twig wreath into a work of art. Burgundy and burnt red paired with purple and ice blue make for a warm and dynamic mix of colors that will have your home perfectly outfitted for fall. Hang it up or place it in the middle of your table, put some candles in the center, and voila — a breathtaking fall centerpiece.
6. Harvest Wreath
Image Credit: Love of Family and Home
Feeling festive? This twine and sunflower wreath with adorable bunting in the center is perfect for autumn. Change it up and create custom banners for Thanksgiving and Halloween, or stick with the harvest idea and use this wreath to dress up your door all through the season.
7. Pinecone Wreath
Image Credit: Love Grows Wild via I Heart Naptime
Keep it earthy and easy with this pinecone wreath. Strung together with a coat hanger and wire, this simplistic piece can serve as a decoration all through fall and winter. Grab a bag of pinecones at your local craft store or head outside and collect your own to make this DIY pinecone wreath.
8. Whimsical Fall Wreath
Image Credit: Let's Fête via A Night Owl Blog
If the deep rich colors of fall don't match your style, this light and delicate wreath is just what you need. Hot glue, a foam circle, burlap, and beaded flower sprigs create this versatile door decor.
9. Gourd Wreath
Image Credit: Garden Therapy
The start of fall means the beginning of gourd season. We eat them in soup, use them as centerpieces, and sometimes even carve them — who says you can't attach these quirky little squashes to a wreath? Keep it simple with two to three gourds, or go all out by throwing in a few pumpkins for a bit more fun.