Kylie Jenner Switched Up Her Blonde 'Do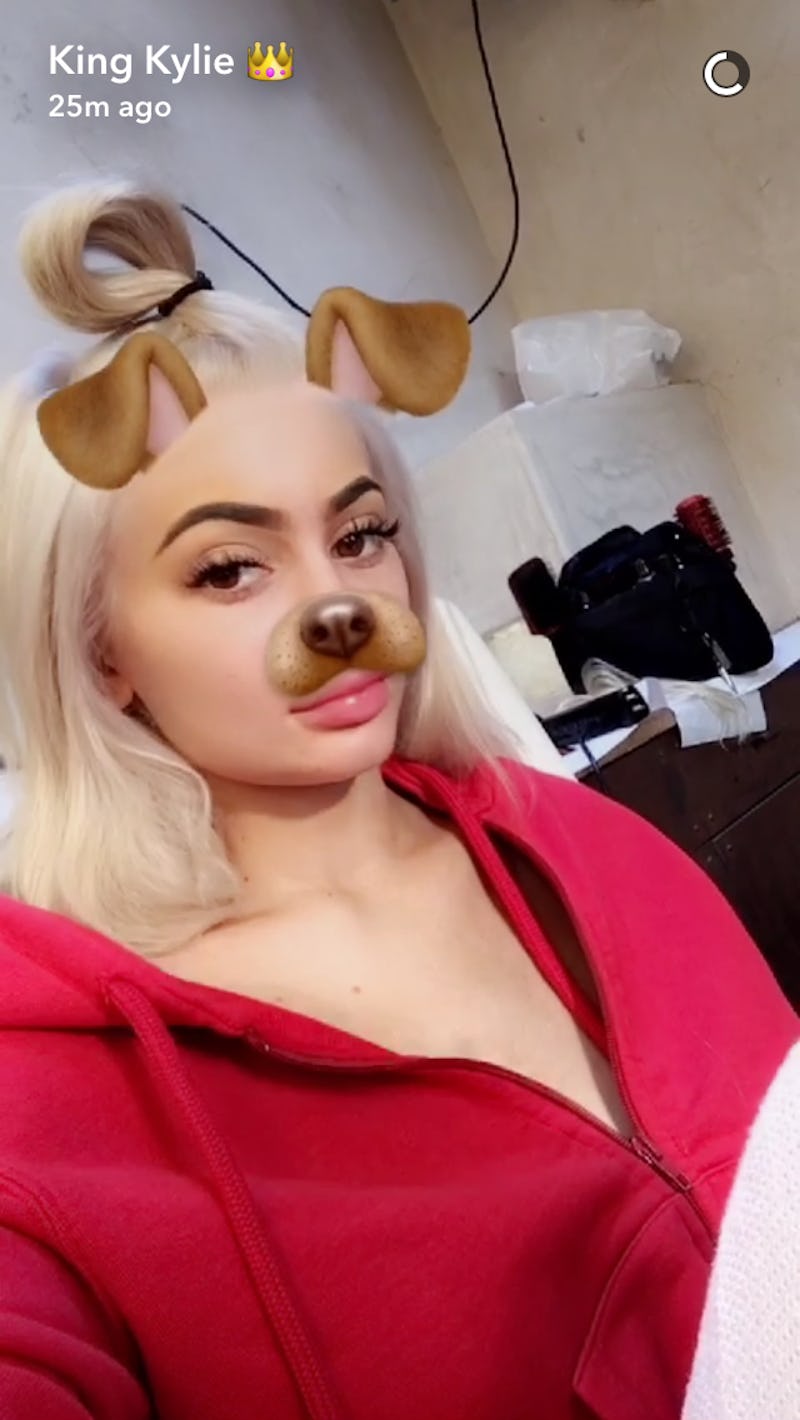 Kylie Jenner surprised everyone a during New York Fashion Week when she debuted new blonde hair. Plus, when she stepped out with the new 'do, it wasn't even a wig! Now, Kylie Jenner's silver blonde is changing things up again. Sure, Jenner was already rocking a honey-hue, but the bright silver shade she's got going on now is so fresh. It's total different than anything she's ever done, and sets her apart from sister Khloe Kardashian's current honey color and Kim Kardashian's previous platinum look.
On Sunday, Jenner took to her Snapchat to showcase how much her roots had grown in after only coloring her hair a few weeks before. Instead of just getting her roots done, though, Jenner went in a new direction with her hair. During the process of retouching, everything looked similar to the last time she colored her hair blonde. However, upon getting her hair dried, Jenner posted "Silver Blonde" onto the video. Flash forward a few hours, and Jenner's silver hair was looking stunning as she headed out for the evening.
Fans of Jenner have been anxiously awaiting to see when the star would change up her hair next. After all, the youngest Jenner is known for her various wigs that allow her to rock a new color on the regular. While this change isn't as dramatic as some anticipated, it's still bomb.
Clearly, Jenner wanted something different, but she chose not to switch it up too much.
The process doesn't seem to have taken as long this time either.
The end result was stunning. That silver blonde is somehow even better than her honey toned blonde.
Here's hoping Jenner sticks with the silver blonde for a while.
It looks incredible, dog lens or no dog lens.
Images: Kylie Jenner/Snapchat (5)