'The Case Of: JonBenét Ramsey' Names A Suspect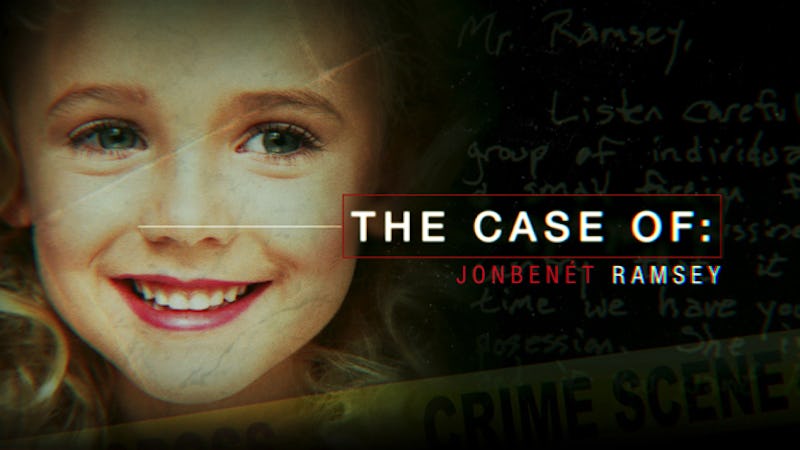 After 20 years of searching and many different theories, the world is still asking one not-so-simple question time and time again: Who killed JonBenet Ramsey? And now, after extensive research and collaboration, the team of investigators brought together for the CBS miniseries The Case Of: JonBenét Ramsey has presented their theory of what happened in the Christmas of 1996. The team named Burke Ramsey as a suspect in JonBenét's murder, claiming that he killed his sister and that his parents covered it up. Burke, John, and Patsy Ramsey have all maintained their innocence, and in 2008, were officially cleared of any involvement in JonBenét's death due to DNA evidence.
Update 2: CBS gave Bustle the following statement: "'The Case of: JonBenét Ramsey' was meticulously and responsibly researched, and its information was responsibly presented. CBS stands by the broadcast in every regard."
Update: The Ramseys' attorney, Lin Wood, gave Bustle the following statement about The Case Of on behalf of Burke Ramsey:
"In its desire to match or surpass the ratings and profits achieved by other networks in recent true crime series, CBS juxtaposed lies, misrepresentations, distortions and omissions with very few grains of truth to falsely accuse Burke Ramsey of causing JonBenét's death in its docuseries The Case of: JonBenét Ramsey. CBS intentionally avoided the truth of the mass of evidence that (1) led the Boulder District Attorney and Boulder Police Department to publicly and officially confirm in May of 1999 that Burke Ramsey was not a suspect or even a possible suspect; (2) supported the 2003 finding by Georgia Federal Judge Julie Carnes that "abundant evidence" supported assertions by JonBenét's parents, "that an intruder entered their home at some point during the night of Dec. 25, 1996, and killed their daughter"; and (3) led the Boulder District Attorney to publicly exonerate the Ramsey Family in 2008 based on conclusive DNA evidence.
The accusations of the CBS so-called "experts" lack substantial evidentiary support and contradict the conclusions reached by legitimate law enforcement authorities familiar with the evidence developed in the case. CBS' false and unprofessional attacks on this young man are disgusting and revolting.
No fair-minded person can condone this false and heinous television attack by CBS on this young man for ratings and profits. Burke Ramsey shall seek redress against CBS for its outrageous accusations in a court of law where he successfully acquitted himself over 15 years ago in libel actions filed against the tabloid Star Magazine, the New York Post and Court TV for publishing similar false accusations."
Earlier: Wood told Bustle in a statement before The Case Of aired that if "CBS conveys in any fashion that there is a legitimate basis to accuse Burke Ramsey of involvement in the murder of his sister," he intends to take legal action. Wood also said:
"In May of 1999, the Boulder District Attorney and the Boulder Police Department took the extraordinary step of stating publicly that Burke Ramsey was not a suspect, not even a possible suspect, but at most, only a witness because he was in the home the night his sister was murdered. These statements were issued by both departments because they were outraged by tabloid articles (Star and NY Post) accusing Burke of the murder. On behalf of Burke, I sued both organizations for libel and the cases were successfully settled for confidential amounts.
"In 2008, Boulder District Attorney, Mary Lacy, publicly exonerated the entire Ramsey Family based on DNA test results. That official exoneration marked the end of the era of making accusations against John and/or Patsy without legal liability."
The Denver Post reported during the 1999 grand jury investigation of JonBenét's death that "Boulder authorities publicly reaffirmed that [Burke's] not a suspect, only a witness."
The team of investigators featured in The Case Of ultimately concluded that Burke killed JonBenét. They analyzed many pieces of evidence, such as the fragments of pineapple found in JonBenét's stomach after her death, Burke's taped interview with police and a child psychologist, the ransom note, and more. In a three-part interview with Dr. Phil which aired between Sept. 12 and 19, Burke again maintained his innocence saying, "You won't find any evidence, because that's not what happened. I know I didn't do it." Burke also told Dr. Phil that he believes "a pedophile who saw her in one of the pageants" broke into the Ramsey home and killed JonBenét.
The Case Of ended with the team claiming that they don't necessarily believe JonBenét's death was caused intentionally or with malice, but rather could have been the result of a spur-of-the-moment fit of anger or an accident. But just like every other theory that has been put forth in the past 20 years, the team's claims are all speculation, and the murder of JonBenét Ramsey remains unsolved.