The 'Passengers' Trailer Is Here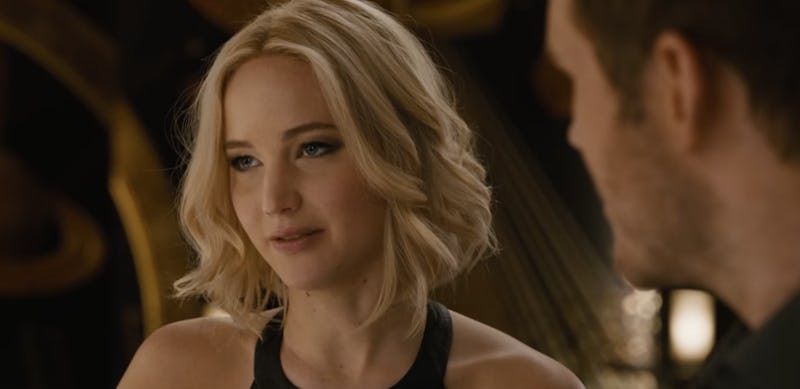 The first day of fall is quickly approaching, and that means the holiday season is right behind it. And what does that mean? A bunch of new movies are about to come our way, and now we have the trailer for one that looks really, really good. On Tuesday, the Passengers trailer debuted, offering the first look at the sci-fi movie that puts Jennifer Lawrence and Chris Pratt together as love interests fighting for a common goal. Loving every part of that sentence as much as I am? Good. Because Passengers also signifies Lawrence's return to the big screen, and I am here for it.
If you haven't heard much about this movie yet, in a world of reboots and sequels, the premise of this one is actually really interesting. Basically, Pratt and Lawrence play Jim and Aurora, two people who joined a new colony and are on a spaceship to get there... except they both wake up 90 years too early from suspended animation that was supposed to carry them through to their next planet. And being that they can't return to hibernation, that gives them a lot of time to get to know each other... until something goes wrong and it's up to them to save the ship and all the people on it.
After seeing the promo photos for the movie, I was pretty excited for the trailer, and I'm glad the real thing seems to be living up to the hype so far. There might have been that part of the population that was bored of Lawrence after she was everywhere during the height of Hunger Games mania, but I was never in that group. And since she's mostly disappeared off the radar over the past year, it'll be good to have her back — especially in a role like this.
Passengers hits theaters December 21, and I am counting down the days. Between Lawrence and Pratt, what's not to love? I'm so ready.
Image: Sony Pictures