The Best Fabrics To Prevent Thigh Chafing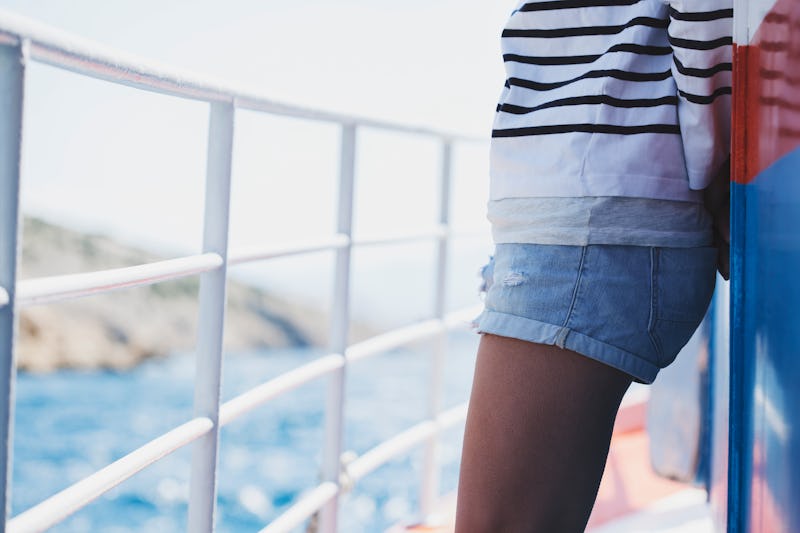 Whether it's because of a sweaty summer or an intense workout, chafing is no joke. But just because your thighs rub together doesn't mean you have to live with the pain: There are certain fabrics that help prevent chafing that you can use as your secret weapon, and they're more common and easily accessible than you think. Chances are you see them every time you go shopping, which means you can remedy this annoying ailment stat.
While breathable fabrics such as cotton, linen, and silk might seem like the obvious answers, they can sometimes actually be culprits. Chafing occurs because of irritation, which happens when skin rubs against other skin or material. Friction is what you need to take out of the equation, and when natural fabrics get wet from sweat, they bunch up and get heavier — which only produces more friction.
Instead, focus on synthetic materials that can't absorb sweat. Instead, they keep you dry, cool, and act as barriers when to rubbing skin. There are a variety of different options, from shapewear and sportswear to slip shorts and thigh bands. And since these materials help soothe irritation, they can also be used in other high-risk areas like armpits, nipples, and backsides.
1. Moisture-Wicking Mesh
Mid Rise Anti-Chafing Panty Short, $34, Thigh Society
You can easily throw on moisture-wicking mesh underneath your pants or dresses in order to avoid the dreaded chub rub. One great example of such a product is the Anti-Chafing Panty Short from Thigh Society. According to their website, the special mesh panel "runs along the inner thighs of the garment to prevent chafing, using an advanced 'Catch, Move, and Release' system to catch moisture quickly, move it off your skin and then release it for evaporation 4 times faster than competitive technologies."
2. Neoprene Compression Gear
RDX Neoprene Thermal Compression Shorts,$40, Amazon
An alternative to the special anti-chafing pants are compression shorts. They're the tight neoprene pants you can wear for running or bicycling, and they work because they act like a protective wall around your thighs —moat not included. Men's Health confirmed in an article, "Prevent chafing by restricting movement with shorts that have a compression liner built in." The compression technology is like an extra precaution for thighs that manage to chafe no matter what, and the material is so thin that it'll be unnoticeable underneath your regular clothes.
3. Lace (When It Comes In Bands)
Bandelettes,$18, Amazon
You probably wouldn't think of lace when you think of anti-chafing, but it can help. These lingerie-like bands wrap around the sensitive-to-irritation areas of your thighs and act as barriers when it comes to rubbing. "As an anti-chafing option, products like Bandelettes are easily the most lingerie-y choice out there. The lace feels sturdy without being heavy or stiff, and oddly enough, they're very comfortable," fashion writer Lesley Kinzel at XOJane explained in an article.
4. Microfiber Blends
Classic Shortlette,$30, Amazon
The sleek, microfiber fabric will allow your thighs to graze each other without friction, letting you avoid irritable rashes after a long day of walking. A great example of such a short that has that fabric is the Undersummer Slip Short — it's breathable and light and has a "stay-put leg design" that ensures it won't creep up while walking. "These really aren't shapewear in the least. These shorts want you to be comfortable with everything that's going on here. They practically pet your legs and tell them that everything will be okay," Kinzel wrote in xoJane. They'll feel like a second skin on, and will protect your sensitive skin.
5. Lycra
Try: High Impact Sports Bra, $15, Amazon
Just like neoprene and microfiber, Lycra can prevent chafing because it wicks moisture, cutting down friction and keeping irritation at bay. "The best thing you can wear to minimize chafe is a synthetic fabric. That's why you'll often see athletes in Lycra or polyester — the fibers are essentially plastic, so they're nonabsorbent," fitness company GoodSport explained in an article on their blog. Pro tip: Lycra is a brand name of spandex, so look for the two material names listed interchangeably on tags.
6. Nylon Microfiber
Jockey® Skimmies® Slipshort, $20, Amazon
Nylon microfiber is another synthetic fiber that's soft, smooth, and durable. And since it's essentially made out of plastic, it won't trap sweat. "A synthetic fabric made from petroleum product, nylon was first developed as an alternative to silk. It's lightweight, durable, resistant to damage, and has low moisture absorbency," underwear delivery company, The Underwear Expert, shared in a post on its blog. Its silky-like feel will help your thighs glide past each other, and its durable wear will ensure it could handle a lot of rub without wearing down.
7. Fabrics Without Exposed Seams
Fusion Shortlette Rash Guard, $36, Amazon
Sometimes the stitching on a garment can be just as damaging as the wrong kind of fabric when it comes to chafing. When discussing runner's chafe, running coach Christine Hinton told sports site Competitor.com, "Some women find relief wearing their bras inside out, so exposed seams are on the outside. A lot of manufacturers are now designing them this way." Making sure that you have an all-over smooth surface is guaranteeing that you have one less thing for your skin to rub against. The trick here is to choose bottoms with flat seams, small stitching, or (even better) no seams at all.
While chafing can be a maddening, painful thing, it's totally beatable. If you steer clear of natural, sweat-absorbing fabrics and stick to synthetics, you should be able to let your thighs glide through the world pain free.
Images: Courtesy Brands