Robbie Reyes' Ghost Rider Jumps From Page to 'AoS'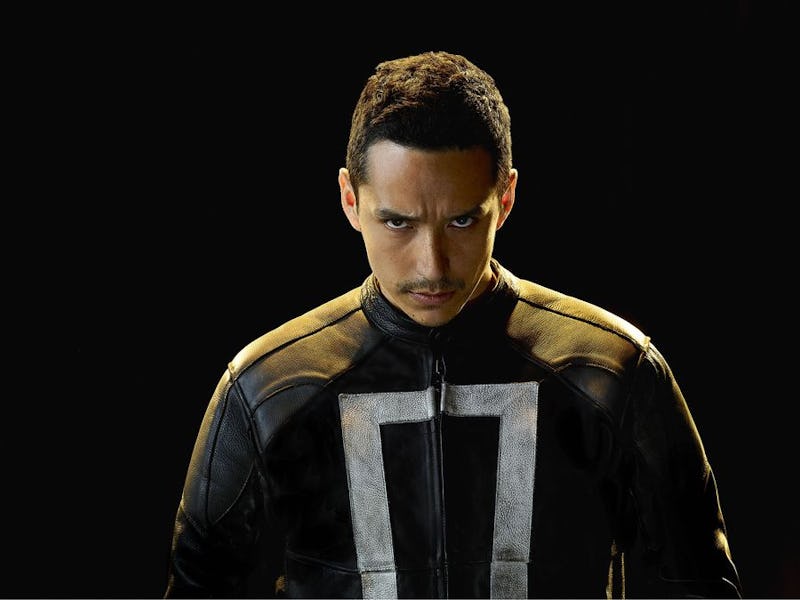 Now that summer is over, Fall TV season is officially kicking off and I, for one, welcome the cooler weather as well as the influx of new and returning shows. But, one that I'm looking forward to the most is Marvel's Agents of S.H.I.E.L.D. — especially because stuff's about to get real in Season 4 with the introduction of a certain antihero. In Season 4, we'll be getting to know Robbie Reyes, aka Ghost Rider, from Marvel Comics, and it'll be interesting to see how he fits into Agents of S.H.I.E.L.D.
There have actually been a couple different characters in the history of Marvel Comics who took on the mantle of Ghost Rider. Most fans are likely familiar with the original Ghost Rider, Johnny Blaze — this is also the version of the character that Nicolas Cage played in the two Ghost Rider movies that were released in 2007 and 2011. There was also a character named Danny Ketch, but I'm going to be focusing on Roberto "Robbie" Reyes because that's the version Agents of S.H.I.E.L.D. is adapting to the small screen, as played by True Detective's Gabriel Luna. The most obvious difference between Robbie's version of Ghost Rider and the previous incarnations is that he drives a car rather than the antihero's typical motorcycle.
As for more details about the comic character of Robbie, he was a high school student that worked as a mechanic and helped support his disabled younger brother, Gabe. However, when Robbie entered a street race in hopes of earning money to move himself and Gabe out of East Los Angeles, he was chased and confronted by mercenaries, who killed him. Robbie's car, though, was possessed by a spirit that revived him and turned him into Ghost Rider — a demonic being with a flaming skull that seeks vengeance. Cool stuff, huh?
From what I can tell based on promos, it seems the Marvel TV series is going to stick pretty close to the Robbie Reyes character of the comics. Robbie will have his signature black car, he'll be possessed by a spirit of vengeance, and his brother Gabe will even make an appearance, according to the cast list for the season premiere. The one difference may be Robbie's origin story since in the comics it's tied to Mr. Hyde — who, fans of Agents of S.H.I.E.L.D. will remember, is Daisy's father. But, last we saw of Mr. Hyde on the show, he had his memory wiped and was living peacefully as a vet, so it seems unlikely he'll be the one to order the mercenary hit on Robbie.
All that said, Agents of S.H.I.E.L.D. seems to be setting up an adaptation of Ghost Rider that will both bring a beloved comic character to the small screen and expand upon a lesser known version of the antihero. Plus, let's be real here, I can't wait for Ghost Rider to bring his unique powers to Agents of S.H.I.E.L.D. If he and Daisy go head to head, well, it's going to be epic.
Images: ABC