9 Things To Know About Upstart Honoree Ruchi Shah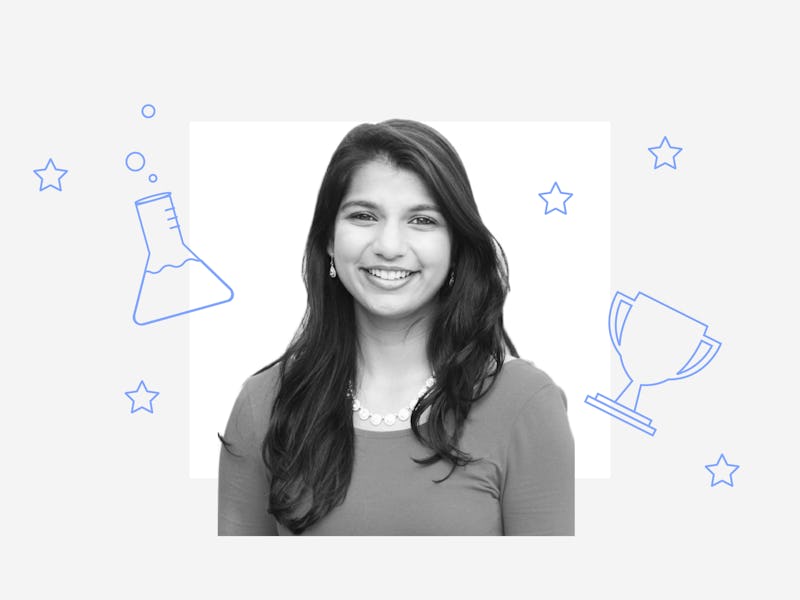 Ruchi Shah spent her first summer after graduating from Stony Brook University doing what lots of young post grads do: traveling. Yet unlike many new graduates about to embark on a Euro trip, Shah's vacation wasn't bookended by an onslaught of job applications and the promise of entry-level employment upon her return. Instead, in the lead up to her vacation, she made a pit stop in Washington, D.C. to attend the United States of Women Summit, where she spoke about female entrepreneurship, dialing in on topics like how women can get loans for their business as well as how to find a support network to guide them along the way. And waiting for her upon her return? Classes at Stony Brook's School of Medicine, where she is currently pursuing a career as a physician and medical correspondent.
Recent graduates don't always have a clear direction so soon once outside of their college "bubble," but Shah isn't exactly your typical 22-year-old. Her long list of achievements include (but are not limited to) inventing an all-natural mosquito repellent designed to combat disease in third world countries, acting as CEO of social entrepreneurship company, discovering proteins in a cancer research lab that can predict patient survival better than modern tools, and — the cherry on top! — presenting a TED Talk. These accomplishments are just part of why Bustle has chosen Shah as an honoree for the 2016 Upstart Awards, an opportunity to highlight the extraordinary accomplishments of recent and upcoming female graduates who are breaking barriers throughout the world. Here are nine things we learned about Shah, including her future plans to make a career out of combining her two passions: medicine and journalism.
1. The Inspiration For Shah's Company Came From Her Desire To Help Others
When Shah visited India with her family at the age of 15, it wasn't her first time in the country. However, it was the first time she witnessed — and understood — one of the country's major problems. Upon viewing a line of sick people outside a clinic awaiting treatment for various mosquito-transmitted diseases, Shah recalls seeing the pain in their eyes.
"People were suffering, they had fevers, they were hunched over….This was something I had never experienced being born and raised in New York," Shah explains. "On the plane ride home, I thought, 'I need to do something to help them.'"
2. She Made A Potentially Lifesaving Discovery In Her Garage
After experiencing the crowded lines for clinics in India, Shah returned home and did her research. She found that while many people in developing countries can't afford mosquito repellent to begin with, many individuals in the area are not even aware of the threat of mosquito-transmitted diseases. Shah began to look into why certain people were more attractive to mosquitos and thus more susceptible to bug bites by setting up a science experiment in her garage.
"People who have higher amounts of nitrogen-based compounds in their sweat are more attractive to mosquitos," she explained. "I thought, 'What if I could neutralize those compounds so they're essentially not present at all?'"
To test this theory, Shah collected sweat samples from people at her high school (not the easiest way to gain popularity, she notes as an aside) and observed how various concoctions like fruit juices, oils, and all-natural compounds held up as defense mechanisms against mosquitos in a test chamber she built herself: "After many failures, we finally landed on a recipe that worked."
3. Her Company, Mosquitoes Be Gone, Was Initially A Science Project
It wasn't until her sophomore year at Stony Brook University that Shah began to think of her experiment as a viable business idea. Despite the fact that it had received some notoriety, she didn't consider it more than a science project until she received an email about a business plan competition.
"I went [to the competition], and presented my idea about turning the product into a business," Shah recalls. "I wasn't even going to go to the award ceremony, but I ended up going and won first place and $20,000 to begin crafting this product. The fact that people believed in my idea and vision was incredible."
4. Shah Has Received National Recognition For Her Work In Cancer Research
In high school, Shah began doing cervical cancer research in a lab and won a fellowship to continue that research in between her junior and senior year. Shah has worked with with Dr. Kevin Mills and Dr. Gareth Howell to better understand the role the immune system plays in cancer, and in March of 2016, she was awarded first place in the Medicine and Public Health category for her research on keratin 17 expression in cancer at the 2016 American Association for the Advancement of Science (AAAS) Annual Meeting. She was also named one of the top 10 college cancer researchers by the American Association for Cancer Research. Along with her mentor, Dr. Kenneth Shroyer, Shah focusing on understanding how certain proteins can better predict survival of early-stage and advanced-stage cancer patients.
5. Her Work With Cancer Patients Extends Beyond The Lab
Shah work with cancer patients doesn't end in the lab. She also helped start her campus' chapter of Camp Kesem, a free summer camp for children who have been impacted by a parent's cancer diagnosis.
"When you work with cancer cells in a lab, you forget that this is a person and there's a story and family behind every sample we're working with," says Shah. "[Camp Kesem] gives kids a week away from all the stress they're dealing with at home. It's fully fundraised and fully planned for them. To give these kids an awesome week away is really rewarding."
6. She's A Big Believer In To-Do Lists
Juggling the workload of a CEO and a med student plus the everyday intricacies of being a 22-year-old isn't easy, but Shah stays balanced by making countless to-do lists, and planning out her free time in 30- and 15-minute segments.
"I think what makes [balancing everything] easier is that I get energy from doing a lot of these things, whether it's running Camp Kesem, being in the lab, or spending time with the [Mosquitoes Be Gone] interns," she says. "These activities give me a lot of fulfillment and energy knowing I'm making a difference."
While Shah may be strapped for time, she's careful not to neglect her own needs: "The most important thing I've learned is that it's not selfish to take time for yourself and plan [self-care] into your daily schedule."
7. She Hopes To Merge Her Interests In Journalism And Medicine In The Future
At Stony Brook, Shah started a science column in the campus newspaper to generate awareness about ongoing medical research, and explain its importance to students and teachers. She later worked as an intern at Fox News Health, and wrote for the National Institutes of Health.
"The idea of becoming a medical correspondent began when I was presenting at different conferences and sharing things about my research," Shah explains. "I realized that it's really important to communicate science effectively to the general public, not only so they can understand it, but to see the value of your work, share why it's pertinent to society, and receive funding."
8. She Believes In The Power Of Mentors
Shah is no stranger to being miscounted because of her young age and gender in the largely male-dominated world of STEM. But she doesn't let that affect her work.
"What's been really valuable in my life is having really strong mentors, like my mother who is a civil engineer and works in a male-dominated field," says Shah. "Having mentors, both female and male, who have supported me and shown me my voice and work speak for itself, has taught me that my voice has a role at any table."
9. Her Message To Other Women: "Your Voice Matters"
"Remember that your voice is really important, and it counts and it matters," says Shah. "If there's something that you're passionate about, your gender should not make a difference. As long as you believe in yourself and show that to people, people will listen to you... My hope is that young women hear my story and know they're capable of doing it too. Seeing people do what you want to do make it much more accessible."
Images: Courtesy of Ruchi Shah; Caroline Wurtzel / Bustle