Why Andre Jr. Is So Important On 'black-ish'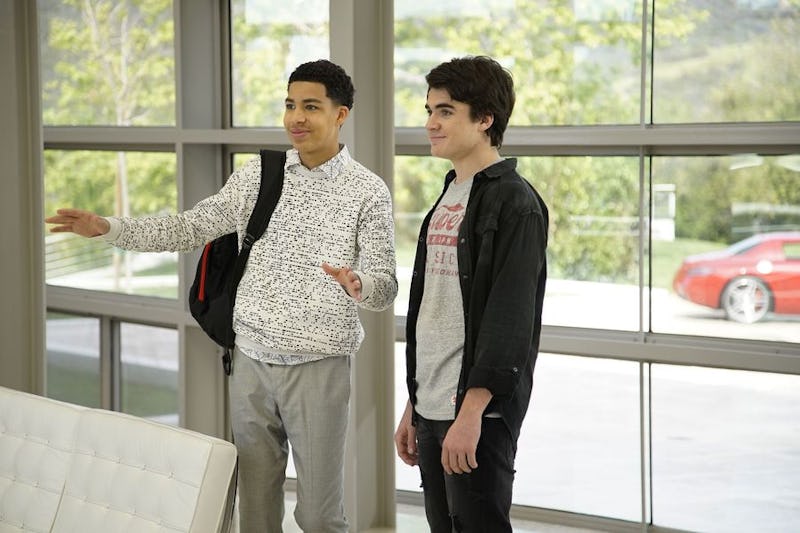 Sometimes, actors try to distance themselves from the characters who made them famous, but one of the best things about black-ish is how the actors seem to really like one another and don't mind being seen as a sort of family (see Anthony Anderson and Tracee Ellis Ross on the Emmys red carpet). And, the actor behind Junior, Marcus Scribner, who plays the oldest Johnson son on black-ish, spoke with Bustle and explains that he has a lot of similarities to the character he plays onscreen. "I love video games, superheroes ... a lot of the same things that Andre Jr. does," Scribner says. "But then, at the same time, I feel like Junior takes it to a whole new level you know what I mean? He's really immersed in that world, you know, dressing up as wizards and doing all that kind of stuff. I'm not quite at that level of nerd-etry, I guess you would say — but I'm a pretty big nerd."
But, maxing out the levels of "nerd-etry" is what makes Junior so funny, and so relatable. Scribner says, "It's hard to find people that you really identified with on TV being a black child," citing The Bernie Mac Show and Everybody Hates Chris as a few influences of his own, joining series like Good Times that have inspired whole episodes of black-ish. And one of the best things about black-ish is that it gives Scribner and the rest of the cast free reign to make their own new archetypes.
"I'm really proud that we're able to make a show like that that kids can actually identify with the characters, because oftentimes on television, black people are not portrayed so well," he says. "So being able to play a black nerd — because I know a lot of kids who are black nerds — it's a blessing, and representing that group is really fantastic."
Representation is a word that gets thrown around a lot when it comes to increasing diversity in television, but what Scribner points out is that there's more than just showing black characters onscreen — it's about making them unique enough that audiences can relate to their experiences. "We always have families that are coming up to us all the time telling us that they identify with Junior, or they identify with Dre, or that their parent acts just like Pops," Scribner says, "which is what the goal of the show is: To portray a real life family."
When it comes to the type of material he gets to perform, Scribner says, "I played a minor role in the development of the character," but credits black-ish's writers with deciding that his character would take such a hard comedic turn. The Junior in the first few episodes was a little cooler, even if he still struggled to connect to his dad, but, over time, he's gotten much sillier and a whole lot nerdier. In Season 3, "specifically my character, he's getting a little bit older, so [there] may be a little bit of a change in his style, his attitude," Scribner says.
While black-ish is a funny, gag-filled show, it's known for having other topics on its mind, and Scribner is taking his role seriously in the same way. "We want to make sure that people start up conversations about each episode and that each episode really has an impact," he says. "And try to have a good time, laugh at the same time, obviously, because we're a comedy." Tune in to laugh, and to think, with the Season 3 premiere Sept. 21.
Image: Kelsey MacNeal/ABC; Giphy