This 'Queen Of Katwe' Star Is A Real Hero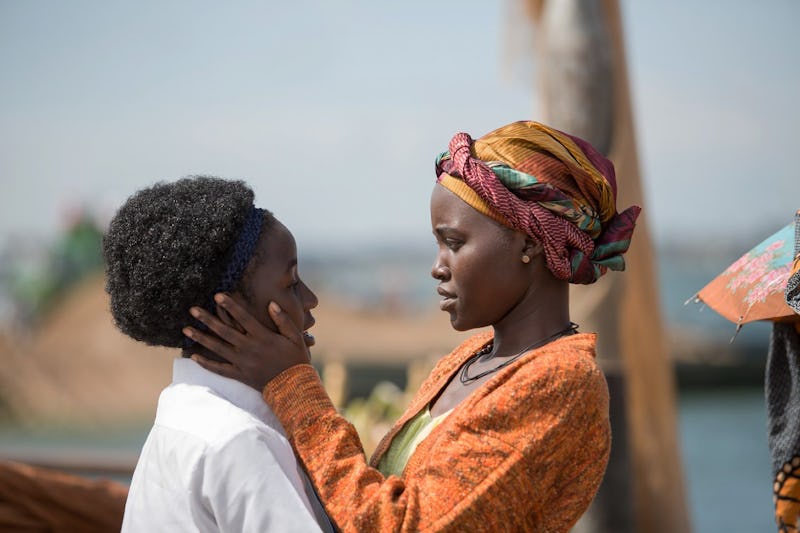 I know nothing about chess. Zip. Zero. Zilch. Listen, I've tried, I really have, but I think I am far more destined to become a checkers champion than a winner at chess. Unlike me, however, becoming a chess prodigy was in the cards for Phiona Mutesi. Her inspirational and unbelievable journey in becoming an international chess sensation is depicted in the new Disney movie, Queen of Katwe. It's an incredible story, but Phiona didn't discover chess on her own. No, she found her calling after joining a Sport Outreach program run by Robert Katende, played by David Oyelowo in the film. What Robert thinks of Queen of Katwe is unclear, but his portrayal in the film as a mentor and friend to Phiona is certainly a positive one.
The real Robert Katende has not spoken publicly about the film, and he doesn't appear to be active on social media. Yet a rep for Katende told Bustle that Katende is pleased with Oyelowo's portrayal, saying that the actor is "a humble and hard working guy" and that "connecting to him was a big blessing for me. I have learnt being a good husband through his way of living."
If the movie's overwhelmingly positive reviews are any indication, it's hard to believe that Katende wouldn't be pleased with his portrayal. The movie centers mainly on Mutesi, but it also highlights Katende's dedicated to the Sports Outreach program and to his students, showing his unwavering belief in them.
Not only does the movie depict Mutesi's perseverance, but it shows the support system around her — especially Katende. If he hasn't yet seen the movie, it's likely because he's spending much of his time dedicated still to his students. In 2007, Katende and Sports Outreach started a chess program with only six students, but today, it has over 1200 students. The program is so successful and inspirational that it has become a model for similar chess programs in Sports Outreach programs in Kenya, El Salvador, and the USA. Katende still teaches at the Sports Outreach in Kampala as well as in Gulu, Uganda.
In 2014, director of Queen of Katwe Mira Nair directed a short documentary about Katende, A Fork, A Spoon, and a Knight, which can be viewed on Vimeo here. The description of the short documentary reads,
See how Robert overcomes many challenges to complete school, become a teacher, a husband, father and member of Sports Outreach staff, while turning the Katwe slum of Kampala into a world famous chess sanctuary and place of healing for abandoned children.
I definitely recommend checking out A Fork, A Spoon, and a Knight, especially once you've seen Queen of Katwe. It's so rewarding to see Katende and Mutesi's incredible stories depicted on-screen.
Queen Of Katwe Book, $11, Amazon
Images: Walt Disney Studios Motion Pictures