The Story Behind 'Queen Of Katwe' Is So Inspiring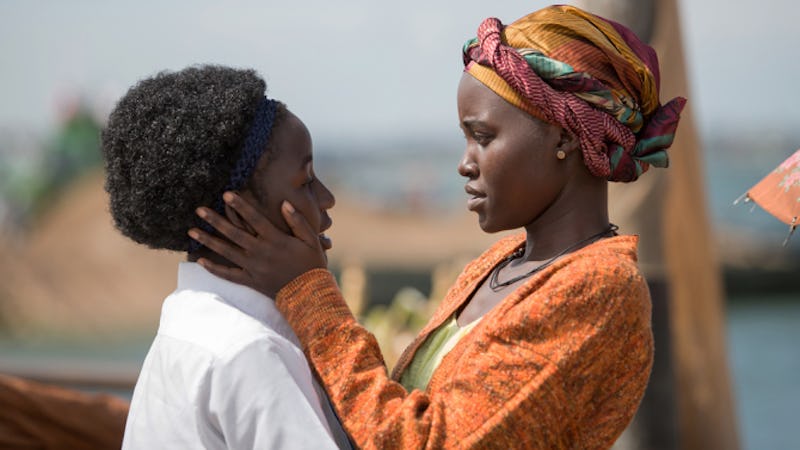 It's hard to believe that Lupita Nyong'o hasn't been seen in a movie since winning the Academy Award for Best Actress in 2014 for her role in 12 Years a Slave the year before. Since then, the 33-year-old has lent her voice to high-profile CGI projects like The Jungle Book and Star Wars: The Force Awakens, but fans have been denied the chance of actually seeing Nyong'o work on her craft for the past two-and-a-half years. Thankfully, that streak is coming to an end with Queen of Katwe, where she plays the mother of a young chess prodigy from Uganda. But is Queen of Katwe a true story?
It is indeed. The focus of the film is Phiona Mutesi, a chess player from Katwe, a poor and crime-ridden slum in Uganda. To say Mutesi had a rough childhood would be an understatement. Her father and sister both died when she was very young, and she was forced to drop out of school when she was just 9 years old. When hope for her future appeared lost, she discovered chess one day while searching for food, and found that she had a natural talent for the game. Mutesi rose through the ranks, becoming junior girls' champion of Uganda multiple times and performing at the international competition Chess Olympiad, after which she was awarded the rank of Woman Candidate Master.
Mutesi's journey to the silver screen began in 2012, when former Sports Illustrated senior writer Tim Crothers published a book called The Queen of Katwe: One Girl's Triumphant Path to Becoming a Chess Champion. The story then came to the attention of Walt Disney executive Tendo Nagenda, who is of Ugandan descent. Nagenda first became aware of Mutesi's story after reading Crothers' 2013 profile on her in ESPN the Magazine, and he knew that it would make a great movie.
"What I saw is a genuine underdog story and something that was as relatable as Cinderella—which is another movie I worked on," Nagenda told Josephine Opar of Okay Africa. Disney bought the rights to Crothers' book and Nagenda went to work on seeing that the movie got made, while staying true to its setting. "There's a commitment to telling stories authentically. We shot in Africa—in Uganda and South Africa. All the children in the film had never acted before and were from Katwe. That was a big thing for Disney to commit to using untrained actors—to make sure we trained them," he said. "This is a story about people raising themselves up—nobody comes to their rescue from the West, we thought that was a very important thing to do."
So not only is Queen of Katwe a true story, but a lot of what you see on screen is true-to-life as well. Sounds like a pretty great live action return for Lupita Nyong'o.
Images: Walt Disney Pictures