Dusty Rose Is Fall's Biggest Beauty Trend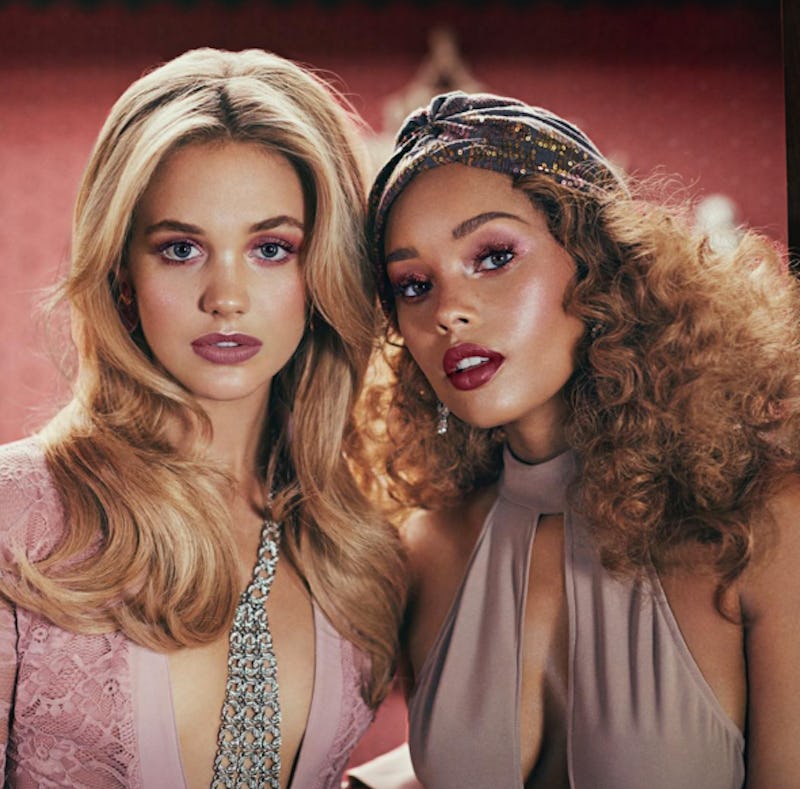 When it comes to fall beauty trends, this is one that's worthy of getting excited about. Not only has ColourPop launched an entire line of products in this color palette, but Adam Levine and Behati Prinsloo are rumored to have named their baby Dusty Rose, according to People. Dusty Rose is the biggest fall makeup trend, and thankfully, there's still plenty of time for you to wear this color.
Whether you shop from ColourPop or any other cosmetics brand, it won't be hard to find mauve-y, pink colored products that you can wear all season long. I mean, if Levine and Prinsloo support this color, that's all the more reason to get on board with this trend, you know what I mean?
You can shop Dusty Rose lipsticks, eye shadows and even — you guessed it — highlighters. BECCA's "Rose Quartz" shade is just one way you can slick a rose-y color across your cheeks. So, go on and shop these products before the Dusty Rose train leaves you behind. When it comes to what's trending, I say, if you can't beat 'em, join 'em. And honestly, with beauty items this good, there's no way you'd choose not to be a part of this. Because you know you just can't help but love this shade.
I mean, seriously. How could you not be obsessed with makeup looks like these?
1. Times Square Lippie
Ultra Matte Lip in Times Square, $30, Amazon
This is the color you think of when you think "dusty rose."
2. Dusty Rose Liquid Lipstick
Anastasia Beverly Hills Liquid Lipstick in Dusty Rose, $32, Amazon
A subtle pink shade will be just gorgeous when slicked across your pout.
3. Dusty Rose Blush Set
Sculpted Cheeks Deluxe Amazonian Clay Blush Set & Brush, $32, Amazon
This blush set is all you need for your cheeks this fall. The nude-mauve Royal and the rose-y Genius are especially on-trend.
4. Brady Matte Eyeshadow
Super Shock Shadow in Brady, $6, Amazon
A dusty rose matte shadow will be your go-to all season long.
5. Rose Quartz Highlighter
Sold Out
Shimmering pink highlight? Don't mind if I do!
6. Metallic Dusty Rose Eyeshadow
Stila Magnificent Metals Foil Finish Eyeshadow, $32, Amazon
There's nothing better than adding a bit of sparkle to your super trendy beauty look.
7. Must-Have Fall Palette
Naked Ultimate Basics Palette, $60, Amazon
This palette's full of shadows you'll want to wear every single day. Naturally, there are some dusty rose shades in the mix. So, you're going to want to cop this palette, ASAP.
8. Viper Lippie
Ultra Matte Lip in Viper, $13, Amazon
Viper is rose-colored perfection.
9. Rose Highlight & Blush Set
Let It Glow Highlight & Blush Kit, $62, Amazon
Rose-y cheeks are so in.
10. Mauve Lip Tint
Beautifully Bare Lip Tint in Marvelously Mauve, $9, Amazon
Even just a slight addition to dusty rose will do.
11. Dusty Mauve Pink Lipstick
Studded Kiss Lipstick in Mother, $36, Amazon
This limited edition lippie couldn't be more fitting. Be sure to snag it while fall lasts.
Images: colouropopcosmetics/Instagram (1); Courtesy Brands (11)