19 Harry Potter Accessories For Your Muggle Home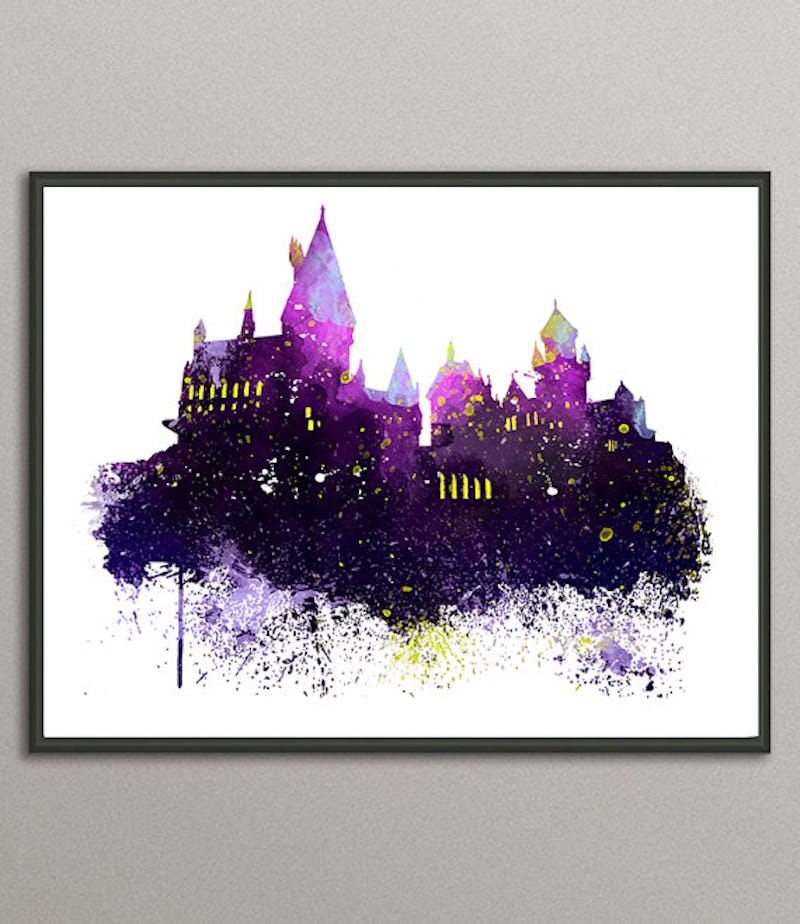 Potterheads can agree and disagree on a lot of things, but if there's one thing all Potterheads know to be true, it's that there can never be enough Harry Potter items in the world. As a Potterhead who is constantly trying to find more ways to make my apartment more magical, I've become a major fan of seeking out unique, adorable, and incredibly nerdy Harry Potter decor. From posters to shot glasses to wands to key chains, I've started a collection that continues to grow. And if you're a Harry Potter fan who prides his or herself on making your house feel as non-Muggle like as possible, then I've got a treat for you.
As the world of Harry Potter continues to grow with new Patronuses and books even after the series originally ended years ago, there's never been a time to be alive, really. There are endless possibilities when it comes to expansion of J.K. Rowling's fictional world of wizards, nor is there an end to the stunning and fun Harry Potter inspired house decor in the world of DIY crafters.
So get your wand at the read (aka your credit card) and deck out your space with these 20 completely necessary Harry Potter home decor items that'll make you feel more at home than ever before:
1. An Alohamora Sign To Keep All Your Keys From Flying Away
Keys are known to get lost, and my preferred excuse to use when that happens is they must've been under a spell and flew away, obviously. If you have that problem, too, keep it from happening with this hand painted Alohamora key hanger.
Alohamora Key Holder, $23, Etsy
2. This Embroidered Art Piece With Your Favorite Quote From The Series
Just as you'll always love the series, you'll always love this hand embroidered hoop art piece no matter where you hang it at home.
Always Hand Embroidered Hoop Art, $12, Etsy
3. Some Plushy Harry Potter Throw Pillows
Simple and comfy, does it better than this?
Harry Potter Pillows, $26.62, Etsy
4. A Ministry of Magic Toilet Sign That'll Make Your Loo The Best Around
There aren't too many ways to make a toilet into a decorative piece in a home, but this sticker will definitely keep you and your housemates smiling.
Harry Potter Inspired Toilet Sticker, $3.98, Etsy
5. A Sock Collecting Sign Supporting Dobby's Freedom
If you have a missing sock problem in the laundry room, get this Harry Potter inspired sock collector to turn your loner socks into a fun work of art.
'Save Dobby' Odd Sock Collector, $13.30, Etsy
6. This Magical Wall Clock
Having a wall clock is a statement that you're orginized and a full-blown adult, but you can also make it nerdy by choosing this beautifully crafted Harry Potter clock.
Harry Potter wall clock, $40, Etsy
7. A Customized Hogwarts House Vase And Paper Flowers Made From The Book
If you're like me and weren't born with a green thumb or would fail miserably in Herbology, spruce up your home with a Hogwarts house themed vase and paper flowers made from the book.
Harry Potter Vase, $35, Etsy
8. A Set Of Harry Potter Wine Glasses To Enchant Guests With
These wine glasses won't fill themselves, but you will feel pretty magical drinking from them. Plus, if you happen to have a range of personalities in your friend group, everyone will feel special with their own Hogwarts house cup to drink from.
Accio Wine Glass , $9, Etsy
9. Marauder's Map Tile Coasters To Set Your Fancy Wine Glasses On
You'll definitely feel up to no good drinking and using these Marauder's Map coasters.
Marauder's Map Tile Coasters, $10.63, Etsy
10. And A Marauder's Map LED Desk Lamp To Keep Your Mischief A Secret
I'm pretty sure every Potterhead night owl desperately needs this on his or her nightstand or desk. I mean, it's SO COOL!
Marauder's LED Desk Lamp, $31.31, Etsy
11. A Wizard Clothes Hanger To Hang All Your Hogwarts Clothing And Accessories On
Whether you want to hang your Hogwarts robes, Gryffindor scarves, or Harry Potter inspired jewelry from this hanger, it's up to you. But either way, there's no denying you want this immediately.
Harry Potter Inspired Clothes Hanger, $15.29, Etsy
12. This Gorgeous Art Print Of Hogwarts In All Its Glory
Hogwarts is home, so what better place to put this gorgeous print than smack-dab in the center of your house?
Hogwarts art print, $3, Etsy
13. An Inspirational Ginny Weasley Poster To Hang Above Your Desk
Whenever you feel a bit down or lacking motivation, Ginny Weasley will pick you back up with her infamous quote on this beautiful poster.
Ginny Weasley Quote Poster, $5, Etsy
14. A 9 3/4 Wall Decal To Make Trips To And From The Wizarding World Easier
Don't lie, you know you've always wanted a 9 3/4 sign to hang near a blank wall (especially if you have exposed brick in your apartment or home).
9 3/4 wall decal sticker, $12.99, Etsy
15. Some Harry Potter Poetry Magnets For Your Fridge
Keep the story going with some ridiculously funny and silly poetry with words and phrases taken right from the book!
Harry Potter Poetry Magnet Set, $15, Etsy
16. This Small Deathly Hallows Mirror That'll Make A Big Statement
For the Potterhead minimalist, this is necessary.
Dealthy Hallows Mirror, $68, Etsy
17. A Few Lumos/Nox Light Switch Covers
Put these on every light switch in the house and no one will ever deny your true love for Harry Potter again.
Lumos/Nox Harry Potter Light Switch Cover, $14.50, Etsy
18. Your Hogwarts House Scented Candle, Or All Of Them
I for one can never have enough candles, and if it's representing my Hogwarts house? Well, I just have to have it.
Harry Potter House Candle, $12, Etsy
19. This Harry Potter Inspired Water Dish That Your Furry Pet Will Love
This Harry Potter inspired water dish will surly quench the thirst of your adorable puppy or kitty pal.
Aguamenti Water Bowl, $2.95-3.95, Etsy
Images: Download Express/Etsy