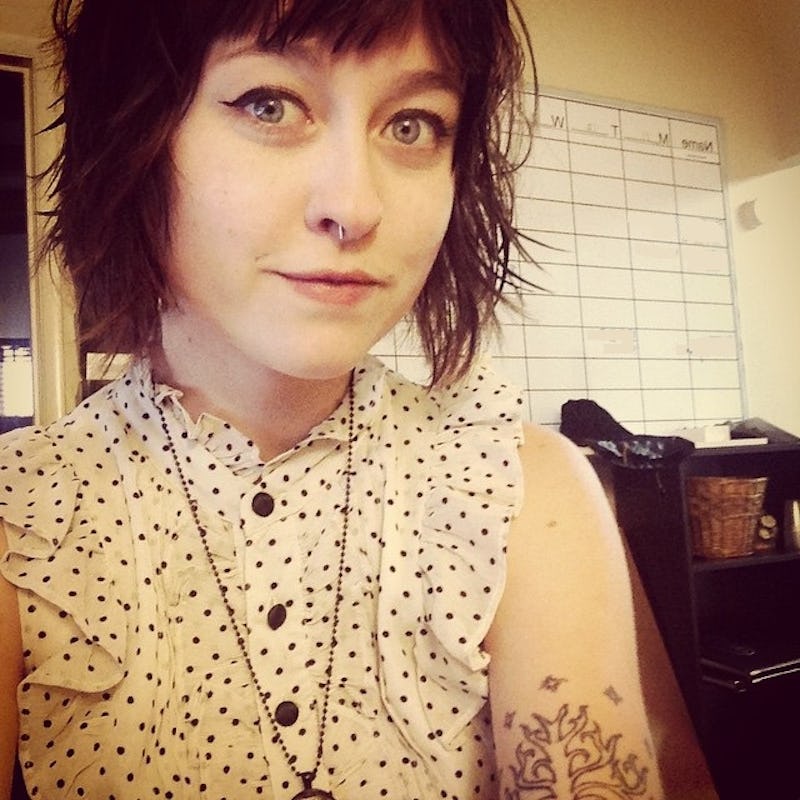 When I was younger, my family went through a period of time when it almost felt as though we were constantly at funerals. We experienced multiple losses in a short span of time and these experiences, as painful as they were and still are, helped to shape in me a need to help others through their grief. I remember holding my mom's hand at the dinner table while she cried after the death of my brother, wondering what I could do to make her feel better. If you ask my parents, they will tell you that even when I was very little, I was always sensitive to how other people were feeling.
In high school, I attended a career day lecture from a county coroner and I thought they had the coolest job I had ever heard of. To be able to investigate suspicious deaths and find the answers, to be able to perform autopsies? That sounded like exactly what I wanted to do. Unfortunately, I learned that becoming a coroner meant having to start with a career in law enforcement, and that wasn't something I was very interested in. I expressed my interest to a classmate and he said, "Well, have you ever thought about being a mortician?" I did some research on it and became more and more fascinated with the idea of being a funeral director. By the time I was 17, I knew that was what I wanted to do.
After graduating from high school, I called around to local funeral homes and asked if I could take a tour and talk with a funeral director. One funeral home granted my request and spent a couple hours with me. I got a tour of their cemetery and funeral home. I spoke with a funeral director and an embalmer; they shared their experiences and answered all of my questions. One of the biggest ones by far was, "How do you deal with the emotions every day without feeling emotional yourself?" They told me that it's all about compartmentalizing; you have to see your work as work and leave your own emotions out of it, as difficult as it might be. After spending the afternoon with them, I was truly inspired to make my dream a reality and enrolled in mortuary college.
I know that not everyone would be able to do what I do. Some people just can't stomach seeing death on a daily basis, and I completely understand that...But I do think that part of our aversion to death is because we would prefer to ignore it.
My first day of mortuary school, I was so nervous and so excited at the same time. When I first told people I wanted to be a mortician, I got a lot of weird facial expressions and confused questions — "why would you ever want to do that?" or "that's so weird" Most people react negatively to the idea of dealing with death. It was so refreshing to finally be surrounded by people who felt the same way that I did. Before that first day, I had never been in a room full of people who understood wanting to be in this line of work.
When I began my first embalming lab, I felt even more nervous. As I put on my personal protective equipment (gloves, face mask and shield, gown, boots) I thought, "What if I can't do this? What if seeing a dead person is too weird or scary?" I'd wanted to do this for so long and if I couldn't take it, I knew I would have an emotional breakdown. Luckily for me, I wasn't too scared and it wasn't too weird. I got into that preparation room and it just felt like I was supposed to be there.
I know that not everyone would be able to do what I do. Some people just can't stomach seeing death on a daily basis, and I completely understand that. I can't say that there haven't been times when even I felt weird seeing a deceased person (there most certainly have been.) But I do think that part of our aversion to death is because we would prefer to ignore it. In our society, where death is so removed from everyday life, it does take some getting used to. In school, we had classes about funeral directing, grief counseling, and sociology for funeral services, but there really isn't much that prepares you for seeing a deceased person for the first time. It's just something that you have to get used to if you're going to be in this industry.
My first job in the funeral business was removal technician. I would go to wherever a person died and bring them into the care of either a funeral home or the medical examiner, depending on the circumstances. Being a removal technician is a great way to get started in this industry; there's no formal schooling required to be a removal technician and it opens up a lot of opportunities to meet people within the funeral industry and make connections.
Today, I'm a licensed funeral director and an apprentice embalmer. I meet with families to help them plan their loved ones' funerals, prepare the deceased for their services, direct the funeral, and file necessary paperwork (lots and lots of paperwork). But most importantly, I'm a support for the family during the worst time of their lives. Most people that come into my office have never made funeral arrangements before and have no idea what to do. I help them with everything from ordering flowers for their services to filing death certificates with the state. One of the questions I get asked the most is, "What do we do now?" In such an emotional time, people often feel confused or lost.
When most people think of a funeral director, they think of an old, super pale guy in a suit who's usually really weird (or at least a little unusual). But the reality is that more and more women are joining the funeral industry. For example, the mortuary I work at now has an almost all-female staff, aside from our crematory operator. At mortuary college, they had class pictures on the wall dating back to the '70s. From the '70s until the early '90s, those pictures were of all male graduates and then a shift came — if you look at the class pictures from the 90s to now, the majority of the graduates are women!
Though I couldn't tell you exactly why the shift occurred, I can make a few guesses. Being a funeral director requires a servant's heart, which I feel a lot of women have. In order to succeed in this business, you have to genuinely care for the people you're helping and put your heart into it. Sometimes that means making that extra phone call just to check in and see how the family is doing, even if it's months after the funeral has taken place. Other times, it means not saying anything at all and letting them talk about anything that comes to their mind. You have to be a great listener. One of my favorite parts of this job is hearing stories, looking at pictures, and seeing joy in family members as they retell their favorite memories.
You also have to be creative! Most people don't want a traditional funeral, but rather a celebration of life. I love helping families plan personalized services that truly reflect the life of their loved one. And you have to be strong. There have been so many services that have brought me to tears, but I'm there to be the shoulder to cry on, a hand to hold if the family needs it. I'm there to support them as they experience their sadness. You have to be able to put your own feelings aside to better serve them. All of this is not to say that only women have these traits, but it does say a great deal about why more and more women are choosing this career.
Another thing that people tend to think when they think of a funeral director is that they're out there to take money from vulnerable people. I can't speak for every funeral director in the world, but I can say that I have never met anyone in this profession who was like that. Every funeral director I've met or worked with has one concern in mind: being compassionate. This isn't just a job for us — it's a passion. We put our heart and soul into the work that we do because we love serving people and we care so deeply.
There's a saying that if you do what you love, you'll never work a day in your life. It's completely true: When I wake up in the morning (and believe me, I am not a morning person), I'm excited to go to work. I truly believe that the work funeral directors do makes a difference and is so important. I've made so many lasting connections with families that I've served and have formed friendships with people from all walks of life. That's what this job is all about — forming bonds with people by serving them with compassion and empathy.