16 Children's Books Every Adult Should Read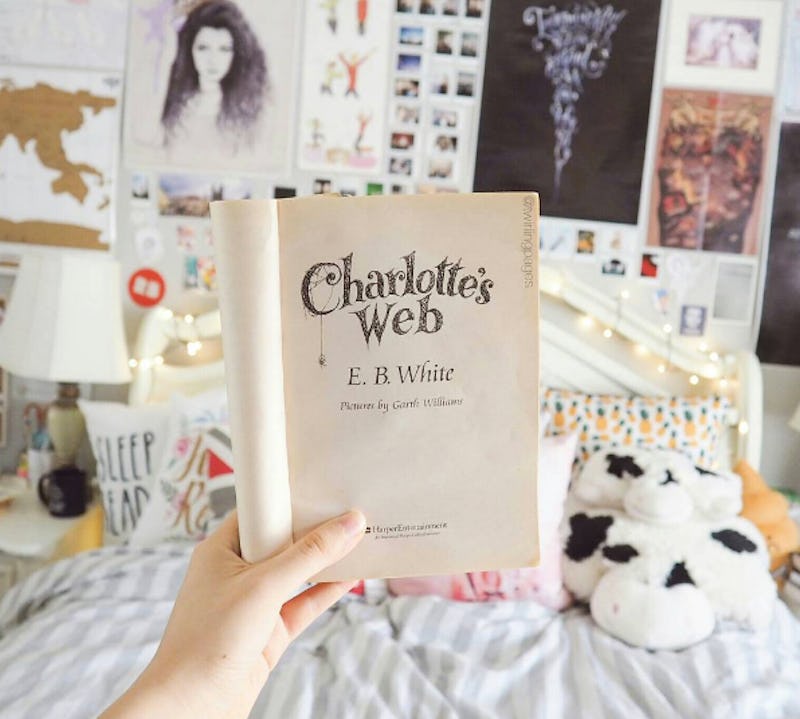 I have younger siblings, which means I read younger-grade books far longer than I otherwise might have. While some people moved on to more "adult" books, I always had a few middle grade books on my shelf, because I kept stealing them from my brothers' shelves.
I'm a firm believer in reading a wide variety of books, and to me, this means reading everything from children's fiction to adult fiction to tried-and-true classics. Just because a book is a children's book doesn't mean that it's only for children — in fact, some of the most intense themes and difficult concepts are found in kids' literature. Madeleine L'Engle, author of the great classic A Wrinkle in Time, once said that, "you have to write the book that wants to be written. And if the book will be too difficult for grown-ups, then you write it for children."
Just as there are plenty of adult classics that everyone should read, there are also tons of middle-grade classics that every person should read at least once in their lifetime. And better yet, read it twice — you can learn so much from revisiting the books you treasured as a kid. Here are some of the most iconic middle grade books that you can't miss, no matter if you're in middle school or far beyond:
1. Wonder By R.J. Palacio
Because he was born with a facial deformity, Auggie Pullman has never gone to a mainstream school. But that's all about to change. This #1 New York Times bestseller is an essential read about compassion, empathy, and understanding.
You may know Neil Gaiman by his adult fiction, such as American Gods or Neverwhere. But my favorite Gaiman book is actually the middle grade novel The Graveyard Book . The story follows Nobody Owens, an orphan who is raised by ghosts in a graveyard after his family is killed. It may be written for children, but The Graveyard Book is dark and magical and utterly addictive.
3. Holes By Louis Sachar
Stanley Yelnats is cursed, and because of that curse, he ends up at Camp Greenlake, a juvenile detention center where everyone has to dig holes all day. This classic speaks for itself.
Tree-ear becomes an apprentice for master potter Min, but the journey to become a potter is not an easy one. This great middle-grade book is a perfect pick for fans of historical fiction, as it's set in twelfth-century Korea.
5. Frindle By Andrew Clements
Whenever I saw a new Andrew Clements book at the Scholastic book fair, I would freak out. Frindle was probably the most iconic, telling the story of Nick Allen and the uproar he causes when he calls a pen a "frindle."
If you read this book in middle school, you were probably traumatized, but it truly is a great (though heart-wrenching) story. Jess Aarons wants to be the fastest runner, but when new girl Leslie Burke beats him in a race, they spark up an unlikely friendship full of imagination and enchantment. A true classic.
Esperanza has a beautiful home in Mexico, but a tragedy forces her to move to California in this novel set in the Depression era. Faced with difficult circumstances she never thought she would encounter, Esperanza must find hope once more. You probably saw this one at the Scholastic book fair as a kid — if you haven't read it yet, now is the time.
The story of Wilbur the pig and Charlotte the spider will is a must-read for everyone, no matter your age.
As a fairy-tale-obsessed middle schooler, I read everything Gail Carson Levine wrote. Ella Enchanted is probably the most iconic of her books. You may have seen the movie, but the original book retelling Cinderella is much darker and always worth a read.
Another pick for fans of historical fiction, Number the Stars follows Annemarie Johansen and her best friend Ellen Rosen as their lives in 1943 Copenhagen change drastically, due to the arrival of Nazi soldiers.
Claudia Kincaid and her younger brother Jamie run away... to the Metropolitan Museum of Art in New York City. There, they stumble upon a mystery that leads them to the remarkable Mrs. Basil E. Frankweiler.
When I first read this story about an immortal family and the young girl who discovers their secret, I felt very differently about it than I do now. The themes of this novel are absolutely worth revisiting as an adult.
In this book about freedom and courage, Nhamo runs away from her African village to escape a forced marriage, embarking on a journey from Zimbabwe to Mozambique.
This beloved tale of Milo, a kid bored by everything, and his journey into a whimsical world full of puns and hilarious wordplay, only gets better with age.
This book is told from the perspective of Greg Heffley, a kid just trying to navigate middle school. If you remember those painful years, you will cry with laughter at this hilarious series.
16. Flipped By Wendelin Van Draanen
I will always love this story about Bryce and Juli, two middle-schoolers who navigate first love, friendship, and family.
Image: Instagram/twirlingpages (1)