ABH's Modern Renaissance Palette Is Coming Back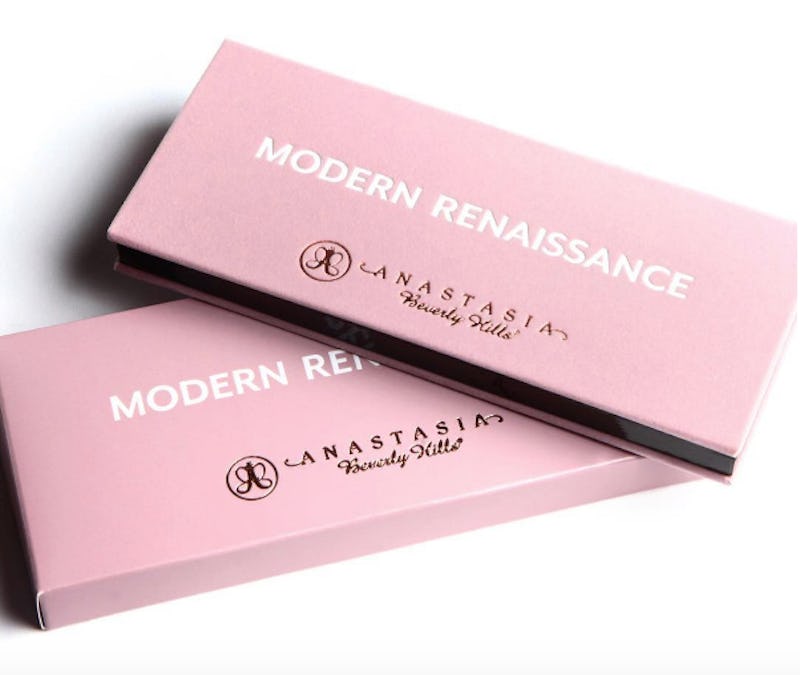 Anastasia Beverly Hills has been killing it in the cosmetics world. Whether it's their new — and popular — stick foundations or their mega popular glow kits, the brand knows what consumers are looking for. Clearly, they're looking for the Anastasia Beverly Hills Modern Renaissance palette because this beauty has been sold out everywhere. Now, however, ABH is restocking the palette, and you can get your hands on one of the most sought-after pieces of cosmetic beauty to be released this year.
The ABH Modern Renaissance palette fits into a gorgeous and unique position as being one of the few palettes with a range of shades that are both warm-toned and berry-hued. The uniqueness of the shadows definitely helped propel it to the must lists of many beauty lovers. Plus, ABH is known for their incredible shadows, and now, you're going to be able to snag these beauties again thanks to the brand's restock.
According to popular account TrendMoodIn, the Anastasia Beverly Hills Modern Renaissance palette is going to be restocked in October. While ABH has been mum about the restock, TrendMood is pretty accurate with their makeup launch news. The account has promised to update with more information, so if I had to guess, this news is the real deal.
Anastasia Beverly Hills Modern Renaissance Palette, $42, Sephora
The stunning collection of browns and berries has been a force to be reckoned with on social media and beauty influencers YouTube channels. There seems to be a never ending stream of Modern Renaissance tutorials using the palette, and if you trust everything your favorite YouTubers say, you've got to get your hands on this.
Come October, you'll be able to purchase the sold out Modern Renaissance palette once again. Whether you want to give it as a gift or keep if for yourself, it's back just in time for the holidays.
Images: Anastasia Beverly Hills/Instagram