12 Weird But Genius Things That Charge Your Phone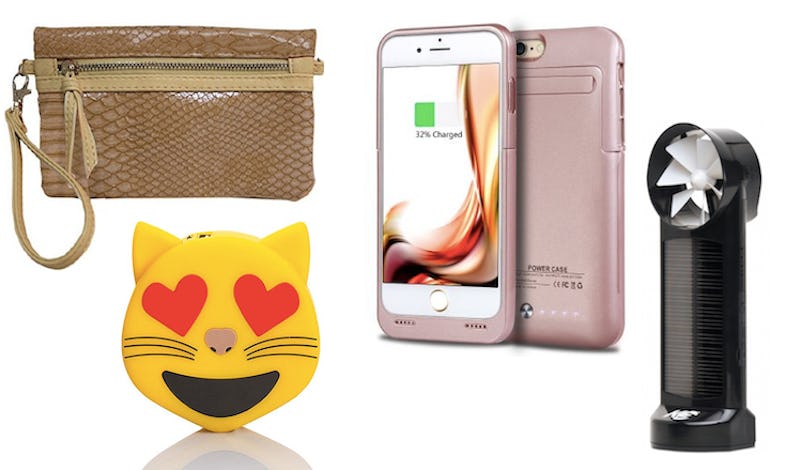 I'm all about weird phones chargers and strange ways to power your phone, and that's because I've had the same iPhone 5s for three years now. I can credit that to my awesome clear phone case that actually protects my phone, but while the screen and the inputs are still entirely intact, unfortunately, the case doesn't do anything to protect the battery life. This means that (especially if I'm on a few apps at once), I go from 100 percent to five in a couple hours, and if I'm not careful, I end up walking around with a dead phone pretty often.
Consequently, I'm always on the lookout for the best portable phone chargers and new smartphone chargers you haven't seen before, because it's great to have options when you're in a bind. Whether your phone dies pretty quickly, like mine, or you're a chronic forgetful charger, these new and innovative ways to charge your phone are well worth your time. Now that people all have a third limb that tackles everything from navigation and weekly plans to their personal notes and dating lives, a perpetually charged phone means that you've always got your whole life at your fingertips.
1. Get Your Phone's Caffeine Fix
Starbucks Power Bank, $19, Amazon
Fuel your phone the same way you fuel your brain in the morning — with a caffeinated beverage. This adorable Starbucks power bank can be used alongside any USB power cord for a quick and thorough charge, and it's both compact and durable for easy travel.
2. Sanitize Your Screen While You Charge
PhoneSoap Smartphone Sanitizer, $60, Uncommon Goods
If you're a germaphobe, this PhoneSoap smartphone sanitizer is totally for you. Charge your phone while the UV light zaps all the gross germs and bacteria on your screen in only a few minutes. It's also got built-in acoustic amplifiers, so you can keep going with your music or hands-free call while you're sanitizing.
3. Charge Up With This Cuddly Friend
Uforest Dog Power Bank, $30, Amazon
Cuddly and adorable, this Uforest Dog power bank actually packs a huge punch as far as power goes. Its large capacity battery is reliable enough for full-time use, and it charges really quickly, so clipping this guy to your bag or propping him on your car's dashboard means that you'll never be caught with a dead phone in a pinch.
4. A Modern And Fashionable Way To Charge
All-In-One Wristlet With Charger , $50, Amazon
This cool wristlet with an interior charger holds your phone, your keys, your cards, and your cash, and it charges your devices simultaneously. You can get it in your choice of seven awesome colors, and the internal charger is both lightweight and really functional when you're in a bind.
5. For When A Full Charge Gives You Heart Eyes
Wenewer External Battery Backup Pack, $9, Amazon
If nothing gives you heart eyes quite like seeing that "100%" in the top right corner of your screen, then this portable battery charger is definitely your next favorite gadget. It has more than 500 life cycles, and you can pick from six of your favorite emojis.
6. Keep Your Battery Life High While Playing Games
Esna Pokemon GOPower Bank, $16, Amazon
If you or someone you know drains their entire battery playing Pokemon GO, this Esna Pokemon GO power bank is both fitting and effective. It's surprisingly sleek and durable, and your phone loses significantly less battery during gameplay while plugged in. Best of all, it's got a cool blue light on it that can help you light the way on your travels.
7. Harness The Power Of Wind And Sunlight
Both durable and weatherproof, this K3 wind and solar mobile charger actually uses sunlight and wind to charge your phone, iPod, or tablet. It's got a large capacity internal battery that's pretty powerful, so it's a really good resource for hikers, backpackers, or someone who just appreciates alternate forms of energy.
8. Carry Your Cards Alongside Your Power
CaseUp Wallet Battery Charger, $17, Amazon
This sleek-looking CaseUp wallet battery charger actually has 3000mAh worth of power and two USB wires to charge anything from an iPhone to an Android in a pinch. On top of that, it's also got adequate room for your cash and cards, and it's not even bulky or heavy.
9. Crank Your Way To A Charged Battery
Epica Emergency Solar Hand Crank, $22, Amazon
In addition to being a radio, an LED flashlight, and a solar charger, this Epica Emergency solar hand crank can also power your cellphone. It's a great option to keep in your car or in your house for a power-outage, as you can use sunlight or the hand crank to get a little juice to your devices. People also love that it's lightweight and compact.
10. Charge Up With Sunlight
Port Window Solar Charger, $63, Uncommon Goods
Stick this Port window solar charger to any window in your house that gets a fair bit of sun, and fully charge your phone or tablet for up to five hours. It's compact and lightweight, and it's unbelievably easy to attach to the glass.
11. Illumination And Power All In One
Mr. Beams UltraBright LED Camping Lantern, $26, Amazon
This Mr. Beams UltraBright LED camping lantern has two light modes for emergencies, and it's also got a USB charging port that can charge your cellphone up to four times during an emergency, or while you're camping. The removable top hook lets you hang it in the car or in the tent, and reviewers are saying things like, "In this age when many folks are joined at the hand with their phones, the ability to charge the phone while camping/hiking or during a power outage is fantastic."
12. The Most Practical Phone Case There Is
iPhone 6S Battery Case, $24, Amazon
You have to lug around a case anyway — why not make sure you're getting the most practicality out of it? This iPhone 6S battery case is specifically designed to double your phone's battery life. In addition to protecting your phone from scratches and cracks, it's got a built-in Li-polymer rechargeable battery for people who watch videos, make long phone calls, and can't get off Tinder.
Images: Amazon (12)
Bustle may receive a portion of sales from products purchased from this article, which was created independently from Bustle's editorial and sales departments.