Pumpkin Spice Girls Shots Are A Halloween Must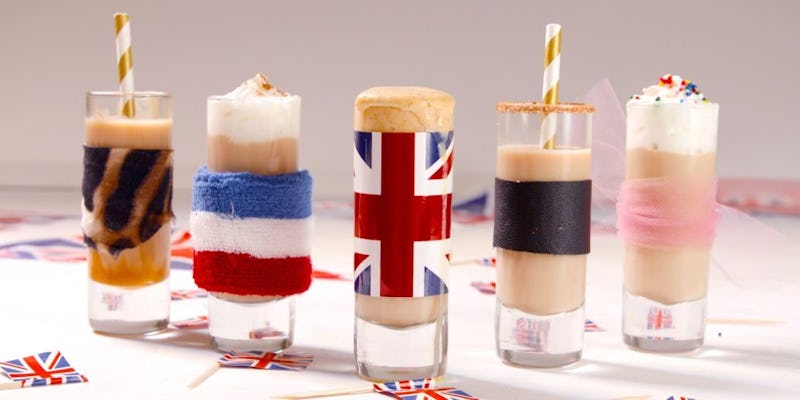 I'll tell you what I want, what I really really want this fall season, and that is the best trendy drink/iconic '90s girl group mashup to ever grace the Internet. The brilliant minds at Delish have created a recipe for Pumpkin Spice Girls shots, and your Halloween party will never be the same. While I can legally encourage anyone to get tanked while listening to "Wannabe," there are worse ways to spend a Friday night.
Scary, Baby, Ginger, Posh and Sporty essentially created #squadgoals back in the '90s — becoming one of the best-selling pop groups of all time. In middle school I idolized everything from their colorful platform heels to their fierce dance moves, and wore out my VHS copy of Spice World. Now three of the five spices are back together, and recently rumors have been circulating of a possible Spice Girls reunion tour to celebrate the 20-year anniversary of their debut album Spice. The ten-year-old girl inside of me is clutching her Tamagotchi and having a complete meltdown.
With the return of girl power on the horizon, this Oct. 31 is the perfect time to gather your squad for the ultimate Spice Girls group costume. For a punny twist on an old fave, Delish suggests dressing up as the Pumpkin Spice Girls. The pumpkin spice craze has been around since its debut in 2003, and remains Starbucks' best-selling seasonal beverage. It's so popular today that it simply goes by its abbreviation — PSL. With the Pumpkin Spice Girls shots you can finally have your two favorite spices together at last!
There are no excuses, people! The recipe is super easy to make, and these shots turn out cute AF. The Pumpkin Spice Girl shots follow one basic recipe, and each Spice Girl is differentiated by her garnish and koozie. These nostalgia bombs combine pumpkin spice latte mix with the cream liqueur Rumchata, and vanilla vodka, to make a frothy elixir as smooth as the chorus of "2 Becomes 1." The shots take about ten minutes in total to make so they won't interrupt your party prep schedule. They go down dangerously easy, so you may want to Hai-Si-Ja-pace yourself!
Scary Spice
The Scary Spice shot has leopard print koozie as well as a caramel drizzle lining the glass in a nod to Mel B's affinity for animal print garb.
Sporty Spice
A sweatband in Union Jack colors decorates the Sporty Spice shot — because you can't give a shot glass Nike sneakers and Adidas sweatpants. Delish suggests topping the boozy pumpkin concoction with a swirl of whipped cream and a dusting of cinnamon-sugar to give it an exra kick.
Ginger Spice
Geri Halliwell's Union Jack minidress came to symbolize girl power in the '90s and in vinyl sticker form its a perfect way to decorate your Ginger Spice shot. That, and a tiny scoop of pumpkin spice ice cream. Yum!
Posh Spice
The Posh Spice shot needs its own tiny black mini tube dress, to match its fashionista namesake. Dip the rim of the glass in a cinnamon-sugar mixture for a little added spice.
Baby Spice
The Baby Spice shot is perhaps the most adorable of the bunch. The drink is topped with whipped cream and rainbow sprinkles to make it extra sweet and pink tulle is tied around the glass for flare. Almost too cute to drink. Almost.
Check out Delish's awesome video for a step-by-step guide:
To learn how to make Pumpkin Spice Girls shots at home find the complete recipe here.
Cheers!