11 Best Highlighters To Give Brown Skin Major Glow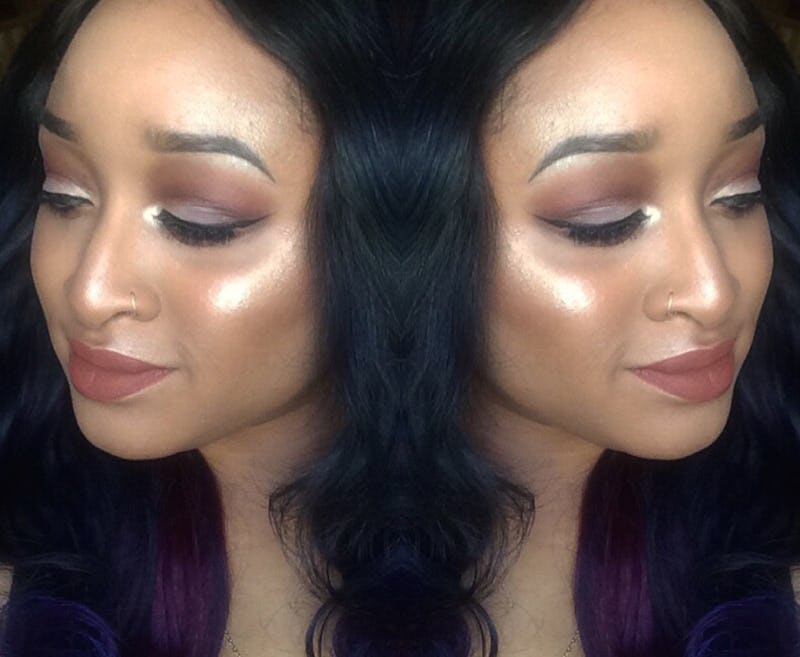 Highlighters aren't a one-glow-fits-all kind of deal. What gives fair skin a sun-kissed glow could easily make a deeper toned babe look like a glittering ghost. Luckily, finding the best highlighter for brown skin isn't nearly as frustrating as hunting down the right foundation or the perfect nude lipstick.
Highlighters come in a range of shades these days, from icy white to mint green. Even classic gold highlighters vary from one brand to the next. So how's a girl supposed to get her glow on properly when there are hundreds of shades to choose from? As a woman of color who's hardly ever seen without her cheekbones and cupid's bow gleaming to outer space, I can attest to golden highlighters with warm undertones as being the best options for brown skin. Considering most illuminators are made in the bronze toned department anyway, that gives WOC tons of options for creating a flawless glow.
Highlighting was perhaps the biggest makeup trend of the summer, as we saw our favorite beauty bloggers take on the full-face highlighter challenge. Though we're getting deeper into sweater weather, you might want to maintain your bronzed look throughout the fall. Keep your sights set on these 11 highlighters for darker skin to keep your glow game strong.
Shimmering Skin Perfector in Topaz, $41, Sephora
One of the best ways WOC can achieve an all-over glow is to mix their foundation with Becca's Shimmering Skin Perfector in Topaz. The deep bronze of this shade will shimmer against dark skin without washing it out. And if you really want to take your glow to the next level, tap this liquid highlighter onto your cheekbones, down the bridge of your nose, and above your cupid's bow to accent every point on your face where light hits naturally.
Sun Dipped Glow Kit, $40, Anastasia Beverly Hills
Let's just name Anastasia Beverly Hills the undisputed champ of highlighters. Their Glow Kits are always in high demand, and for good reason. The Sun Dipped Glow Kit, in particular, includes four shades that pair well with brown skin. You can wear each shade alone, or get creative by mixing and matching them (my personal favorite is a combination of "Bronzed" and "Tourmaline") to create custom looks.
Baked Gelato Swirl Illuminator in "Gilded Honey", $26, Ulta
Laura Geller's Baked Gelato Swirl Illuminators are the perfect highlighters for WOC to have in their arsenal. The "Gilded Honey" highlighter is a true gold shade that pops off the skin like no other.
Black Radiance Artisan Color Baked Bronzer In "Ginger Snap," $5, Target
Created for ethnic skin tones, Black Radiance is a brand you can count on to deliver products that actually work for WOC. The Artisan Color Baked Bronzer in "Ginger Snap" never fails to make deep skin radiate. And at such a low price point, you really can't ask for a better highlighter.
Mineralize Skin Finish in Gold Deposit, $33, MAC Cosmetics
Dust yourself in gold with MAC's Mineralize Skin Finish. It offers an unrivaled sun-kissed glow when dusted on lightly, but no one is judging if you decide to shamelessly pack it on.
Sublime Powder, $38, Black Up Cosmetics
Yet another cosmetics company designed for women of color, Black Up always comes through with flawless products for deep tones. Their Sublime Powder offers a natural shimmer with just enough pigment to make the skin shine. And the best part is, you won't have a hard time deciding which Sublime Powder to choose — they're all suitable for brown skin.
Bobbi Brown Highlighting Powder in "Brown Glow", $46, Sephora
This high-impact highlighter gives the face some major luminosity. The shade "bronze glow" is uber flattering on medium skin, so you'll have an out-of-this-world shimmer with this choice.
Super Orgasm Illuminator, $30, Nordstrom
Not to be confused with NARS' cult classic Orgasm, Super Orgasm is a peachy-pink liquid illuminator that ups the glow from its predecessor. The deep golden undertone makes it wearable for brown skin, so we can all get in on the orgasmic action. Mixing it in with your foundation will instantly transform your skin, but wearing it alone has it's own wow-factor.
Golden Soliel Baked Bronzer in Bora Bora Beach, $8, Ulta
You can't beat a highlighter that lights up your features without breaking the bank. J.Cat's Bora Bora Beach Baked Bronzer works on medium to tan skin like a charm. All in favor of looking like a bronzed goddess, include this beauty steal in your next makeup haul.
Face Illuminator in Seduction , $44, N ordstrom
Laura Mercier's Seduction Illuminator look beyond luxurious. It's practically powdered gold, considering how much of a royal glow it adds to the skin. Deeper toned highlighting addicts can pull this rich shade off with ease.
Vivid Shimmer Brick in Rose Gold, $7, Ulta
Comparable to Bobbi Brown's "bronze" shimmer brick, but at a fraction of the price, Makeup Revolution literally struck gold with their highlighting brick. The "rose gold" set of highlighters come in some of the deepest golden hues on the market, which makes it a winner for darker brown babes. Swipe across the entire brick for the ultimate shimmering complexion or use individual blocks to target specific areas of the face.
One thing's for sure: my fellow bronzed beauties will have no trouble glowing for the gods. There's too many damn good highlighters out there not to have a face slathered in gold.
Images: Summer Arlexis; Courtesy Brands