'Westworld' Has A Huge & Very Impressive Cast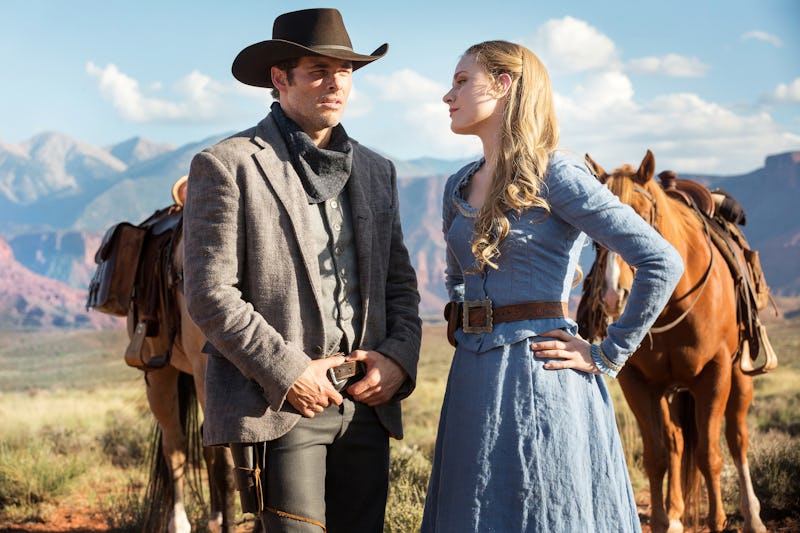 HBO's dark sci-fi drama Westworld, set in both the future and an artificial past, premieres on HBO on Sunday, Oct. 2. If it already sounds like something JJ Abrams may have a stake in, it's because he is the series' executive producer, with Jonathan Nolan and Lisa Joy billed as Westworld's creators. However, the notable names don't end behind the camera. The Westworld cast is huge and filled with some impressive talent.
Westworld was inspired by the 1973 film of the same name, written and directed by Michael Crichton. The television series is drawing on the original film's premise of robots fighting back at a wild west theme park, but the 2016 reboot takes the androids to a new level. HBO has been teasing the series as a "dark odyssey about the dawn of artificial consciousness and the evolution of sin."
In the futuristic fantasy land of Westworld, technology is used to simulate fantasies, no matter how far-fetched or depraved. The robots look human and the manufactured world feels just as real to Westworld's visitors. With so many characters, robots, visitors, and manufacturers, as different players in this war of man vs. machine — made more complicated by the fact that the machine is conscious — it's not surprising that Westworld boasts such a robust cast.
Anthony Hopkins
This Academy Award-winning actor really needs no introduction, but you definitely know him best from Silence of the Lambs. On Westworld, he plays Dr. Ford, the mysterious man in charge of the park.
Ed Harris
Gravity, A Beautiful Mind, Apollo 13, Pollock, The Truman Show, do I really need to keep going? Now you'll see Harris as The Man in Black, a visitor to the amusement park who seems to revel in being the villain.
Evan Rachel Wood
You know Evan Rachel Wood from her breakout role in Thirteen and other films like The Wrestler and Across the Universe. She also played Sophie-Anne Leclerq on True Blood and her latest HBO role is Dolores, a Westworld resident.
James Marsden
Other than being Mr. Elizabeth Lemon on 30 Rock, you have seen Marsden in many roles over the past couple decades, like X-Men, Enchanted, 27 Dresses, and Zoolander. On Westworld, he plays Teddy, who arrives in town just as things are getting crazy.
Thandie Newton
Thandie Newton has starred in big films like Crash and The Pursuit of Happyness. She was also a regular on ER and now plays a sex worker in a Westworld saloon.
Jeffrey Wright
His IMDB page is filled with impressive titles like Syriana and Angels in America, but you will recognize Wright most recently from The Hunger Games, Confirmation, and Boardwalk Empire. Like Hopkins, Wright plays a man who works behind the scenes of Westworld.
Tessa Thompson
Thompson played Bianca in Creed and also appeared in Dear White People and Selma. According to Deadline, she'll play Charlotte , " a mysterious and savvy provocateur with a unique perspective on Westworld."
Jimmi Simpson
He's probably best known for being one of the McPoyle siblings on It's Always Sunny in Philadelphia, but that may change once viewers see him as a new guest of Westworld.
Rodrigo Santoro
Karl. If you've seen Love Actually (which is basically everyone in the world), you remember this enigmatic chief designer. Oh, he was also in 300, Ben-Hur, What to Expect When You're Expecting, and more. Get ready to see his darker side as a Westworld villain.
Shannon Woodward
You probably loved her as Sabrina on Raising Hope, but we'll have to wait and see if we'll love or hate her Westworld character, Elsie Hughes, who works for the company that runs the theme park.
Luke Hemsworth
Yep, he's one of those Hemsworths. Luke is the older brother to Liam and Chris Hemsworth and a prolific Australian TV actor in his own right. Now American audiences will get to know him as Stubbs, who does security for Westworld.
And this isn't even everyone. To see the entire Westworld cast, you'll have to watch the series on HBO every Sunday.
Image: John P. Johnson/HBO