How Adult Film Stars Really Choose Their Names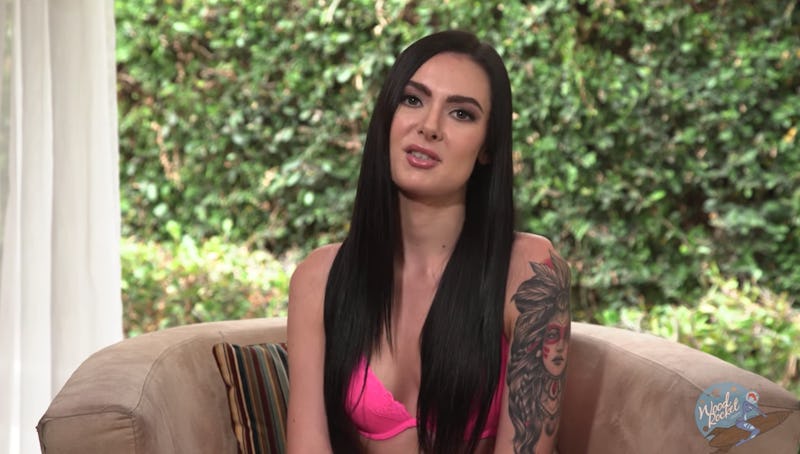 For anyone who choses to go by a pseudonym, coming up with a new name for yourself can be tricky. In a new WoodRocket video, adult entertainers explain how they chose their porn names, and reveal the combination of careful planning, creativity, and sheer randomness that influenced their lusty monikers.
Folks in the sex industry are in particular need of privacy and protection because of the nature of their work. Although a lot of us with far less risky jobs have noms de plume, too, in an age where everything about everyone is accessible with a little online digging, it's crucial for many porn stars to keep their private and professional lives separate. This is particularly true if they have family members or friends they don't want to find their work, or if they have other employers who might penalize them for it.
So, how then does one figure out the perfect porn star name? It's not as simple as sandwiching together your first pet's name with the first street you lived on — as the internet suggests we do. (In which case I would be Cherry Cola Pyle, which actually isn't not so bad, right?)
Here's are eight ways adult entertainers figured out their porn names:
1. Name Yourself After Something You Love — Leya Falcon
A diehard Star Wars fan — and a force to be reckoned with — Leya Falcon crafted her name from a few of her favorite things: Princess Leia and the Millennium Falcon.
2. Name Yourself After Someone You Love —Sheridan Love
Sheridan Love took her great grandmother's name as her first name, which is actually a pretty sweet tribute, if you ask me.
3. Ask Your Mom — Trillium
With one of the more unique aliases on the scene, Trillium credits her mother for her porn name. After asking for her help, she was gifted a long list of options, including "Trillium," which she knew immediately was the one.
4. Name Yourself After A Cartoon Character — April O'Neil
Teenage Mutant Ninja Turtles fans out there might recognize April O'Neil's name from the series — she was the enterprising (and busty) reporter who stumbled upon the radioactive street gang and struck up a lasting friendship with them.
5. Take A Cue From Your Favorite Artist — Marley Brinx
No, she's not really into that sappy dog movie. Marley Brinx is actually a big Bob Marley fan — and loves her ganja — hence her name choice.
6. Look To Your Favorite Liquor — Katie Morgan
Katie Morgan was once a big rum drinker, so what better way to pay homage to your spirit of choice than with a surname that nods to Captain Morgan? Now Katie prefers vodka, though; go figure.
7. Steal Your Ex's Last Name — Nickey Hunstman
"I thought it sounded porny," Nickey Huntsman said of her ex-boyfriend's last name which she rescued from the past to be her sexy pseudonym.
8. Go With A Celebrity Look-Aalike — Kenzie Taylor
Folks were always telling Kenzie Taylor she looked like Taylor Swift, so she decided to just go with it.
Images: WoodRocket/YouTube