This 'PLL' Theory About Toby Is Bittersweet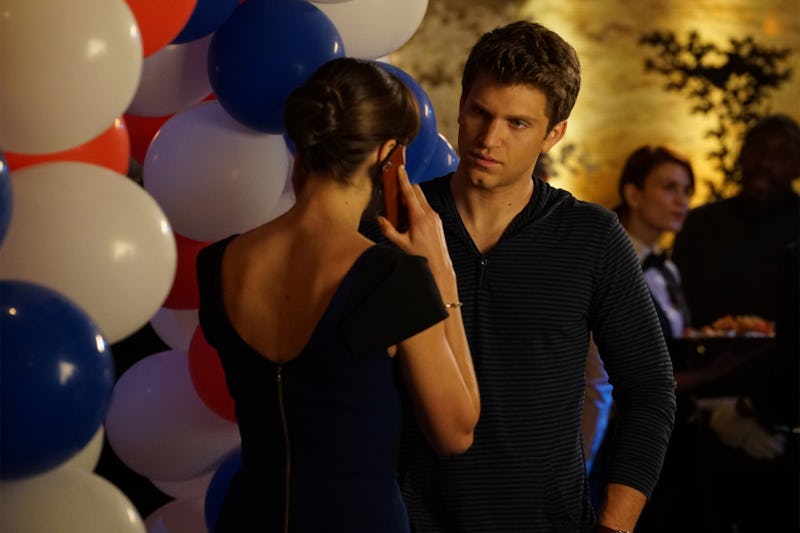 The life of one of the Pretty Little Liars bros hangs in the balance, and, unfortunately, we're going to have to wait for what seems like forever in order to learn whether or not Toby will live on Pretty Little Liars. The Season 7A finale, titled "The DArkest Knight," was definitely not a good time for the Liars or any of their former bed buddies. Though the Liars wound up in a terrifying death trap — which ultimately concluded with Spencer getting shot and Noel's head rolling down a flight of stairs — it was someone on the other side of town who was in just as much mortal danger. Toby and his fiancee Yvonne got into a car accident, and, though showrunner I. Marlene King insisted Toby's accident wasn't A.D. related, that doesn't mean it wasn't fatal. However, there is one option that would put Toby in the "living" category while still making him indisposed. Could Toby be in a coma on PLL?
There's some evidence to support this — and it's on actor Keegan Allen's Instagram page. As any good PLL fan knows, the cast and crew loves posting on social as they're going about their work weeks, and Allen is no exception. He is the king of throwback photos (he's a talented photographer who often shares his skills online), so it's often hard to tell what pictures are from. However, a picture with Olympic gymnast Simone Biles from her Pretty Little Liars set suggests we know what Allen looks like presently — and how Toby will appear in Season 7B, which the cast is currently filming.
Notice the beard that Allen is rocking? It's not his typical look, and, as far as we know, he's still shooting some scenes for Pretty Little Liars; King even posted a line that Toby will say in the Pretty Little Liars finale on Twitter. It seems very likely that Allen is returning to PLL, which means that the beard could be a part of Toby's new aesthetic. But is going burly just for fun, or could their be a reason? I have a theory, and that's that Allen's beard is a clue that Toby is in a coma.
Imagine: Toby survives the car accident, but is taken to the hospital because he's unresponsive. Weeks later, he's still in a coma — and his facial hair is getting more and more Sons Of Anarchy-esque by the day. Personally, I would hope that someone would eventually shave Toby's beard so the typically fresh-faced cop doesn't have to deal with that if/when he wakes up, but it's also possible that everyone has bigger things to worry about then the state of Toby's beard.
If Allen's beard is for the show, it means that Toby survives long enough to grow it — and that's good news, no matter your feelings on facial hair.
Image: Freeform