These 'Gilmore Girls' Eps Are Essential Viewing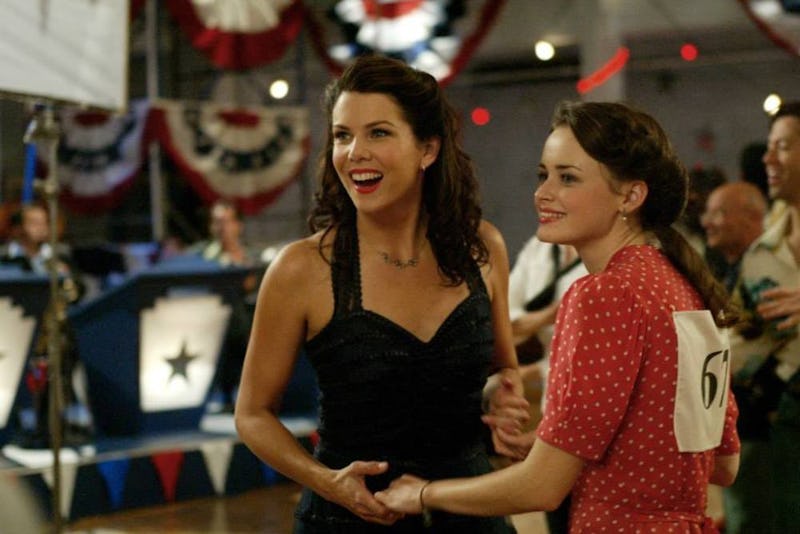 As much as I'm sure we'd all love it, the fact of the matter is that no one really has the spare time with which to commit to re-watching every episode of Gilmore Girls prior to the release of A Year In The Life. For seasoned fans of the show who, like myself, may have have already seen every episode more times than we'd likely care to say, then most of us already know that there's certain ones that require our attention before the revival. So, while we all furiously count down the weeks, days, and hours until the release of A Year In The Life, it's definitely worth revisiting the show via the most essential Gilmore Girls episodes to watch before the revival.
I mean, there's a lot to be reminded of here. It isn't just romantic sub-plots or vital familial disputes that are worth reminding yourself of, but also the defining moments for important characters, and even Stars Hollow as a whole. Within it's seven seasons, Gilmore Girls accomplished a great deal of storytelling with a lot of relationships that changed dramatically throughout the course of the show.
So, come on — this is important. Load up your Netflix and start studying up your Gilmore 101 with the most essential episodes to rewatch.
1. Season 1, Episode 1 ("Pilot")
Sure, in many ways, it's like a weird, Through The Looking Glass version of the show we know and love — but it's also our first introduction to the Gilmore Family and their extended family of eccentrics in Stars Hollow.
2. Season 1, Episode 6 ("Rory's Birthday Parties")
This episode is adorable as it shows just how much Lorelai — and the town as a whole — dote on Rory. It also shows the complexity of Lorelai's relationship with her parents when they finally come to visit Stars Hollow for the first time.
3. Season 1, Episode 16 ("Star Crossed Lovers And Other Strangers")
Dean romances Rory for their three-month anniversary and surprises her with the news that he's building her a car (which I'm sure she'll cherish for all time, right?) — but then he goes and spoils it all by saying something stupid like "I love you." They break up when Rory fails to reciprocate it.
4. Season 1, Episode 20 ("P.S. I Lo...")
Rory and Lorelai have their first (sadly, of many) fights which forces Rory to spend the night at her grandparents house.
5. Season 2, Episode 5 ("Nick & Nora/Sid & Nancy")
Not only does this episode include Jess' first appearance, but it's also the first episode that Rory and him meet. He steals her copy of Allen Ginsberg's "Howl," only to return it to her later in the episode with notes in the margins because Ginsberg is love, you guys.
6. Season 2, Episode 13 ("A-Tisket, A-Tasket")
And, naturally, only a few episodes later, Jess is buying Rory's "picnic basket" in order to make a grand point about their palpable chemistry in front of Dean.
7. Season 2, Episode 16 ("There's The Rub")
Lorelai and Emily enjoy (or, rather, don't enjoy) a spa weekend together, and it's the greatest glimpse at the complexity and fragility of their strained relationship from the entire show.
8. Season 2, Episode 19 ("Teach Me Tonight")
Oh wait, did I say that Rory would cherish that car that Dean went and built for her? Because she didn't. Jess crashes that token of young love, and it's basically some kind of rich, foreshadowing for how he'll also help to eventually destroy Dean and Rory's actual relationship.
9. Season 2, Episode 22 ("I Can't Get Started")
Oy, with the poodles already — it's Sookie and Jackson's wedding. Christopher returns and both makes promises to Lorelai that he simply can't keep, and finds out that his girlfriend is pregnant. Also, Rory kisses Jess before running away from him. So much drama.
10. Season 3, Episode 1 ("Those Lazy-Hazy-Crazy Days")
Aka, the episode where Lorelai has that dream about Luke and every viewer everywhere was like, Finally, she's realizing her feelings for him.
11. Season 3, Episode 7 ("They Shoot Gilmore's Don't They?")
It turns out that dance marathons are not great places for a break-up. Relive the (second) end of Dean and Rory and the official start of Jess and Rory right here, folks.
12. Season 3, Episode 22 ("Those Are Strings, Pinocchio")
Most notable for that moment where Lorelai, with a cheeky twinkle in her eyes, tells Luke not to get married on his romantic trip with his girlfriend (but won't reveal why, as if we don't know...)
13. Season 4, Episode 1 ("The Lorelais' First Day At Yale")
Rory's first day at Yale, and possibly one of our first glimpses at how strong the burgeoning friendship between Paris and Rory truly is.
14. Season 4, Episode 21 ("Last Week Fights, This Week Tights")
Luke and Lorelai get super romantic with each other, and Jess turns up at Rory's dorm to ask her to run away with him like the big romantic, deluded doofus that he is.
15. Season 4, Episode 22 ("Raincoats And Recipes")
An episode of firsts: Lorelai and Luke share their first kiss (adorable), and Dean and Rory sleep together for the first time (awkward, because Dean is super married and stuff).
16. Season 5, Episode 1 ("Say Goodbye To Daisy Miller")
The truly epic argument between Rory and Lorelai which begins the episode still makes me want to collapse into a tiny ball and call my mom.
17. Season 5, Episode 1 ("Written In The Stars")
Rory meets Logan for the first time. And sure, by the end of Season 7 he's pretty damn charming — but this episode is perfect for reminding you just how much of a monster he was at first. Like, truly awful.
18. Season 5, Episode 7 ("You Jump, I Jump, Jack")
Sorry, did I call Logan a monster? Because just six episodes later and... well, I am a complete mess of a woman when I think about just how magical it is when him and Rory jump down together with umbrellas.
19. Season 5, Episode 13 ("Wedding Bell Blues")
Richard and Emily renew their wedding vows and their relationship, though it had its ups and downs. It's celebrated so wonderfully in this episode that it's stunning.
20. Season 5, Episode 18 ("To Live And Let Diorama")
Including this episode simply for the scenes in which Paris gets drunk off Miss Patty's punch and begs for money in her bare feet so she can drunkenly call Doyle.
21. Season 5, Episode 22 ("A House Is Not A Home")
Everything happens in this one: Rory has her spirit crushed by Mitchem then steals a yacht with Logan, and Lorelai proposes to Luke.
22. Season 6, Episode 8 ("Let Me Hear Your Balalaikas Ringing Out")
Proof, once again, that Logan can be pretty nasty to people when he wants to be — but also proof that Jess was always trying his best to progress and be better. He wrote a book! He tells Rory some painful (but necessary) truths, and him and Logan have a bit of a fight because, of course.
23. Season 6, Episode 9 ("The Prodigal Daughter Returns")
As well as including Rory returning to Yale and reuniting with Lorelai, this episode also sees Luke finding out he has a daughter.
24. Season 6, Episode 18 ("The Real Paul Anka")
Rory, who by this point still doesn't know what's good for her, visits Jess in Philly. She kisses him to make Logan jealous, and then ends up completely confused about love.
25. Season 6, Episode 19 ("I Get A Sidekick Out Of You")
Lane and Zach get married, and Hep Alien play the reception. It's the simply the greatest wedding ever.
26. Season 7, Episode 12 ("To Whom It May Concern")
Otherwise known as the episode where Christopher reads the letter of recommendation that Lorelai wrote for Luke's custody case and realizes that he isn't her soulmate — Luke is.
27. Season 7, Episode 21 ("Unto The Breach")
Logan proposes to Rory in front of all of her family, and I can still only watch that scene through my fingers because it makes me cringe so hard, you guys.
28. Season 7, Episode 22 ("Bon Voyage")
Look, I think we all have to agree that every fan still needs to see this episode. Luke and Lorelai find their way back to each other, and Rory starts her career. And the way that the ending is similar to that of the pilot? Oh boy, does it make me cry.
I mean, it's only 28 episodes, right? Which is probably the exact perfect amount to watch before Gilmore Girls: A Year In Life premieres on Netflix on Nov 25.
Images: Warner Bros. Television (6)