15 Spooky Stephen King Halloween Party Ideas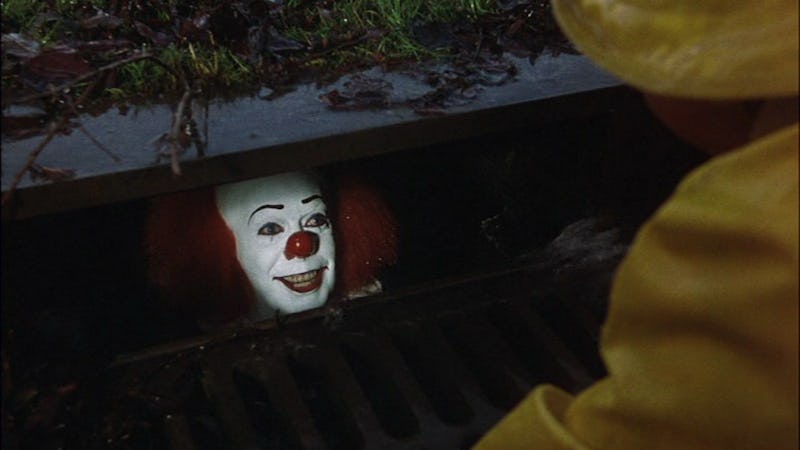 Bookworms everywhere, prepare yourselves. The spookiest time of the year has crept up on us yet again. October is finally here, which means it's time to celebrate, and there's no better way to get into the Halloween spirit than with a party — a Stephen King Halloween party to be exact. King's brand of so-horrifying-I-had-to-triple-check-the-locks-and-I-could-hardly-sleep-last-night horror novels has terrified readers for decades.
As someone who's been reading King's work since I was only 10 years old, I know all too well that, no matter how much you might want to toss your copy of It as far away as possible to escape the razor-sharp clutches of Pennywise the Dancing Clown, it's difficult to imagine Halloween without at least one of King's books crossing your mind.
When it comes to Halloween parties, King's novels are the perfect inspiration. With dozens of classic references to The Shining, It, Misery, and Carrie, you can transform an ordinary Halloween party into a chilling night to remember. Maybe what makes his books so haunting is the fact that most of them are set in isolated towns off the coast of Maine — or, yeah, maybe it's all the monsters and ghosts and demons. Either way, if you're a fan of Stephen King, there's plenty of terrifying material to take inspiration from when planning your Halloween party this year.
So, if you happen to have some fake blood on hand and you're ready to host the creepiest (and most fun) Halloween party of the year, check out the list of ideas below.
1. Make It A Stephen King Costume Party
Almost nothing says Halloween more than a good Stephen King costume. From Pennywise to Leland Gaunt, or even Carrie herself, these costumes are bound to be the life (or the undead) of the party. You can even pair up with your friends to create group costumes like Jack and Wendy Torrance or the twins from The Shining.
2. Create Some Creepy Snacks
Reference: It, The Shining
Whether you decide to go with a cake that oozes strawberry filling, fortune cookies with monster claws, or cupcakes with miniature, fondant axes on top, there are plenty of snacks to capture the spirit of Stephen King and his stories. Be sure to splatter some fake blood on a white table cloth for that final, creepy touch.
3. Mix Up Some "Bloody" Drinks
Reference: Carrie
When it comes to Stephen King novels, there's almost definitely some bloodshed to be expected. Be sure to incorporate that by mixing up some Bloody Marys, or keep it simple with some red wine. As long as it resembles blood, you and your friends will feel just like the vampires in Salem's Lot.
4. Type Up Something Terrifying
Reference: The Shining, Misery
Step into the shoes of Jack Torrance from The Shining and scatter around some pages that read "All work and no play makes Jack a dull boy." If you can manage to get your hands on an actual typewriter and set it up where the party is happening, even better!
5. Invite Pennywise and His Balloons
Reference: It
It can't be a Stephen King party without a Pennywise reference. Blow up some colorful balloon bouquets and release them all around the room for that haunting, clown feel. Try wrapping a white clown glove around each bouquet to really make it feel like Pennywise's spirit is in the room, or put some balloons in a bathtub full of water so guests will constantly be watching the drain for claws whenever they're in the bathroom.
6. Create the Perfect Playlist
No party is complete without some music, and King has made it clear that he is definitely has a soundtrack in mind for each of his novels. Compile the perfect playlist to go with the flow as your party switches from a haunting get-together to a terrifying night at the prom. Check out this list of songs for some more inspiration.
7. REDRUM
Reference: The Shining
This is where the party really spreads beyond the living room. Use red paint to write 'redrum' on the mirror (not the walls, unless you need a paint job anyway), and place a sign on the outside of the door that reads 'Room 237,' for a sinister reference to The Shining. Finish it up with a few flickering light bulbs and you're good to go!
8. Create Your Own Pet Cemetery
Reference: Pet Sematary
You can also get creative by decorating the front lawn with dozens of different sized tombstones. Add some classic names of dead characters from King's novels to give this creepy cemetery an extra touch. Don't forget Church the cat!
9. Get Creative with Some Creepy Props
Reference: The Mist, "The Moving Finger"
If you have some time to stop by the dollar store or pick up some spooky props, there are plenty of ways to incorporate your creepy finds into some awesome party ideas. Toss some eyeballs in the punch, scatter some fake bugs across the snack table, or put an extra long, plastic finger in the sink for an obscure "The Moving Finger" reference to really creep out your friends.
10. Welcome the Children of the Corn
Reference: "Children of the Corn"
Around this time of year, a few corn stalks should be in supply at your nearest party store, giving you the perfect props to set up a field of corn on your front lawn. Just be sure to stay away from any lurking kids with glowing eyes.
11. Create the Perfect Prom Photo Scene
Reference: Carrie
Carrie is known for literal buckets of blood and perhaps (no, definitely) the worst prom night ever. Set up a wall for the perfect Instagram pics by using plenty of silver streamers and even a disco ball if you can get your hands on one.
12. Don't Forget the Lighting
Reference: Carrie
Red and orange light bulbs will help create a classic '70s prom vibe and really make it feel like it's Halloween.
Orange Bulbs, $5, Amazon
13. Channel the Overlook Hotel
Reference: The Shining
From postcards to monogrammed towels, get creative and make your friends feel like guests at the Overlook Hotel. If you're feeling extra mischievous, be generous with the fake blood and splatter some on the towels or even in the bathroom sink.
14. Break Out the Fog Machine
Reference: The Mist
A fog machine or some dry ice can work wonders on a Halloween party. Set the fog up outside with your homemade pet cemetery, or put it indoors to add to your deadly prom party for that final, eerie touch.
Images: ABC; Giphy (14)