5 Easy Ways To Hem Your Jeans At Home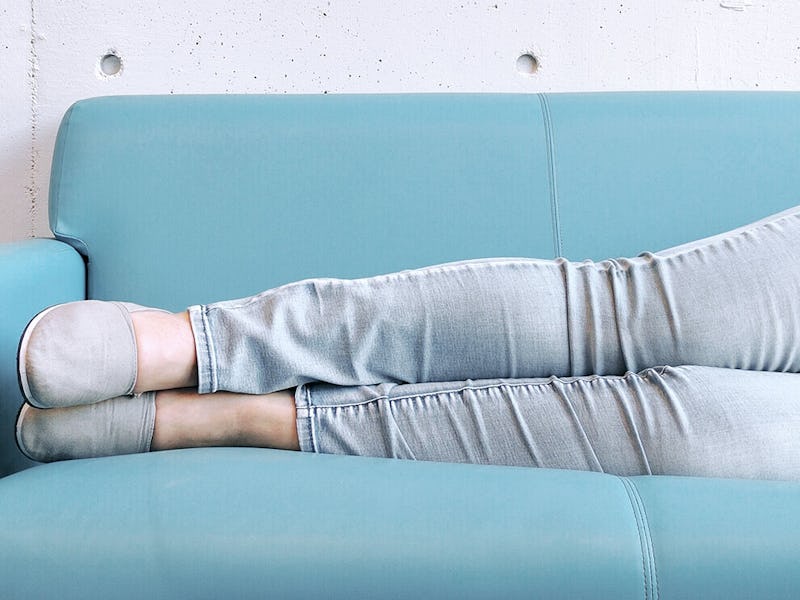 Although I am five foot six, I'm constantly hearing complaints from my not-so-tall girlfriends about how hard it is to shop for jeans. When it comes to finding the right fit, the struggle is so real. it's near impossible to find denim that fits perfectly in both size and length — it's often one or the other. You end up with a pair of jeans that fit like a dream on top, but basically drown you on the bottom. Instead of running to the tailor and shelling out tons of cash each time you have to crop your denim, check out these awesome hacks for hemming your jeans at home.
We DIY everything these days, from our home decor items to organization tools, and even beauty products. Why not, then, do the same for our clothes? You don't have to be a sewing wiz to hem jeans on your own. If you can follow a few simple directions, you can re-fit your jeans easily. Whether you're looking for a clean hemline or a fringed one, a permanent solution or just a quick-fix, these easy at-home hacks will help you customize your jeans without the hassle, time, and money associated with a professional tailoring.
1. Cut It Off
Frayed hemlines are so in these days. Hemming by way of cutting is not only the easiest method ever, it'll also keep you on-trend. All you need is a pair of scissors to cut along the length that is perfect for you.
2. Sew A New Hemline
If you're looking for something a little more permanent and polished, this step-by-step guide from Woman's Day is a great option. Just turn the jeans inside out, mark to your target length, and hand sew along that line — no sewing machine needed!
3. Use Bobby Pins
Goody Styling Essentials Bobby Pins, Black, 3 Inches, 18 Count, $5.46, amazon.com
Bobby pins are a quick fix for on-the-go gals, when you're in a hurry and don't have time to sew on another seam. Just tuck the jeans inside to your desired length, secure with a few pins, and you're good to go!
4. Glue It On
Aleene's Fabric Fusion Permanent Fabric Adhesive 4oz, $7.36, amazon.com
If sewing isn't your thing or you don't have a sewing kit handy, you can still create a customized hemline. All you need is some permanent fabric glue to secure the new length in place.
5. Just Cuff It
When in doubt, just cuff it out. Not only is it super simple to do, you can play with different lengths to your liking. It also creates a laid-back, relaxed style that is a nice alternative to traditional hemlines. Plus, it's totally trendy right now.
Images: xmxxnhxi/Unsplash