Go Back To The Past With The Cast Of 'Timeless'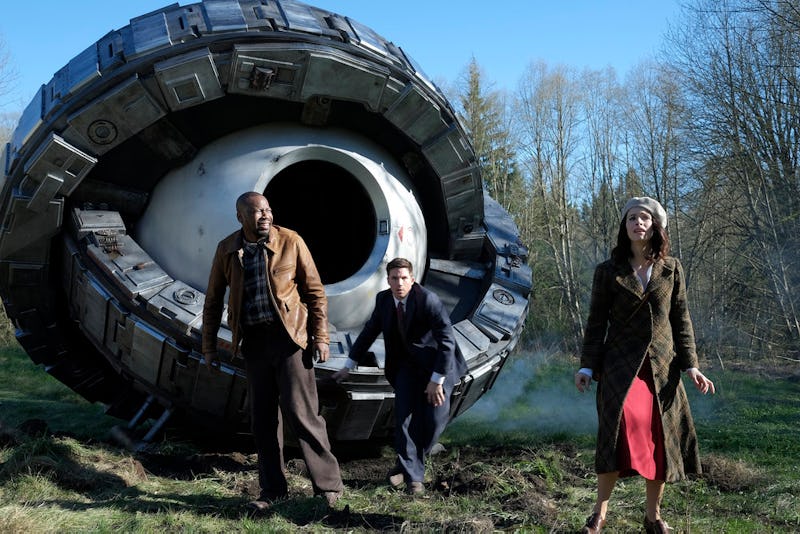 If great ideas come in pairs (Armageddon/Deep Impact, Antz/A Bug's Life), then someone must have had an amazing idea because the 2016-'17 TV season contains not just a pair of shows about time travel, but three of them on three different networks. At midseason, ABC will bring us Time After Time, a drama about H.G. Wells pursuing Jack the Ripper into the modern day; and FOX will unveil the trippy sitcom Making History. But first up is the new NBC series Timeless , debuting this Monday night.
Unlike those other two shows, Timeless doesn't feature real historical figures making the leap to a new decade, nor is it a comedy. Instead, NBC's take on time travel is an action series where a trio of adventurers — a professor, a soldier, and a scientist — must try to stop a rogue criminal who has stolen a time machine from rewriting the course of history. (In a perfect blend of pop fantasy and gritty drama, Timeless was conceived by Supernatural creator Eric Kripke and The Shield creator Shawn Ryan.)
Before you buckle into the time machine, meet the cast who will be leading you on your tour of major historical events like the crash of the Hindenburg and the assassination of President Lincoln:
1. Abigail Spencer
Spencer, who plays history professor Lucy Preston, currently stars on SundanceTV's acclaimed drama Rectify, which will air its final season later this year. You may also know her from a recurring role as Sally Draper's elementary school teacher on Mad Men, as well as her performances in Suits, True Detective, Cowboys & Aliens, Oz The Great And Powerful, and more.
2. Matt Lanter
The dapper Delta Force soldier Wyatt Logan is played by Matt Lanter, most famous for his stint as bad boy Liam Court on The CW's 90210. He also voiced Anakin Skywalker in the Cartoon Network series Star Wars: The Clone Wars.
3. Malcolm Barrett
The final member of the main trio is Rufus Carlin, the scientist who "pilots" the time machine. He's played by Barrett, who previously starred in the cult favorite ABC sitcom Better Off Ted, as well as films like The Hurt Locker and Dear White People.
4. Sakina Jaffrey
Jaffrey has recurred on pretty much all of your favorite TV shows of the past few years, including House Of Cards, Sleepy Hollow, Mr. Robot, and The Mindy Project. On Timeless, she'll play Denise Christopher, the agent in charge of the trio's time-hopping adventures.
5. Paterson Joseph
This British actor has a long career on the small screen in his native country, but he recently made his debut on American TV as Holy Wayne in HBO's The Leftovers. Here he'll play Mason Lark, another official supervising the journey through time.
6. Goran Visnjic as Garcia Flynn
Of course, our team of heroes needs a villain to fight against — and that's Garcia Flynn, played by Croatian actor Visnjic. He's best known for playing Dr. Luka Kovac on eight seasons of ER, and more recently he has appeared in the ABC period drama Pan Am and the CBS sci-fi series Extant.
Follow these six talented actors on their magical history tour when Timeless premieres on NBC this Monday at 10:00 p.m. ET.
Images: Joe Lederer (6), Sergei Bachlakov/NBC