THINX's Campaign For Pee-Proof Undies Is Brilliant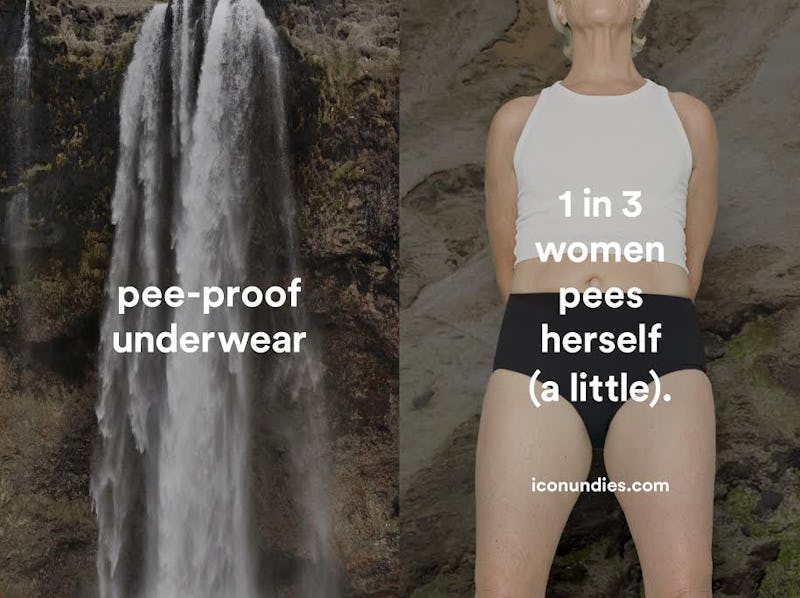 For women who love to free-bleed and hate packing tampons, the arrival of period-proof underwear THINX represented a particularly high level of menstrual salvation. The company took their mission to keep women's nether-zones dry one step further with Icon, pee-proof underwear that promises to keep you dry and odor free when, yup, you pee yourself a little.
Let's talk about that last part, shall we? It might sound embarrassing (or like something that could only transpire during your darkest, drunkest hour). The truth is, it can happen to the best of us — and for perfectly normal reasons. According to THINX's research, one in three women pee themselves — sometimes due to menopause, sometimes due to pregnancy, and sometimes, just because.
A new campaign for Icon launched on Oct. 1, and according to the Icon team, the campaign utilized models from ages 27-69 to illustrate that incontinence is a problem shared by women in many different age groups. The concept for Icon was actually inspired by the presence of THINX on the market — the brand's open-minded and candid approach to addressing the issues related to menstruation encouraged many women to explore the idea of finding a product that could do the same for urine.
"When THINX launched, we had a ton of women writing in and asking if they could use them for absorbing a little pee," says Icon VP of Marketing Kejal Macdonald in an interview with Bustle. "When we looked into it, we realized since the two types of liquid are pretty different—blood is more viscous and released slowly, while pee is thin and released in a single spurt. This meant what we designed specifically for periods didn't necessarily meet all the needs for light bladder leaks. So we dashed off to our panty workshop and engineered a prototype specifically for leaky bladders."
Icon Hi Waist Pee Proof Underwear (Sizes XS-XXXL), $34-$36, Icon Undies
Icon operates under the umbrella of THINX, and both brands are headed by CEO Miki Agrawal, an enterprising personality who came up with the idea for THINX after traveling abroad and realizing that young women in hardship areas had nothing to use during their periods. Six years after launch, THINX has become a staple item for thousands of menstruating women across the globe — and Icon is positioned to become equally as successful.
"We rounded up a rad group of leaky ladies to test them out and the response was overwhelming," says Macdonald. "We figured we'd get feedback on how the underwear performed, but the women ended up gushing about how life-changing it was to be able to wear a beautiful pair of underwear instead of pantyliners. That was when we realized we were onto something really huge."
Though THINX and Icon products address a similar problem they're actually designed and made in entirely different ways.
"Since THINX and Icon are each crafted for their specific absorbency needs, both the fabrics we use and the way they're made are different," Macdonald says. "Icon needs to be able to absorb pee extremely quickly and keep women feeling totally dry, so the inner-most lining is a high-performing, fast wicking fabric. The leg holes of Icon are bonded—a fancy name for heat-sealed—instead of sewn to ensure they're totally leak-proof. Lastly, in addition to the anti-microbial layer on both Icon and THINX, Icon has an additional anti-odor treatment, for obvious reasons."
For now, Icon comes in three styles: bikini, hi-waist, and thong. The brand also has plans to launch a hip hugger style later in the year. Though THINX only comes in two colors (black and beige), Icon is available in black, beige, and blue. The sizes range from XS-XXXL. According to the brand's size chart, that means they'll fit women from sizes 0-24.
Admittedly, it's hard to describe further details of Icon without getting down to the nitty-gritty — beyond color, size, and style. Squeamish and easily embarrassed sorts, prepare yourselves: The most important factor of Icon is how much pee they hold, exactly.
Here are the details, according to MacDonald: Most pairs can hold five teaspoons of pee, and the thong can hold up to three teaspoons. The brand also offers an extended gusset option, which includes two extra inches of coverage on the from and can hold up to six teaspoons of pee. For now, Icon can't hold as much pee as the average adult diaper — but it's a hell of a lot more comfortable, and looks cute, too.
"Icon is perfect for women with light leaks," MacDonald says. "We'll also be launching a version early next year that can hold 10 teaspoons for women who need a bit more absorbency."The greatest part about Icon is the same thing that made THINX such a breath of fresh air: It provides a simple answer to a question many women may have been too embarrassed to ask before. Gone are the days of "How can I fix this (perfectly normal) problem with a pleasant, unobtrusive solution?" With Icon, all pee-related worries melt away forever — or at least for long enough to find a bathroom.
Images: Icon Undies