Big News: Harry Potter Is Coming Back To Theaters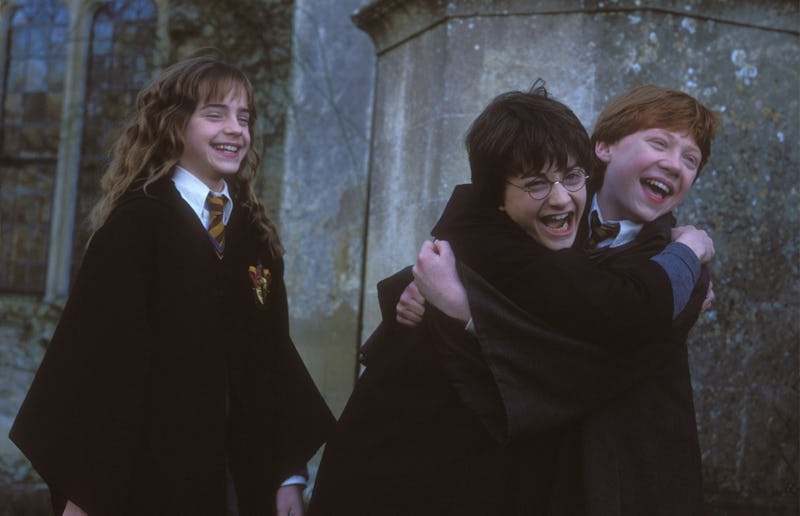 If you weren't already excited enough about Fantastic Beasts and Where To Find Them, here's another way to add to your anticipation: all eight Harry Potter movies are coming back to IMAX theaters this October. The films, from The Sorcerer's Stone to Deathly Hallows: Part 2, will show for one week, starting on Oct. 13. This is an especially big deal because the first two films have never been shown in IMAX before, so you'll definitely want to learn how to get tickets to this Harry Potter movie event.
The special week serves as a lead-up to the new Harry Potter spinoff film, Fantastic Beasts and Where To Find Them, which comes out on Nov. 18. In addition to the IMAX screenings, there will also be special previews of Fantastic Beasts on Oct. 13, as well as a live broadcast Q&A and in-person appearances from the film's stars in London and Los Angeles. Basically, any fan would be insane to miss this.
Going to see the Harry Potter films in person serves as a perfect October treat for those who want a little more excitement than a Harry Potter marathon on the couch. It's also a great opportunity for those who didn't see the films when they first hit theaters — both kids who are just discovering the books for the first time, or adults who've gotten into the franchise later on — to have that experience. The ticketing system is a little complicated, so here are the different options available.
For The Special Event On Oct. 13
The first day of the special week of showings is the Fantastic Beasts And Where To Find Them Global Fan Event, where there will be a special sneak peak of the film and a live broadcast Q&A. Fantastic Beasts stars Colin Farrell and Jon Voight will be attending the event in LA, while Eddie Redmayne, Katherine Waterston, Alison Sudol, Dan Fogler, and director David Yates will be at the London theater. The times for the events vary (since it's a global live event, it has to accommodate different time zones). You can check here to see if and when the event will take place in your city, in addition to reserving a ticket. While some of the events have already filled up, many of the locations have wait lists available.
For The Movie Showings
You can check here to select which movie you want to go to, which will in turn find the closest IMAX theater to you and present the available times and days for the showings.
Other Options
News outlets are reporting that there will be festival and package passes available for those who wish to attend multiple Harry Potter movies over the course of the week, but those were not available on the IMAX website as of Oct. 3. You should check with your closest IMAX theater, either on the website or by phone, for the packages and pricing available, as they vary by location.
Hopefully, IMAX will smooth out the kinks soon, as I am sure that lots of Harry Potter fans will be eager to participate as much as possible. After all, can you think of a better way to spend an October evening than revisiting Hogwarts on the big screen?
Image: Warner Bros, Giphy (3)