'Arrow' Season 5 Will Mean Big Changes For Diggle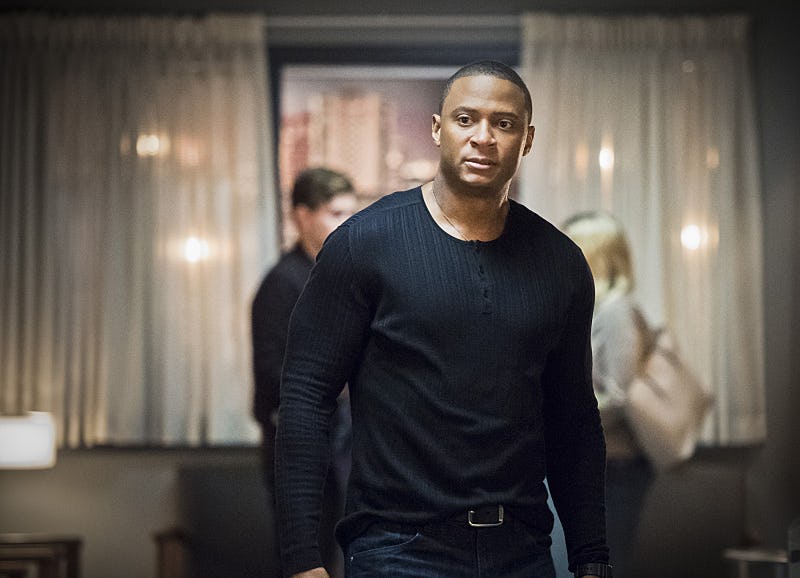 Arrow Season 4 proved to be a rollercoaster ride of emotions for John Diggle. Not only did he finally reunite with his brother (whom he thought was dead), but then he was also betrayed by said brother, which directly resulted in the death of his good friend, Laurel Lance. That's a lot of guilt for anyone to have to deal with and it's something Diggle will have to face head-on throughout Arrow Season 5. Back in May, we saw our beloved Arrow team go off on their separate ways. And while we know this group won't be able to stay away from each other for long, it may have caused some of you to wonder whether or not Diggle will return for Arrow 's fifth season. So let me quickly put those doubts to rest. He will be back, but unfortunately, he may not be the man we once knew.
During a recent interview with Entertainment Weekly, executive producer Marc Guggenheim touched upon Diggle's Season 5 story arc and hinted that last season's events will continue to haunt Oliver's right hand man as the new season progresses during his time in Chechnya as a member of the Special Forces operation. "He is searching for that moral compass that he lost at the end of season 4," Guggenheim revealed. "He discovers that Chechnya is the wrong place for him to discover his moral compass."
But before you start worrying about whether or not this means Diggle has moved on from Star City for good, let me assure you that won't be the case. In fact, it won't take him long to find himself back at his old stomping grounds, however, don't expect things to just pick up right where they left off. Guggenheim explained to the site:
"Things do not go according to plan for him, and there's something that happens in the first three episodes that is fairly significant and it's the circumstances that will ultimately bring him back to Star City, but he's not going to be the same. He's not going to be able to live his life the way he had been living it before."
So the good news is you'll definitely be seeing plenty of Diggle still once the fifth season debuts. But the bad news is it will be a Diggle unlike anything we've ever experienced before, which is bound to send our emotions into overdrive. I hate the idea of Diggle not being in a good place mentally since he's a decent guy with a really big heart. Let's just hope that returning home will eventually get him to open up to the team again (Oliver especially) and start properly recovering from all the trauma he's been forced to face.
Images: Dean Buscher, Diyah Pera/The CW