'Arrow' Season 5 Spoilers From Stephen Amell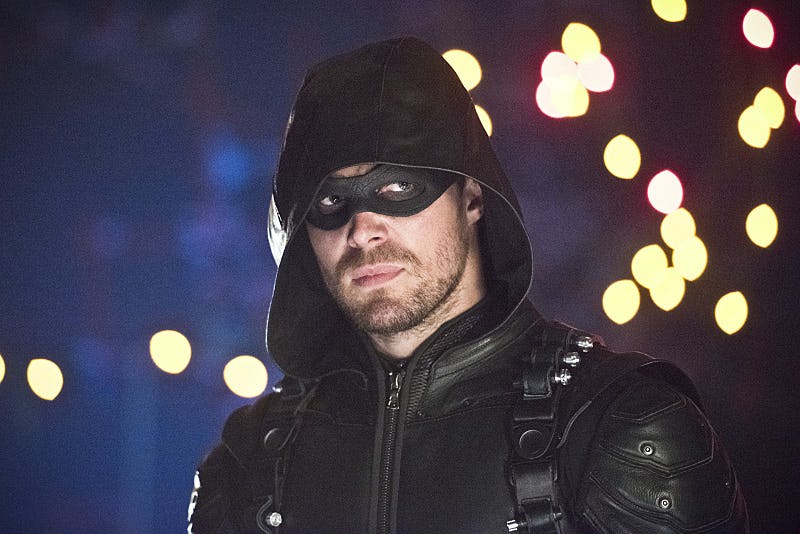 Oliver & Co. may be dealing with the likes of Damien Darhk as they head into the action-packed Arrow Season 4 finale, but even if they do manage to take this formidable villain down for good (and let's hope they do!), their quest to save Star City is far from over. But just like the saying goes, two vigilante heads are better than one (or something like that) and thanks to the four-way superhero crossover The CW has promised us, Team Arrow will be in very good company during Arrow Season 5. And while Oliver has interacted with characters from both The Flash and Legends of Tomorrow's worlds, it'll be the Green Arrow's first time coming face-to-face with Kara Danvers' Supergirl — a dynamic that Stephen Amell is eager to explore.
"Maybe they're so opposite that they would get along," the actor shares with Bustle at The CW Upfronts, regarding how Oliver's brooding would gel with Kara's perky optimism. "I thought about that. Like maybe they're so diametrically opposed that they would get along with one another." And as for the epic crossover itself, Amell is confident in the writers and knows "they'll have a grand plan" for how the storylines play out, one of which that could involve a not-so-dead Damien Darhk.
Much like how Vandal Savage became a continuous threat for the Legends of Tomorrow gang well after he left the Arrow-verse, Amell wouldn't be surprised if Season 4 isn't the last we see of Darhk's character throughout the different DC realms. "I do suspect that we'll see Damien Darhk again within the whole DC Universe that we've set up," Amell teases, while adding, "but I don't know." Darhk has proven to be a compelling villain, so it's interesting to think of how he'd fare when going up against our other vigilantes, especially those that have powers of their own. (Just try to mess with Kara, Darhk. I dare you.) So does this mean that Season 4 won't end in Darhk's death? "Maybe not," he hints.
But whether or not Darhk is vanquished for good, he's done some serious damage throughout the course of Season 4, like when his missile launch forced Felicity to sacrifice the smaller town of Havenrock in order to save the greater lives that would've been lost at Monument Point — a decision she'll have to live with for the rest of her life. "I can't speak for Emily [Bett Rickards] and what's inside Felicity's head, but obviously tough decisions have to be made," Amell explains about Felicity's actions. "Sometimes it's the lesser of two evils. I hope she'll deal with it OK." Perhaps Oliver can even provide a source of comfort for her and bring Team Olicity back together again. (Hey, a girl can dream, right?)
And, of course, there's the matter of Laurel's death at Darhk's hands, which Amells assures us will continue to impact the team long after this season is over. "I think that we're gonna see the loss of Laurel affect us in the decisions that people make towards the end of the season finale, and what they wanna do going forward," he teases. "But yeah, a death of that significance will last far beyond just this season." So even though the Black Canary may be gone, she certainly won't soon be forgotten.
Images: Dean Buscher, Bettina Strauss, Diyah Pera/The CW