Syfy's New Series Re-Imagines Superman's History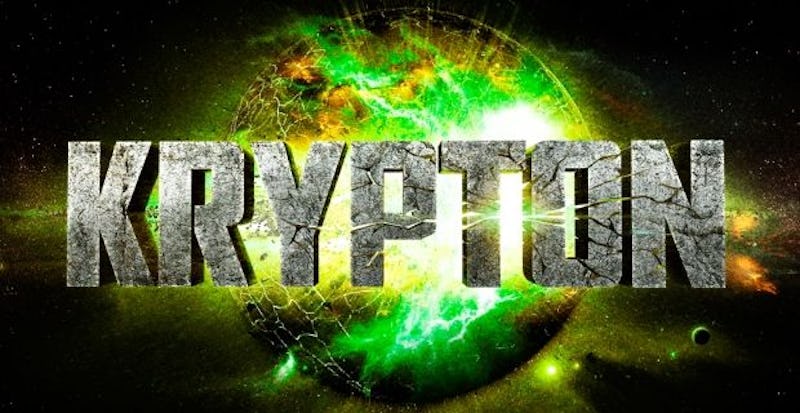 Some people complain that superhero shows are played out, and I can't blame them for thinking that. There are a hefty multitude of television shows and movies featuring guys and girls who wear capes, or have awesome fighting skills, or have superhuman abilities. And yet, a new Syfy superhero pilot, Krypton seems like it might be telling a different, more interesting story than the usual masked vigilante thing.
In fact, the show isn't about superheroes protecting the earth. It doesn't even take place on earth. Instead, it's set on Superman's home planet, Krypton. We learn all about life on the Man of Steel's planet two generations before it was destroyed — when Superman's grandfather fought to redeem his shamed family's honor while also attempting to save his world. According to Entertainment Weekly, Cameron Cuffe, who most recently appeared in Florence Foster Jenkins , will play Seg-El, Kal-El's (Superman) grandfather and father to Jor-El (Superman's father).
He's not your typical superhero, because he has the same abilities as everyone else on his planet. In fact, he's a bit of an underdog; the brilliant and technically-minded member of the house of El is now living in Krypton's lowest caste after his family was stripped of its rank. It seems like the series is of more of a coming-of-age story than a superhero story, because, throughout the series, Seg-El, will struggle to restore his family name.
Cuffe is the first actor cast in the DC Comics drama pilot. Executive producers David S. Goyer and Ian Goldberg, and Damian Kindler and Colm McCarthy (who helmed the pilot), are working together to hopefully bring a show which will give us a different kind of superhero series — or at least a new look at an old franchise. Sure, we've seen El family members besides Superman before, most recently in Supergirl . Sure, we've seen Kryton before in movies like the 2013 film Man of Steel. But it will be interesting to see the house of El as a family down on their luck, or the planet of Krypton as a place to live and not a destroyed planet.
I don't want to throw my heart into a superhero pilot. I think we've all been burned far too many times for that. But it could definitely be cool to see this side of the Superman story, and I have to admit that I'm excited to get to know Seg-El.
Images: Syfy