Pumpkin Spice Lipstick Might Be A Thing Now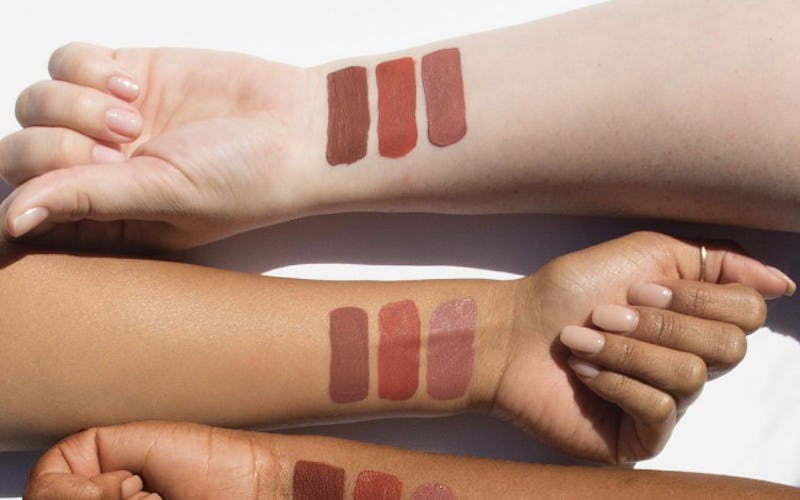 Terrible as it seems to extend pumpkin spice's all-consuming reach (hair, check, everything else, check), the trend is undeniable: at least among Insta-savvy brands, pumpkin spice lipstick is big for fall. Terracotta by a less seasonal name, this genre of not quite orange, not quite brick lipstick is pumpkin gone chic — the look is muted enough to go anywhere without reading "PUMPKIN!," but stays on theme if you're a Hocus Pocus enthusiast. It's like the fall 2016's given us: kind of feeble, but in a nice way.
Best of all, this trend was made for going viral, which might explain its popularity among the Instagram brands. From Colourpop to Kylie Cosmetics, all the traditional purveyors of liquid lip looks are hitting the nail on the head with pumpkin spice lipsticks. But credit where credit's due: M.A.C.'s "Spice" was the original terracotta on the block. À la Halloween though, it's now infinitely more candy-filled, with formulas that could probably hold on 'til the 31st if put to the test. Why would you, though? There's so many of them to try. Here, the six best ways to live the PSL trend, no $8 latte necessary — but with all of the likes.
1. Kylie Cosmetics' Lipkit in Pumpkin
Teased on Instagram as an October launch (but still dateless, *shakes fist at the sky*), Kylie's new Lipkits include Pumpkin, a terracotta that can read from brownish to light orange based on skintone.
2. ColourPop Ultra Matte Lip in Mama
ColourPop Ultra Matte Lip, $6, ColourPop
Mama, middle, is the more standard terracotta shade, but Colourpop gave options with their fall beauty edit. Also included is Lovebug, left, a more dramatic burnished hue.
3. Anastasia Beverly Hills Liquid Lipstick in Ashton
Anastasia Beverly Hills Liquid Lipstick, $20, Sephora
Anastasia's liquid lipstick formula is near unparalleled — it's lasted through literal showers. And while Ashton is described as a "midtone yellow brown," in the flesh it strikes that perfect moody fall, "dead leaf in a sexy way" shade.
4. Kat Von D Everlasting Liquid Lipstick in Lolita II
Kat Von D Everlasting Liquid Lipstick, $20, Sephora
Project Chimps, Kat Von D's August charity lip shade, smacked right dab in the middle of the terracotta trend. Unfortunately limited edition, the line's standby Lolita II color also hits the trend — and a perennial favorite, it speaks to the color's lasting power past October.
5. Smashbox Always On Matte Liquid Lipstick in Out Loud
Smashbox Always On Matte Liquid Lipstick, $24, Sephora
Smashbox's formula offers one of the most simultaneously comfortable and longlasting finishes in the game, and their Out Loud shade is the perfect not brown, not red, not orange color. Not anything, but somehow everything.
6. M.A.C. Lip in Spice
M.A.C. Lip Pencil, $17.50, Nordstrom
Tales are told of this lipliner's ubiquity in the '90s, and there's no question why. The lipliner that rocketed Kylie Jenner to fame many years ago (TBT the literal shortage she caused), it's a lighter take on terracotta, with a subtle presence that works on everyone.
PSL never sounded so good.
Images: colourpopcosmetics/Instagram