12 Comfortable Workout Tops For Big Boobs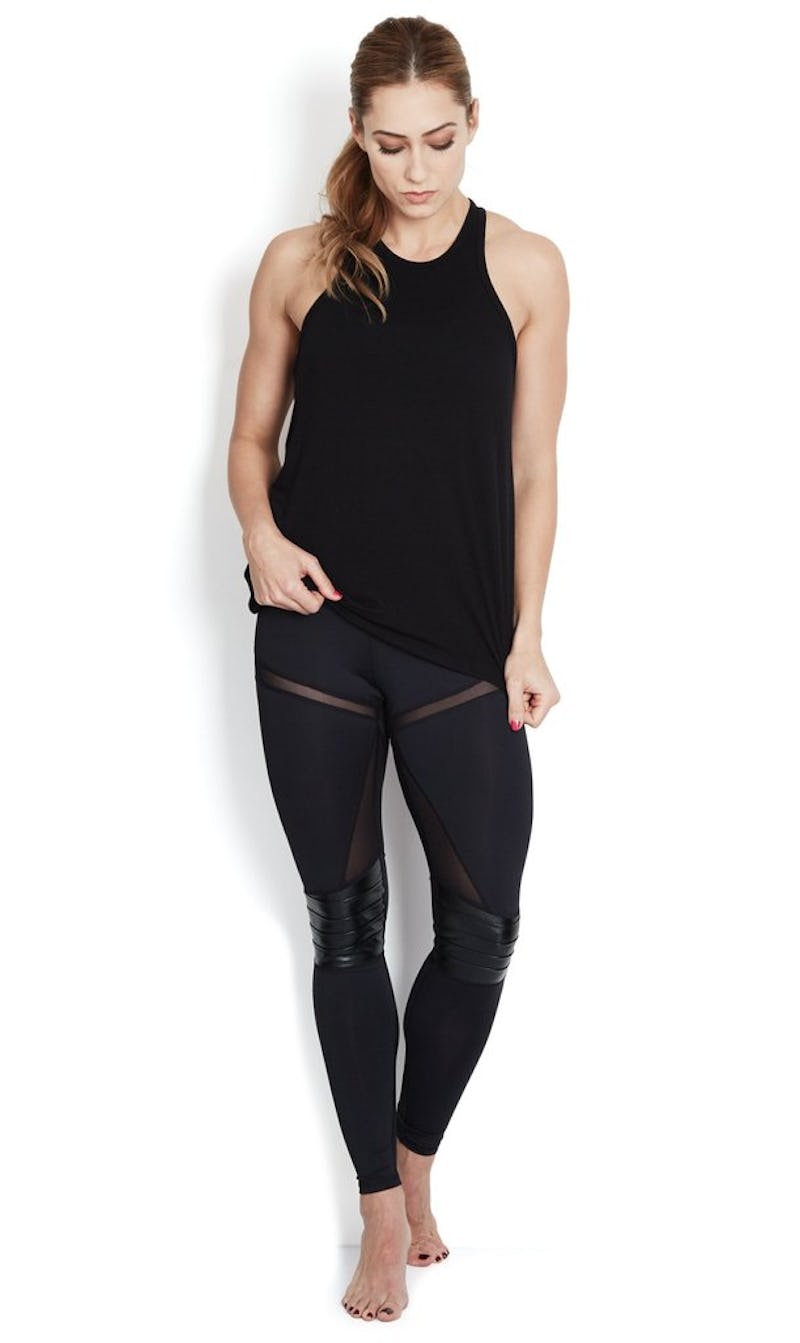 Working out isn't really about what you're wearing, but there's no denying that wearing a cute pair of shoes or a fun tank makes you feel more enthusiastic about hitting the gym. But when it comes to finding the best workout tops for big boobs, it can be surprisingly difficult to find ones that work.
People with larger chests know that no matter how cute a workout tank looks on a model on a website (or on a hanger on a store), they're going to fit differently if you have big boobs. And although finding a sports bra for big boobs is probably the most important part of building a workout wardrobe, it can be annoying to find a workout top you think you'll love only to find out it doesn't fit quite how you'd like it to.
For me, the key to picking a great workout top is finding one that's high-cut enough to make cleavage a non-issue. It's the last thing I want to worry about when I'm working out, and luckily with these tops, you're guaranteed to be comfortable and feel confident.
From cute patterns to basic black tanks (my personal favorite), there's a top for everyone in this collection.
I love the neckline of this black tank, and the fit looks perfect for a yoga or barre class.
WQ Tank Black, $50, Bellaforte
2. Ivy Park Ribbed Hooded Tank
This adorable sleeveless hoodie is perfect for a cardio class like spin.
Ivy Park Ribbed Hooded Tank, $35, Nordstrom
The T-back of this light-colored tank top is so cute, and I might have to add it to my wardrobe.
Climawear Aim High T-Back Tank, $30, Nordstrom
This adorable tank from Gap has a high neckline in the front, but the tie-back detail offers a fun, sexy touch.
GapFit Breathe Tie-Back Tank, $30, Gap
This open-sided black and grey tank is perfect for showing a little skin at the gym without going too overboard.
Beloforte Bethany Tank Black, $74, Beloforte
6. Bend & Twist Tank
I love the style of this grey tank from Lululemon because it's nice and high in the front, but the twisted back makes it a little more chic.
Bend and Twist Tank, $58, Lululemon
This tank has a slight V-neck, but it's still plenty high in the front to make sure you're comfortable.
Nike Miler Dri-Fit Tank, $35, Amazon
8. X-Marked Tank
It might be a tad too fancy for an everyday run, but how chic is this black and white X-marked tank from Beyond Yoga?
Beyond Yoga X-Marked Tank, $88, Nordstrom
9. Crop Tank
Want to show off your stomach? This flattering tank from Lululemon is the perfect style to do that in.
Soulful Crop Tank, $48, Lululemon
10. Muscle Tank
This style from Old Navy is perfect for a sweaty workout because of the specially formulated go-dry material.
Go-Dry Performance Mesh Muscle Tank, $18, Old Navy
11. Flow Slogan Tank
I love this slogan tank from UK favorite brand Sweaty Betty.
Flow Slogan Tank, $60, Sweaty Betty
12. Active Mesh Tank Top
I like the illusion neckline of this white mesh tank, but it keeps cleavage covered in a way that's completely chic.
Active Mesh Tank Top, $12.90, Forever 21
Working out is great regardless of what you look like, but who doesn't like to feel cute while they're sweating? With these choices, you will.
Images: Courtesy of Brands