The Best Sports Bras For Big Boobies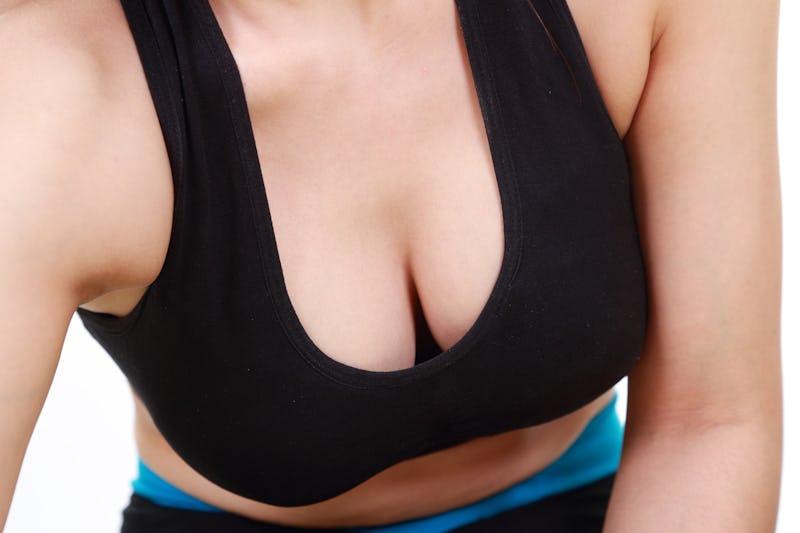 For any active woman, a good sports bra is crucial to a great workout and to being comfortable during said workout. Finding a sports bra for big boobs, however, is no easy feat. There is nothing more distracting than your otherwise fabulous boobs getting in your way. Or worse, hurting during your jog or workout. That's why proper support is a must when it comes to the perfect sports bra.
When I took to searching the mall for the best sports bras out there for bigger ta-tas, I was unfortunately disappointed. I rummaged through a department store in the mall and then the massive amounts of bras at a huge sporting goods shop. And honestly, it's astonishing to me how all of the brands I tried on only went up to an XL or a 38DD. I mean, hello! There is a whole group of women being marginalized here by major activewear companies.
I cannot help but wonder if this is down to the age-old justification that there "isn't a market for the plus-size woman in activewear," even though most of us know this is simply not true, and even though large breasts are not exclusive to plus women.
Personally, I've always had to wear at least two sports bras to keep my lady lumps well-supported during play, which is probably an unfortunate truth for many of my fellow big-breasted women, too. (Though I'm not sure we all do the jog-in-place in the fitting room test while we try on the bras to feel how much bounce our boobs still have while wearing the bra. That's the real kicker.)
Fear not, however! I did manage to find a few good bras that I would consider buying — tried an tested by yours truly, fitting-room style.
Reebok High-Impact Molded Cup Sports Bra, $48, Amazon
Out of the 20 bras I tried on, this one would have to be my number one. It comes with an adjustable bust-size strap that I had to put on the third and last notch. The shoulder straps are thick enough that they don't dig into your shoulders, and as you can tell, the shape offers a lot of support. It was one of the only bras that I could use without having to wear a second one under it. However, for anyone over a 40-inch bust size, it probably wouldn't fit as this was their biggest size.
Nike Pro Classic Sports Bra, $40, Amazon
This one comes in at number two. This particular bra was just a tad tight on me, which is sometimes okay considering I want a lot of support. I liked the amount of coverage this bra offered as it was high enough to not allow for any popping out.
Under Armour Eclipse Sports Bra, $40, Amazon
Under Armour's tag says that an XL is a 40-42 inch bust size. I was actually surprised to find that depending on the style of bra, the XL varied in size. There were a few XLs that I couldn't even get over my boobs and therefore taking the things off was a workout in and of itself! I really liked the adjustable straps that crossed over on this one, though, which also had an adjustable bust strap in the back. I also liked how full the coverage was in this one, which means no side boob.
Old Navy Active Padded Sports Bra, $17, Old Navy
For a budget-conscious shopper, this Old Navy sports bra made a good impression. Plenty of coverage and support in this size XL. I've always appreciated that Old Navy's sizes seem to run a little large, leaving room for us bigger girls to fit into their clothes. You can tell from the picture that this XL is a bit larger than the bras above.
Calvin Klein Performance Reversible Racerback Sports Bra, $25, Amazon
Found this one at Macy's, and I was pleased with the size, another XL. It was comfortable enough with great coverage, but the support was definitely lacking. It'd be a great bra for walking in but not so much anything else.
It doesn't surprise me that the best bra I found in my searching turned out to be the most expensive one. Like I mentioned earlier, any quality garment is going to cost more.
Lululemon was also referred to me as a great sports bra brand, but as they're only online, I couldn't try any bras on. Other than the bras I've found above, Lane Bryant definitely has the best size ranges for larger breasts, with their sports bra sizes ranging to an H cup and 48 bust size. While I'm thankful for Lane Bryant and their size inclusivity, this experiment has led me to the unfortunate reminder that women with larger frames are vastly underserved, in every aspect of retail.
Images: Fotolia; Author's Own