13 Funny '90s-Inspired Halloween Costume Ideas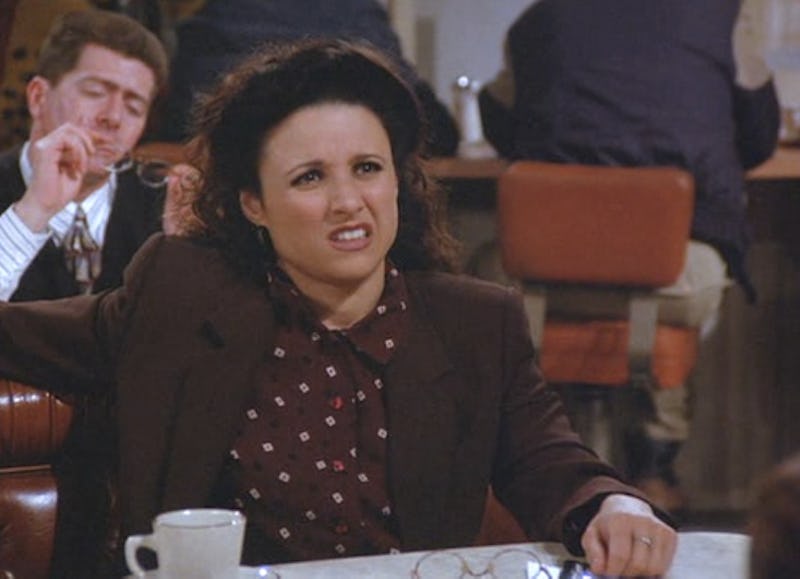 Everyone loves nostalgia — and the '90s happen to be the perfect decade to reflect on, since so many people have fond memories of it. If you're looking for a funny '90s Halloween costume, you might first look at pop culture — after all, the '90s had the ultimate best shows, cartoon characters, fashion, and fads. If you were saving up your money to buy the coolest accessory back then, chances are you'll cringe today when you find it stashed in the back of your childhood closet. If you had a favorite show, you likely had a VHS compilation tape that was your most prized possession... which is now also stored in the back of your childhood closet, right next to the accessories. What can you say — we learned a lot about ourselves in the '90s.
As far as funny goes, that's a harder angle to grasp. I mean, the concept of funny is different for each and every person. But as a golden rule, if you truly put your all into a costume, it'll likely get a bunch of laughs. If you also choose something that's totally out of character (and I'm not talking in a, "My friends thought I'd be Scary Spice but I'm Ginger Spice" kind of way) the costume appreciation will only rise, and the LOLs will be plenty. The good news is, mostly everything from the '90s was funny. I mean, just think of the fact that we used to wear cargo shorts. I repeat, cargo shorts. Why did we need that many pockets? The world may never know.
Here are a few funny '90s-inspired ideas that you can totally own this year.
1. Lisa Frank Enthusiast
Uh, you might buy these clothes for Halloween, but wear them all the time inside the house. The unicorn leggings ($39.99, Rage On) are just incredible, and the graphic ringer tee ($15, Macys) is something anyone can get additional use out of. Complete the look with a fun pink wig ($24.99, Maykool) since Lisa Frank was all about the pink — even when it's not Wednesday. (I threw a 2000s joke in there, so sue me.)
2. Helga Pataki
The bright fuchsia KUT dress ($45, 6PM.com) is just a tad bit fancier than what Helga would wear, but hey — close enough. What'll truly make your Helga costume shine is a a blonde wig that you can bunch into two side ponytails ($40, Etsy), a big pink bow ($8.95, Etsy), and a weird love of one particular football-headed weirdo. Helga is a blast to be for Halloween, and friends will recognize the infamous Hey Arnold! bully almost immediately. As for her unibrow? If you can't find a stick-on, you can just use some makeup. Here's a hint — all you need is one big line connecting the eyebrows you already have. That's the part that'll get the most laughs.
3. The Blink-182 Nurse
Remember the cover of Enema of the State? Everyone does — and with a few accessories, you can turn into her. First, you'll need a red corset ($9.99, Amazon), a blazer and shorts set to wear on top ($17.25, Rotita), some temporary butterfly tattoos ($2.57, Trouva), and some blue surgical gloves. Being able to recite the lyrics to "All The Small Things" on demand would be another pro.
4. Wenda
The Where's Waldo book series came out in the late '80s, but Waldo's girlfriend Wenda first appeared in 1991. While so many people identify this as a Waldo costume ($25.98, Oriental Trading), Wenda exists. Wenda is real. Be Wenda, and know that you don't need a man to complete your Halloween costume.
5. Elaine Benes
I'm so glad that Julia Louis Dreyfus has a way better wardrobe today. This Elaine costume ($49.99, Oriental Trading) will surely get a laugh from your sitcom-loving friends.
6. Quailman
With this Merino v-neck green vest that you can wear under a white shirt ($42.50, Bluefly), a pair of khaki cargo shorts ($16, Hollister), red blanket for flying high ($22, Rotita), and a belt for your head ($3, Dorothy Perkins), you will be Quailman. A pair of white briefs will complete the look, but hey — you know where to get those. The vest combo is also available at MyPartyShirt.com for $44.99, if that's easier (or, if you're not the DIY type). Plus, it'd save you some time as you figure out how to fight off the evil Klotzilla.
7. Charlie Conway
Why be any Duck, when you could be the best Duck? Represent Charlie Conway with this fantastic jersey ($49.99, MyPartyShirt) that'll get people quacking.
8. A Character From Guess Who?
This doubles as a fun group costume, or a solo costume — and even better, you can totally customize it. Even though there were few women in the game (which, boo), you have a range of people to choose from. The big props here are the shirt with a question mark on it ($15.95, Etsy) and a rectangular frame that you can easily make out of poster board. If you love art projects, this might be the costume for you.
9. Beavis
Heh. Heheh. It's Beavis, from Beavis & Butthead ($25.26, Toynk). You know, the show that our parents thought would destroy us back in the day.
10. NKOTB Mega-Fan
We were all about New Kids On The Block when we were younger. And we all thought that Joey McIntyre would marry us someday. The good news is, a lot of memorabilia (if it's not stored away in your attic) is available on Etsy. You can find the hat ($28), and the shirt ($38) and of course, the oversized buttons ($3.89) pretty easily. If you want to re-buy the bedsheets, hey — that's up to you. No judgment here.
11. Polly Pocket
Back in the day Polly Pocket was tiny. Then, people realized she was a choking hazard. What I'm trying to say is, Polly Pocket comes in all heights and sizes these days. It's not just a joke for all the short ladies out there. All you need to complete the look is a white leotard or bodysuit ($19, WearAll), a hot pink tutu ($13, CostumeSuperCenter.com), a blonde wig ($49.99, Etsy), and some pink ballet slippers ($16.80, Kohls).
12. Samantha Parkington
If you're a girl who grew up in the '90s, there's a 50/50 chance you owned an American Girl doll, and a 100 percent chance that you got the catalogs in the mail. Near the end of each catalog, they offered clothes for young girls that matched the outfits that our favorite historical dolls wore. But, uh — what about today? What if you want to be Samantha now? Easy. All you need is a checkered dress ($30, Zaful), black tights ($16, Bare Necessities), and a big, red hair bow ($4.10, ChicNova) — Samantha's was checkered, but that might be harder to match and find. If you want to get real into it, you'd wear bloomer-style undies underneath. If you wanted to get really into it, you'd attach a threatening white piece of string to the back of your neck.
13. A Waitress From The Max
It was the coolest hangout at Bayside, and Kelly Kapowski worked there on occasion, which made it even better. This t-shirt ($14.95, Etsy) will make you look just like you fit in. For extra laughs, consider being Max himself. For that, just add a short men's wig with some curls, and perhaps this pair of vintage round glasses.
Images: Polyvore (6), Cosplay Sky, Oriental Trading (2), MyPartyShirt, ECKDesigns/Etsy, FleecenStuff/Etsy, Toynk, HalloweenCostumes.com, ChCheckItOut/Etsy