Riggins vs. Saracen? 'Parks & Rec' Talks 'FNL'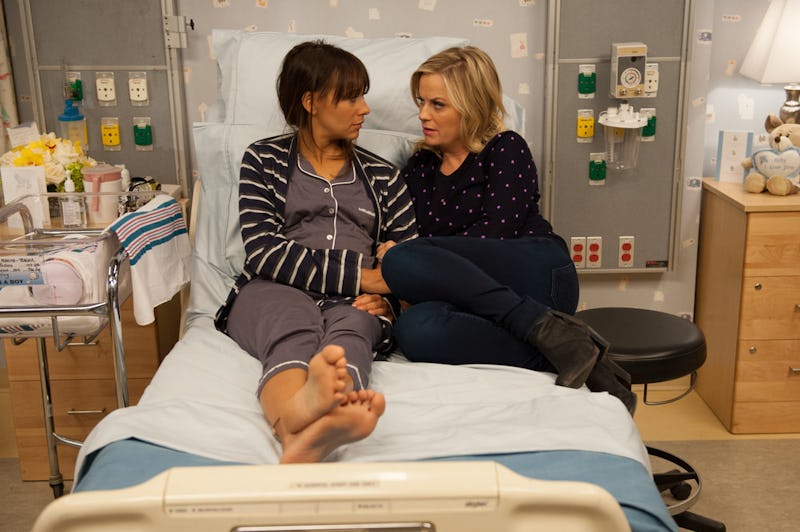 It may not be the most popular Thursday night TV show, but there's never been any question that Parks and Rec is one of the funniest. Week after week, the NBC series produces pitch-perfect episodes, and last night's installment was no exception. From that very first opening shot of Leslie's amazing Carrie Mathison-esque Ann board, expectations were high for the episode, and the rest of the night didn't disappoint. There were a thousand things to love about last night's Parks & Rec, from the return of Ann to the Mean Girls shout-out (Leslie/Mrs. George: "What's the haps? What's the 411?") to Andy's "five second rule" when it came to missing teeth. Yet all of those moments paled in comparison to the episode's highlight, when Ann and Leslie have the most serious, important debate of all time: Riggins vs. Saracen?
If you don't know who those two people are, then clearly, you're not meant to be Leslie's new best friend. After all, the very first question Leslie, trying to replace Ann after her recent move, asked her potential BFFs at their Galentine's Day dinner was what their favorite TV show was. Donna's endorsement of Scandal? April's passion for Russian traffic accidents on Youtube? Ethel's love of skin flicks? None of them mattered, because, as Leslie soon pointed out, "the correct answer for favorite TV show is Friday Night Lights."
The correct answer, you say? Ugh, you're such a Donna. Disappointed with her dining companions' poor taste in TV, Leslie moved onto the next question. It was clear, however, that none of the women were going to be the replacement for Ann that Leslie hoped to find. Later, at the hospital with Ann's new baby (!), the best friends discussed Leslie's friend-finding attempts. After reassuring Leslie that there was no need to actively search for a replacement, Ann made a very important point.
"It's not like you and I always see eye to eye, I mean," she said. "Friday Night Lights? I am more of a Riggins girl, and you lean Saracen."
"Yeah, 'cause Riggins is a criminal," Leslie responded, and the best debate ever began.
Ann: "He took the fall for his brother!"
Leslie: "Okay, he didn't watch out for his brother."
Ann: "You know — I'm not having this conversation with you."
Leslie: "That family is garbage!"
If only if went on from there; what we would've given to hear Leslie and Ann go episode-for-episode in support of their favorite Dillon Panther. Still, the few moments of Parks and Rec's Friday Night Lights debate that we saw were phenomenal, if only because it confirmed what we already knew — Parks and Rec is not only the most pop-culture savvy show on TV (remember that entire episode devoted to Infinite Jest ?), but it might just have the best taste, too.
And it's no surprise that Leslie would love Friday Night Lights, seeing as both FNL and Parks and Rec feature a strong female heroine, small-town morals, and a slogan probably pasted in every inspiration journal Leslie owns ("treat yo self" is no "clear eyes, full hearts," but still). Her love of Saracen over Riggins, though, is a bit surprising; sure, Riggins is a law-breaker, but Saracen proposed to a girl outside what basically amounts to a Dairy Queen. It's hard to imagine Leslie was okay with that, but maybe the "everybody leaves me" shower scene had more influence on her view of Saracen that it should've.
Next time Leslie and Ann engage in a Friday Night Lights debate (and please, for the love of Tami Taylor, let there be a next time), let's hope it lasts more than a few seconds. Maybe some other Parks department employees could get on board, too; clearly, Ben, being Leslie's husband, is going to have some opinions on the show, and while Donna may be drawn to Scandal, it wouldn't be a stretch to think she'd seen a few episodes of FNL here or there, too. Maybe even Larry would have something to say, as he's basically the Landry of Pawnee — dopey, awkward, and with a significant other way out of his league. It looks like that Parks and Rec / FNL mashup blog isn't so off, after all.
Image: NBC