Urban Decay's Brush Stash Is A Godsend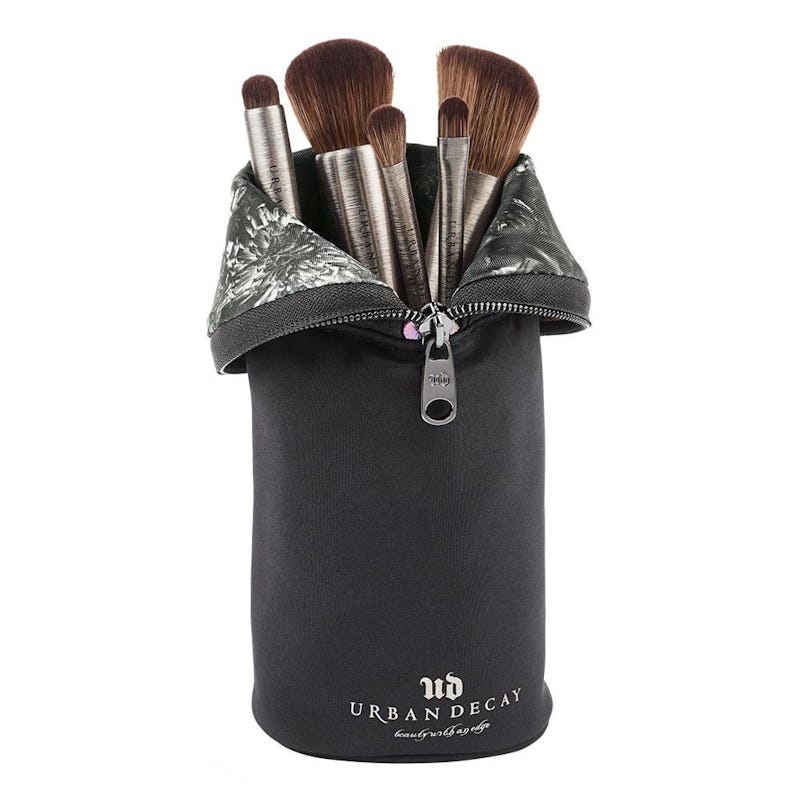 Urban Decay just gets it. And for that, the brand's diehard Beauty Junkies are thankful. Urban Decay's Pro Essential Brush Stash is godsend and a game changer since it is as functional as it is fashionable. The zip case, which looks like a cup, is designed to travel but it's just as effective when staying put while stored on your vanity or in your bathroom. Traveling is stressful and when you can do so in style, with your makeup tools already organized and easy to grab, that's a beautiful thing. It helps relieve the anxiety of being away from home and on the move. So, what's in the Urban Decay Pro Essential Brush Stash and how much is it?
The set, available via the UD site, is $75. It features five cruelty-free, artist-quality brushes, which serve the face and the eyes, in the aforementioned case. ICYMI, the brush hairs are made from recycled plastic bottles. The handles may be gunmetal and crafted from recycled aluminum, but the UD brushes truly are green.
The Brush Stash is cute and able to address all of your makeup needs when you are far from home.
However, equally as important is the fact that you can use it "as is" when you have zero travel plans. It takes the guess work and chaos out of your morning routine, since all the "must use" tools are stored together and at hand.
Here's the brush breakdown. The set includes the Finger Brush for complexion stippling; the Optical Blurring Brush for foundation; the Iconic Eyeshadow Brush for all your eye and shadow needs; the Flat Eyeshadow Brush is another do-all, from blending to buffing to highlighting; and the Diffusing Blush Brush is angled so you sculpt cheekbones or simply add a soft wash of color.
If you have the Urban Decay Pro Essential Brush Stash, you don't even have to worry about packing makeup brushes for a trip since what you need is already curated for you in this set. If you are like me and have 100 brushes, but use maybe five or six on a daily basis, it's a real treat to have an easy and coordinated stash like this.
It's perf.
Images: Courtesy of Urban Decay Cosmetics (2)