How To Travel For Free (Or, Nearly Free)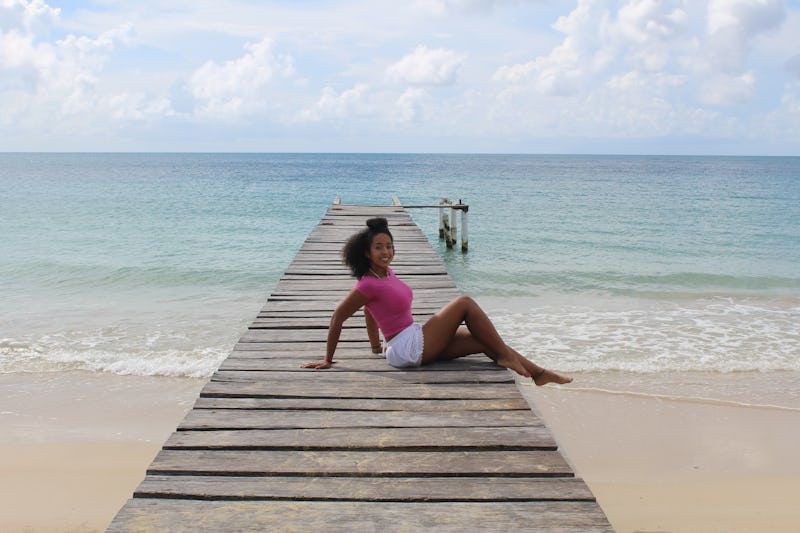 The idea of world travel was once synonymous with a big fat bank account. But now, thanks to innovations in the travel industry and millennial habits, it's possible to travel for free (or nearly free) with just a little bit of planning and creative thinking. As a generational cohort, us millennials travel more than any other group and our global spend exceeds $200 billion each year, but that doesn't mean that we're not thrifty when it comes to seeing the world on our own terms. Working remotely, keeping up with brand offers and competitions, using credit card points (wisely) and volunteering are just some of the ways we're able to reduce travel costs.
While taking a trip to Costa Rica earlier this year, I used the site Workaway.info to source a gig where I traded my writing and SEO skills for free accommodation and surf lessons. Before I arrived, I arranged a Skype with the owners and we agreed what work I would be doing for them and how they would be "paying" me. It turned out to be one of the best experiences I could have asked for — and not having to pay for accommodation seriously reduce my travel costs in the fun (but expensive) town of Tamarindo. Here are some of my other tips on how to still enjoy your vacation and travel for free, or almost free.
Working Remotely
Want a be a digital nomad? Or a "solopreneur"? Working remotely for yourself is a great way to make money if you don't want to spend your time hustling for someone elses' business. I'm currently working from Nicaragua and loving it. But starting your own business or taking client work on-the-go with writing, design, coding, trading or something similar are also great ways to earn remotely. All you need is some good wi-fi, a ton of organizational skills, and the ability to turn down all those mojitos...
Glitch Fares
If you're vigilant enough with checking certain sites, it's possible to snag an airplane ticket for a fraction of the normal price; for example, Thrifty Nomads reports that in 2013, one big airline (accidentally, but still) offered return flights to Hawaii from the US — for an unbelievable seven bucks. To spot these deals before they get corrected, they recommend sleuthing sites like Secret Flying. And at the time of writing, they posted an insane deal from London to China for $46.
Deal Spotting
As well as keeping an eye out for low fares, you also need to keep track of the best travel deals that the Internet has to offer (which can also be a full time job). I like to combine value for money with a great price and overall experience — and a recent trip to Vietnam with the millennial travel site, Topdeck exceeded all my expectations. Topdeck set me up with other like-minded travellers and took care of absolutely everything, from the return flights to my cooking classes with a local Vietnamese culinary school. The trip actually ended up being far better value than had I arranged it myself and of course, I got a whole heap of new friends and access to a thriving new group chat on Whatsapp by the end. To arrange cheap flights I also check Flight Network, and for other value package deals I tend to peruse Travel Zoo.
Credit Card Points
I spoke to Rob Burgess from Head For Points to figure out how one can travel for free, by using credit cards for spending. Apparently, for a millennial budget (as opposed to luxury travel) we should look out for the initial sign-up bonuses on offer which come with opening cards. He says, "U.S. credit cards are ludicrously profitable and so the banks are willing to throw out huge incentives for getting them. The value is in the sign-up bonuses and hotel and airline miles are a good incentive. For example, the U.S. IHG credit card comes with 60,000 points, so that is 12 free nights at any IHG hotel."
However, he also warns against opening a card if you can't clear the balance each month. "Taking out cards helps your rating in the U.S. if you repay on time," he says. "But the biggest problem is getting your first card, once you have one it's easier to open more. But this not something for anyone who does not clear a balance every month; interest rates on reward cards are very high."
Volunteering
In the U.S., volunteering in the Peace Corps is still one of the most popular ways to give back to a disadvantaged community and explore another culture in the process. Workaway can also be used to source volunteering gigs for free (because I'm not of the opinion that you need to pay $2,000 to help out abroad unless that money is going directly to the good cause and not a third-party). And there's a lot said for contacting local organizations in your host country directly to see if you could arrange a placement that way too.
Now you're full of new ideas; why not put them to practice for your next trip? Happy travels!
Images; Georgina Lawton/Bustle; Giphy (5)