First Look at 'Dumb And Dumber To' Posters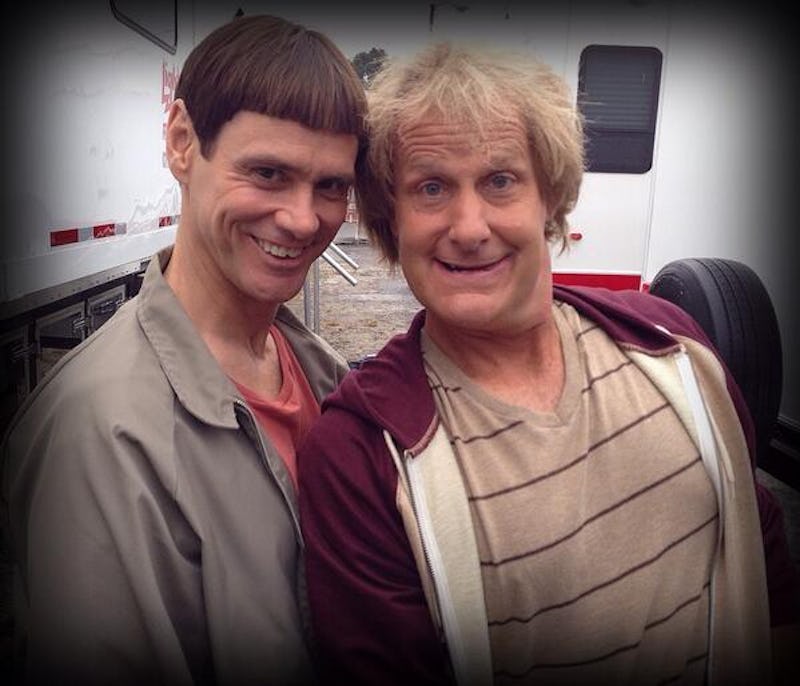 Put on your classiest, most colorful formalwear ladies and fellas, and get your spelling errors ready because the first posters for Dumb and Dumber To , the sequel to the 1994 romp that we remember so well, has been released, and it showcases some sweet, not-so-classy Harry and Lloyd get-ups. That's right; it looks like the iconic tuxes from the original film by the Farrelly brothers are back.
The film, which reunites Jim Carrey and Jeff Daniels 20 years later (feelin' old yet? It's been two freakin' decades since the original), has the two friends on a quest for a long lost child in hopes of acquiring a new kidney. Sound heavy? It won't be — not if these icy blue and neon orange colored tuxedos are involved.
All we can hope is that this sequel will fare better than the very much reviled 2003 prequel, Dumb and Dumberer: When Harry Met Lloyd, which starred Eric Christian Olsen and Derek Richardson. Since Carrey and Daniels are back on board, it looks like we're going to be back in the too-dumb-to-function original groove.
Plus, the actors seem pretty excited. Jim Carrey tweeted one poster to Jeff Daniels, and Jeff Daniels tweeted the other poster to his co-star, as well.
Take a look here:
Image: jeffdaniels/Twitter