20 Ways To Tell A Dating Profile Is Fake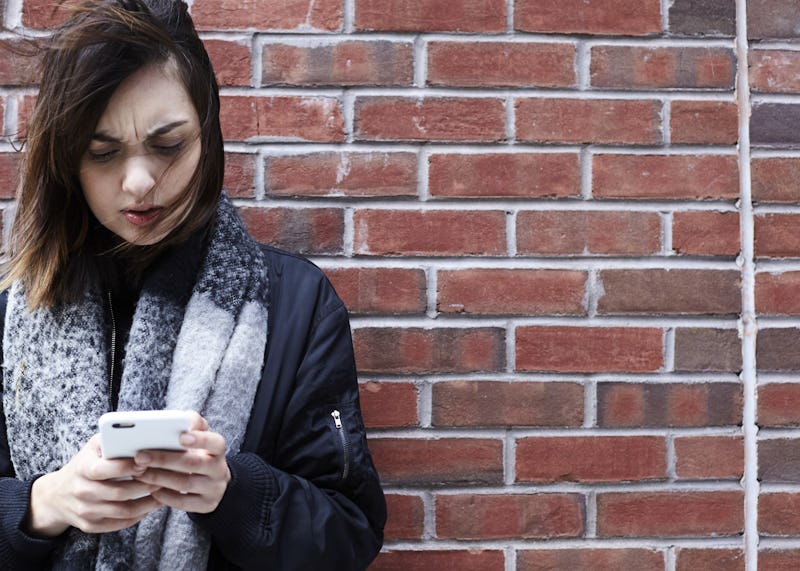 Dating is hard enough without having to worry about being catfished. Millennials are often so over-scheduled and busy that meeting people organically isn't always possible. So, we turn to dating apps instead of meeting people IRL. We fill out profiles, answer questions, swipe right and left for hours. Sometimes we meet people online who want different things than we do, sometimes they're just looking for a pen pal and have no interest in meeting up, but what about when they're not who they say they are.
The reality is that one in 10 dating profiles is a fake. "The dating industry is taking ever increasing steps to protect online daters from romance scammers," Charly Lester, founder and CEO of The Dating Awards, tells Bustle. One example? Badoo's photo verification feature, which asks users to take a selfie with a unique pose to verify it's them.
But it never hurts to go the extra mile to protect yourself. Scamalytics, a company that specializes in detecting and analyzing fake profiles suggests users check Google images to see if their photo has been taken from someone else's social media. If you think your match might be fake, you should also ask conversational questions which require local knowledge — if they can't tell you about local sports teams or restaurants, proceed with caution. To further protect yourself from the horrors of being catfished, here are the top 20 phrases that appear in fake profiles.
1. "I am very easy going and laid back."
2. "I am real easy person to talk to and a good listener."
3. "I am a person who looks beyond what may be the obvious."
4. "I am not an angry person and I am not interested in someone that is."
5. "I love to laugh and to enjoy the simple things in life."
6. "I am often told that I am very easy to talk with."
7. "I understand it is important to lay down lasting foundations for a lasting relationship."
8. "I am an honest, humble, simple, caring and god fearing man."
9. "The most important thing in my life is to care about the people that I love most."
10. "I am happy with myself and my life and I like to think it shows."
11. "I enjoy meaningful conversation in addition to plain old good fun."
12. "I am an honest heart that's looking for a stable relationship."
13. "I'm basically a very positive person who also loves humor and laughter."
14. "I am not interested in games or drama."
15. "I like to share things I learn and am open to learning new things as well."
16. "I am a person who is very real when it comes to life and its issues."
17. "I am an active person who enjoys cycling and running best."
18. "I base my life on loyalty, sincerity and morals."
19. "I love to laugh and have a good time."
20. "I have a passion for music and curiosity for life."
Sound familiar? Be cautious of the fakes — and take these lines out of your profile if they're in there!
Images: Hannah Burton/Bustle; Giphy (7)