23 Movies On Netflix For The Halloween Addict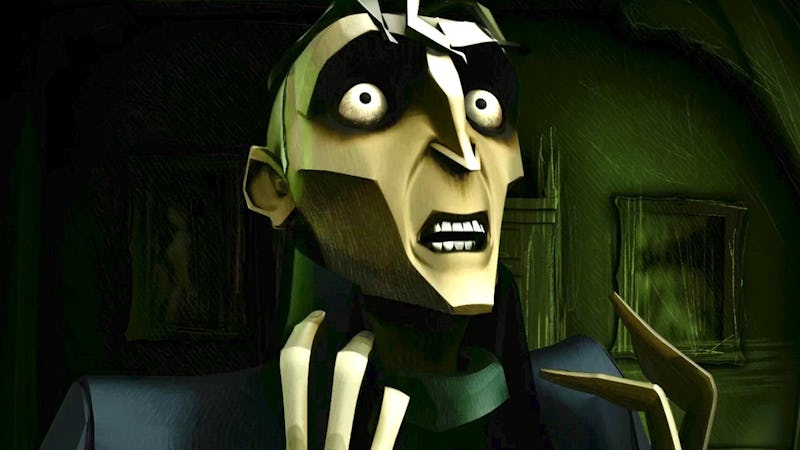 Finally, we have returned once again to the most wonderful time of the year: Halloween. I know I'm not alone in saying that my favorite season is the one where I get to indulge in my emo and goth sides, read spooky horror stories, paint my face in fake blood, and embrace the otherworldy unknowns that give life complexity and (pumpkin) spice. Probably the best part of the Halloween season, though, is watching Halloween movies. Those haunted and creepy and magical films are best seen while gathered in front of the T.V. — or, let's be real, the laptop you've propped up on some textbooks to make it feel bigger — with friends and loved ones or maybe just your pets or a giant cheese-topped bowl of chili that you're pretty sure you love more than most people anyway. Ahh, the true spirit of the holidays.
If you're like me, you're a Halloween addict. From the mildly magical to the hardcore horrifying, you're a connoisseur of all things Halloween, and that includes movies. As both a Halloween and a movie addict, I've put together an inspiring list of the 23 best movies on Netflix for Halloween addicts who want to balance a love for the creepy, comforting classics with a desire for the new and terrifying unknowns. The movies below will treat any Halloween freak to a well-balanced cinema feast sure to stave off cravings for, well, let's just say I wouldn't blame you if you're sneaking slasher flicks behind your family's back on Christmas Eve. Been there.
1. The Addams Family
Let's start off with the ultimate classics. If you haven't been watching The Addams Family annually (and maybe even semi-annually, the spook-drought of late spring is so real) I don't know you.
2. Sleepy Hollow
Yeah, October is your time to live that Tim Burton life. Sleepy Hollow is a darker take on Burtonesque flair, with Johnny Depp and Christina Ricci (the girl loves her spooky movies) in one of the greatest classic haunted tales of all time.
3. The Corpse Bride
Burton strikes again, this time with gorgeous stop-motion and plenty of undead love-triangle excitement.
4. Practical Magic
Sandy Bullock is a top witch. (Halloween addicts know this is a high compliment.)
5. Scream 2
Yes, you've seen Scream a thousand times, but have you seen Scream 2? Probably, if you're any kind of Halloween addict. Roger Ebert even called it "gorier than the original." (You get to decide whether that's a compliment.)
6. E.T. The Extra-Terrestrial
The little alien that started it all! Nothing evokes that October charm of dusky nights walking through crunchy leaves on a cracked suburban sidewalk like the ultra-eighties, ultra-magical E.T.
7. Sweeney Todd: The Demon Barber Of Fleet Street
Look, I'm not saying every Tim Burton movie basically counts as a Halloween movie, except I kind of am. The movie's color treatment and score alone set the tone of the season better than many slasher flicks.
8. Heathers
Speaking of slasher flicks, Heathers is a perfect example of a surprisingly Halloween-friendly violent satire that's equal parts hilarious and disturbing. Dibs on a Christian Slater and Winona Rider Heathers-themed couples costume.
9. The Invitation
For legit horror, it's hard to beat instant-classic The Invitation, about a dinner party where things are not quite what they seem. It's loaded with stylish suspense and is straight-up terrifying.
10. The Babadook
The little independent horror movie that could. The horror movie that launched a thousand memes. If this atmospheric haunt-fest isn't in your Halloween queue, you're doing it wrong.
11. Goosebumps
No doubt your favorite YA series from childhood, now with added Jack Black. Black plays the man responsible for all your preteen nightmares, R.L. Stine himself, in this lightly spooky but mostly cute adventure. Yes, it will give you nostalgia pangs.
12. The Fly (1958)
Those addicted to the body-horror gore and gross-out scares of Halloween are surely familiar with David Cronenberg's 1986 version of The Fly with Jeff Goldblum, but the 1958 version is a creepy cinema treasure well worth a journey back into the black-and-white era.
13. Underworld
Is there a single shot in Underworld featuring sunlight? Because I can't remember any. This super dark, stylish, butt-kicking vampire movie is a Halloween must for addicts of the season that love action flicks and goth vibes.
14. The Crow
More goth vibes. The gothiest. Nothing puts me in the Halloween mood faster than scowling, pale-faced Brandon Lee in a trenchcoat as black as night.
15. Antichrist
Lars von Trier is a highly lauded director but his films are sometimes overlooked for their obvious Halloween potential. His Melancholia (also on Netflix) is a beautiful slow-churning, soul-killing kind of creepy, but his Halloween masterpiece is surely Antichrist, an "alternative horror" so violent, gory, and sick that even horror buffs find it hard to watch. Strap in.
16. Monsters
This lesser-known monster film by Rogue One: A Star Wars Story director Gareth Edwards will add some much needed sci-fi vibes to your Halloween movie bacchanal.
17. Hellboy
Another director just made for Halloween is Guillermo del Toro. His Hellboy is often overlooked, but del Toro's aesthetic makes it a deeply unique, gritty, and Halloween-ready superhero flick.
18. Extraordinary Tales
The best Halloween film you've never seen is this obscure surprise, also from Guillermo del Toro. Extraordinary Tales puts gorgeous and creative animations to five classic (and very spooky) Edgar Allen Poe stories, which are narrated by horror icons such as Bella Lugosi and Christopher Lee. You're welcome.
19. A Girl Walks Home Alone At Night
A haunting black and white horror about a badass Iranian skateboarding vampire feminist warrior. This is your new favorite Halloween classic.
20. Room 237
You've seen The Shining like, how many times now? Get ready to see it in a new way with Room 237, a documentary about the many perceived meanings and symbols in The Shining that manages to be completely engaging and also pretty spooky in its own right.
21. Tucker And Dale Vs Evil
Sometimes the best way to fight evil is to laugh at it. Tucker and Dale is an underrated horror-comedy in the vein of Shaun of the Dead and The Host, and it features equally heavy doses of ridiculousness and blood.
22. The Sisterhood Of The Night
This quietly intense horror was written and directed by women and stars a talented group of young women in a haunting story evoking a modern-day Salem Witch Trial vibe.
23. I Am The Pretty Thing That Lives In The House
That title. Deliciously intriguing to any true Halloween addict. This movie only premiered on Sept. 10, 2016 and it's chilling, odd, and great for setting a creepy mood.
So buckle up, scary movie lovers: this is a list you're gonna want to keep bookmarked.
Images: Paramount Pictures (3), Warner Bros. Pictures (2), Dimension Films (1), Universal Pictures (1), New World Pictures (1), Drafthouse Films (1), Entertainment One (1), Columbia Pictures (2), 20th Century Fox (1), Screen Gems (1), Miramax (1), IFC Films (2), Vertigo Films (1), Gkids (1), VICE Films (1), Magnet Releasing (1), Freestyle Releasing (1), Netflix