10 Strapless Bras With Incredibly High Reviews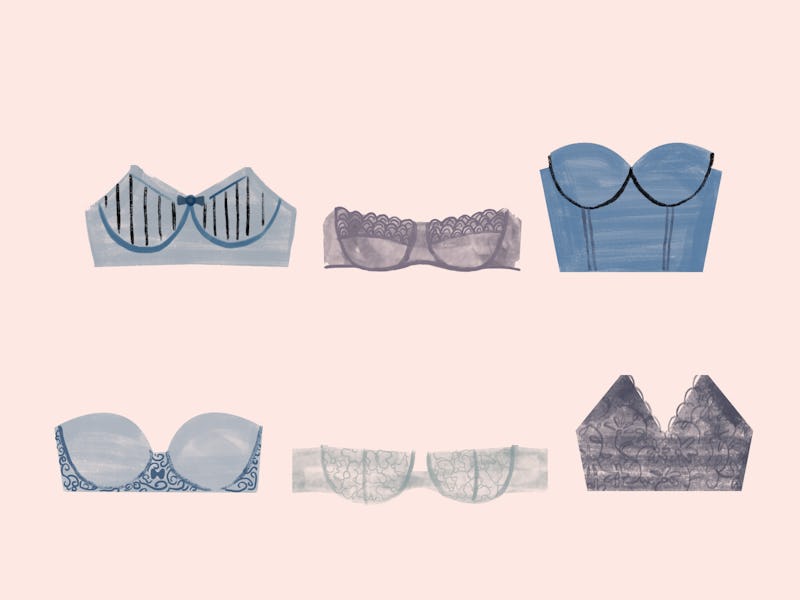 For me, finding a good strapless bra is comparable to dating. You go through brands and styles that are full of promise, only to leave you feeling disappointed and broke. But there are a few strapless bras with high reviews that prove this challenge isn't as hopeless as it first seems.
I've gone through my fair share of trying and tossing strapless bras. I could never find a strapless bra that wouldn't slip, or one that prevented my breasts from spilling over. In fact, one strapless bra caused a serious wardrobe malfunction at a Sweet 16 years ago, leaving me topless for a good five seconds (oops). But just because you haven't found a strapless bra that's working for you, doesn't mean they're all useless. So, instead of running to the nearest mall and buying their basic strapless number, trust the bras that have been positively reviewed by people like you.
Because bra shopping is literally the worst, I have rounded up the best strapless bras to suit your needs. In this roundup, you'll find adhesive bras suitable for backless dresses, ones made with gentle fabrics so that they're soft on skin, and even some that provides ultra support for larger chests. And most importantly, they all stay up.
1. Your Basic Strapless Bra
Maidenform Women's One Fit Smooth Strapless Bra (38 B, 36 D), $29, Amazon
This strapless bra is absolutely zero frills, but that's why women love it so much. This no-fuss bra works for many body types, and it adjusts to your natural breast shape rather than changing their look. Wide straps prevent uncomfortable pinching in the back, and the seamless fabric looks completely smooth under clothes.
2. A Bra For People Who Hate Bras
BONAMART ® Self Adhesive Strapless Front Closure Invisible Push Up Bra (A, B), $14, Amazon
For those who find strapless bras extremely uncomfortable, here's another alternative. This adhesive bra is made from 100 percent silicon and provides the function of a regular bra without the annoying back straps. I love these bras when I'm wearing a revealing dress because you can manipulate the cups to give yourself as much or as little cleavage as you'd like.
3. The Ultimate Support Bra
Wonderbra Ultimate Strapless Magic Hands Molded Bra (32A-38G), $41-75, Amazon
Need a lift? This bra lives up to its "wonderbra" name, particularly because of the amazing support it offers. Its interior hand shaped lifting technology keeps the fabric sturdy without letting it fold over, and the bandeau look keeps everything in place. The double hook-and-eye fastening also works overtime to provide you with comfort and support.
4. A Bra Designed For Extra Support
Vanity Fair Beauty Back Strapless Full Figure Underwire Bra (36C-44DD), $25-122, Amazon
For anyone wanting a little extra support, here's the bra for you. Featuring a triple-hook back closure, this bra will keep your breasts in place and provide all-day back support. It also has a pretty lace design in the center.
5. A Strapless Bra For Low Necklines
Jezebel Caress Strapless Push-up Bra (32B-36D), $25, Amazon
This Jezebel strapless bra makes wearing low cut tops so much easier, thanks to its U wire. Plus, it offers a little pushup for extra cleavage. What I especially love about this bra is that it doesn't slip, unlike other strapless ones.
6. The Best Bra For Dresses
Fashion Forms Women's Ultralite Padded Bra (A, B), $32-168, AmazonJust like you love your LBD, you'll love this padded bra. It provides support for occasions where a normal bra would feel uncomfortable. Use it for any type of dress whether it's halter, backless, or strapless. Reviewers are saying it's easy to remove and that the clasp is easily adjustable to keep it out of sight.
7. The Most Supportive Tube Top Bra
Dinamit Plus Size Seamless Padded Bandeau Tube Top Bra (1x-4X Plus), $12, Amazon
This bandeau top bra has the comfort and support you never thought tube tops were capable of providing. Wide straps allow for the ultimate back support, which keeps your chest feeling super secure, while its seamless design also looks smooth under clothes. Reviewers say the fabric doesn't roll or bunch, and that it fits comfortably.
8. A Strapless Bra That's Just Plain Pretty
Wacoal Halo Strapless Bra (32B-38DDD), $42-129, Amazon
Everyone deserves to have a pretty lacy bra in their wardrobe. This strapless bra has a stylish all-over lace design, and a sweetheart neckline that works for people with large and small breasts. Plus, it offers proper support to keep you feeling comfortable all day.
9. A Bra That's Cute And Functional
Lunaire Women's Plus-Size Strapless Bra (36C-42DDD), $34-37, Amazon
Some cute bras aren't functional, and some functional bras aren't cute. This sweetheart neckline bra proves them wrong with its sweet floral jacquard design and wide back strap with triple hook. Pretty and comfy? Put me down for one.
10. The Bra That Feels Like You're Not Wearing One
Artfasion Women's Ultralite Backless Bra (A-DD), $15, Amazon You know your bra is doing its job when you wear it all day and can't feel it. This backless bra does just that, according to reviewers. Lightweight foam cups stay in place with a front hook closure, and the cups are easy to manipulate to create the desired amount of cleavage. The style is perfect for low-cut or backless dresses where a bra just doesn't cut it.
Illustration: Monica Andino; Photos: Amazon (10)
Bustle may receive a portion of sales from products purchased from this article, which was created independently from Bustle's editorial and sales departments.